Iran's sitting volleyball players have asserted their supremacy in the Tokyo 2020 Paralympic Games in Japan, clinching a glorious victory over their Russian rivals in the final to win the title and international acclaim.
The Iranian squad, which also received the gold medal of the 2016 Summer Paralympics in Rio de Janeiro, Brazil, achieved a remarkable 3-1 win, with set scores of 25-21, 25-14, 19-25 and 25-17, against the Russian Paralympic Committee (RPC) side at Makuhari Messe Hall on Saturday evening.
They had already eased past Bosnia and Herzegovina in straight sets (25-16, 25-16 and 25-17) in their semifinal match on Thursday to book a place in the last encounter.
Moreover, Iranian para taekwondo practitioner Asghar Aziziaghdam collected the 12th gold medal for the Islamic Republic's sports delegation in the Tokyo 2020 Paralympic Games.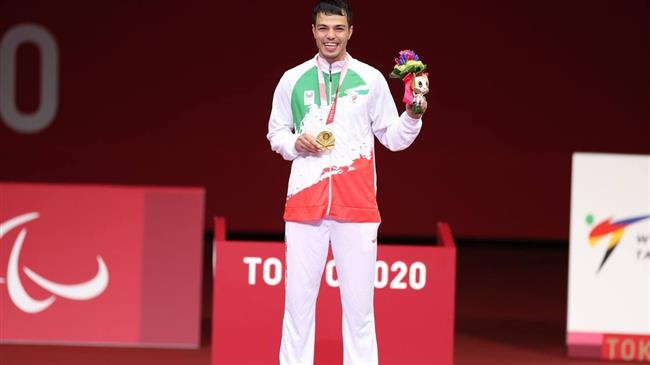 Aziziaghdam took part in the men's K44 over 75-kilogram weight category contests at the Makuhari Messe Hall B, and grabbed the gold medal after defeating Croatia's Ivan Mikulic 12-10 in the final match.
The 33-year-old had earlier received a bye in the first round before defeating Andrés Esteban Molina Gomez from Costa Rica 11-9 in the quarterfinals.
Aziziaghdam later overwhelmed Russian contestant Zainutdin Ataev 9-4 in the semifinal round and progressed to the final.
Separately, Iranian Paralympic athlete Sajad Mohammadian won the silver medal in the men's shot put F63 event with a throw of 14.88 meters.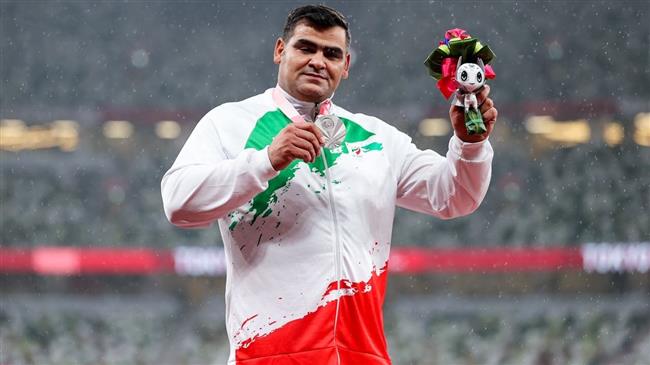 Britain's Aled Davies threw 15.33 meters to strike the gold medal.
The bronze medal went to Kuwait's Faisal Sorour with 14.13 meters.
Additionally, Iran's Sadegh Beit Sayah won a silver medal at the men's javelin throw - F41 competitions of the Tokyo 2020 Paralympic Games on Saturday.
He finished in the second place with a throw of 43.35.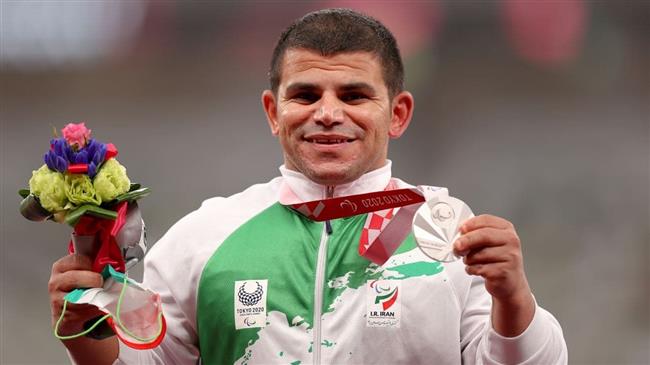 Sun Pengxiang from China won the gold medal with 47.13 meters.
Iraqi pitcher Wildan Nukhailawi claimed the third spot with 41.39 meters and earned the bronze medal.
Iranian athletes have already taken home 24 medals –twelve gold, eleven silver and one bronze – putting the Islamic Republic in the 13th slot of the medal count table so far.
China tops the medal count table with 207 (96 gold, 60 silver, 51 bronze) medals.
Britain is in the second place with 124 medals (41 gold, 38 silver, 45 bronze), and the United States is the third with a total of 104 medals (37 gold, 36 silver and 31 bronze).
The Russian Paralympic Committee, the Netherlands, Ukraine, Brazil, Australia, Italy and Azerbaijan are in the 4th to 10th places respectively. 
The 2020 Summer Paralympics, branded as Tokyo 2020 Paralympic Games, opened on August 24, and will wrap up on September 5.
Iranians athletes are reportedly competing for medals in judo, rowing, taekwondo, wheelchair basketball, cycling, sitting volleyball, athletics, archery, shooting and weightlifting.