Female Iranian Paralympic archer Zahra Nemati has demonstrated a commendable display of talent and aptitude at the Tokyo 2020 Paralympic Games in Japan to stand atop the podium and raise the Islamic Republic's total medal count at the highly prestigious international sporting event.
On Thursday, 36-year-old Nemati – also a gold medalist at 2016 Rio and 2012 London Paralympic Games – vied in the women's individual open recurve competitions that were beset by drizzling rain at Yumenoshima Archery Park.
She triumphed over her Italian opponent Vinzenza Petrilli 6-5 (27-21, 28-28, 25-20, 21-22, 23-25 and 1-0) in the final encounter to be awarded the top honor.
Chinese athlete Wu Chunyan notched up a 6-2 (27-23, 29-30, 26-24 and 28-26) win over Dorothea Poimenidou, a representative from Greece, and got the bronze medal.
"I am very happy since I won my Paralympics third gold medal in a row. It was very hard because my Italian rival had good performance until the last [moment], but I am very happy to have beaten my tough opponent," Nemati said.
"I hope that I can be inspirational like before by winning the third gold medal," she told Olympics.com.
"I would like everybody to know that Zahra Nemati never gave up and always stayed determined and never withdrew from her goals," the Iranian sportswoman noted.
Nemati started her campaign with a 6-5 win over Russia's Svetlana Barantseva in the Round of Eight.
She overcame her Brazilian rival Fabiola Dergovics 7-1 in quarterfinal, before emerging victorious over Greek competitor Dorothea Poimenidou 6-2 in semifinal match.
Earlier, in the men's discus throw - F11 division, visually impaired Iranian athlete Mahdi Olad pocketed the silver medal with 40.60 meters.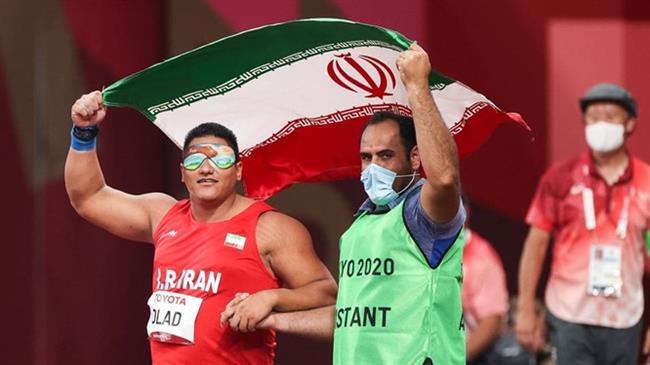 Brazilian contestant Alessandro Rodrigo da Silva collected the gold medal with a winning throw of 43.16 meters, and Oney Tapia from Italy scooped the bronze with his best effort of 39.52 meters.
Furthermore, Ali Pirouj threw the javelin 64.30 meters in the men's F13 category, and grabbed the silver, handing Iran their third medal of the day.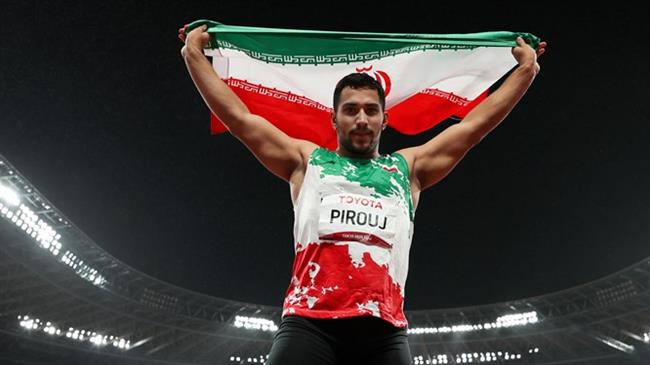 Great Britain's Daniel Pembroke snatched the gold medal with 69.52 meters, and 27-year-old Spaniard Héctor Cabrera Llácer bagged the bronze medal with 61.13 meters.
Iranian athletes have already taken home 18 medals –nine golds, eight silvers and one bronze – putting the Islamic Republic in the 13th slot of the medal count table so far.
China tops the medal count table with 167 (77 golds, 46 silver, 44 bronze) medals.
Great Britain is second with 96 medals (34 golds, 27 silvers, 35 bronzes), and the Russian Paralympic Committee is third with a total of 97 medals (32 golds, 23 silvers and 42 bronzes).
The United States, Ukraine, Brazil, the Netherlands, Australia, Italy and Azerbaijan are in the 4th to 10th places respectively. 
The 2020 Summer Paralympics, branded as Tokyo 2020 Paralympic Games, opened on August 24, and will wrap up on September 5.
Iranians athletes are reportedly competing for medals in judo, rowing, taekwondo, wheelchair basketball, cycling, sitting volleyball, athletics, archery, shooting and weightlifting.