Iranian sportsmen have continued to demonstrate admirable athletic skills at  the Tokyo 2020 Paralympic Games in Japan, and and scooped two more medals to raise the Islamic Republic's total medal count at the international event.
On Monday, Amir Khosravani took part in the men's long jump - T12 competitions at the National Olympic Stadium, and stood atop the podium with his best attempt of 7.21 meters to grab the gold.
Leinier Savon Pineda from Greece leapt 7.16 meters and snatched the silver medal.
Azerbaijani competitor Saeid Najafzade sat in the third place and seized the bronze medal with 7.03 meters.
Shot putter Mehdi Olad bags Iran's fifth gold medal
Moreover, shot putter Mehdi Olad claimed Iran's fifth gold medal at the 2020 Paralympic Games.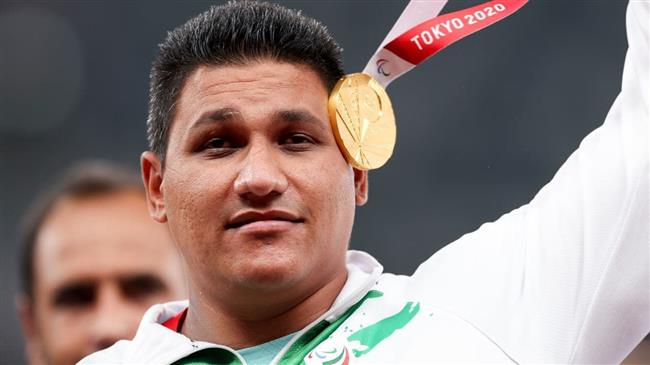 He registered a throw of 14.43 meters in the final contest of men's shot put - F11 event.
Alessandro Rodrigo da Silva from Brazil pocketed the silver medal of the same heat with 13.89 meters.
Italian athlete Oney Tapia took the bronze medal with 13.60 meters.
Iran's Mansour Pourmirzaei earns silver in powerlifting
Additionally, Iranian Paralympic powerlifter Mansour Pourmirzaei claimed a silver medal at the men's over 107-kilogram weight category.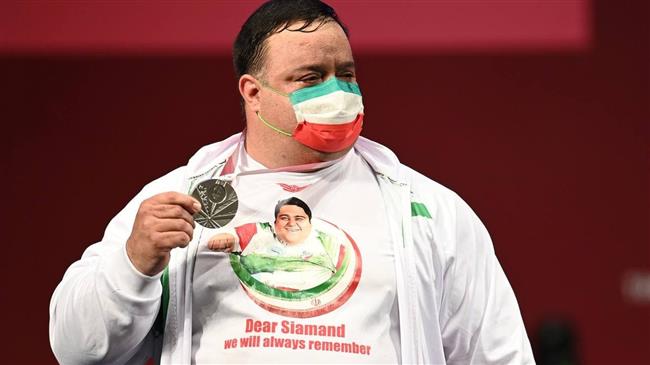 Pourmirzaei managed to lift 241 kilograms and finished in second place behind Jordan's Jamil El shebli, who raised the same load too but won the gold medal due to a lighter body weight. 
Iraqi athlete Faris al-Ageeli snagged the bronze medal with a lift of 228 kilograms.
Iran's powerlifter Saman Razi wins bronze
Saman Razi from Iran also snatched a bronze medal in the men's minus 107-kilogram powerlifting contests of the Tokyo 2020 Paralympic Games on Monday.
He lifted 231 kilograms to take the third place.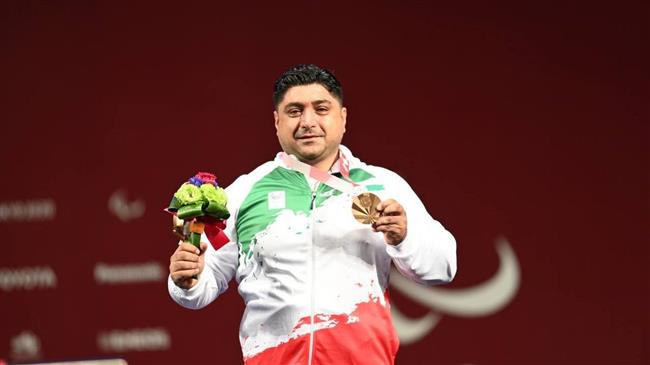 Mongolian athlete Sodnompiljee Enkhbayar won the gold medal with a lift of 245 kilogram.
Yee Khie Jong from Malaysia lifted 237 kilograms to finish runner-up and clinch the silver medal.
Furthermore, Iran men's national wheelchair basketball team suffered a narrow 53-56 defeat against Germany in Group B of the 2020 Paralympic Games on Monday at the Ariake Arena in Tokyo.
The squad failed to advance to the knockout stage, and bade farewell to the Games.
Iran has earlier defeated Algeria but lost to Australia, the United States, Britain and Germany.
Finally, the national Iranian men's sitting volleyball team edged past the Brazilian side in straight sets (25-19, 25-23 and 25-22) at Makuhari Messe Hall.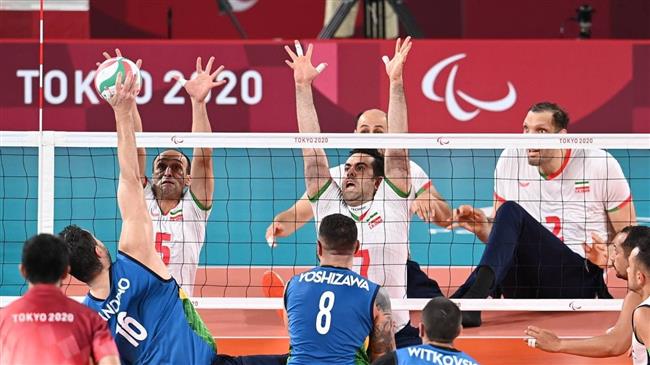 The Iranian team defeated Germany 3-0 (25-23, 25-16, 25-17) in their opening match in the 2020 Paralympic Games on Saturday.
Iran's sitting volleyball team will meet China on Tuesday.
The Islamic Republic of Iran has received a total of eleven medals – five golds, five silvers and one bronze – at the Tokyo 2020 Paralympic Games, and currently sits in the 12th place of the tournament.
China leads the standings with 119 medals, among them 54 gold ones.
It is followed by Great Britain in the second slot with 68 medals, including 26 golds.
Russian athletes have won 19 golds and 61 medals in total to rank third.
The 2020 Summer Paralympics, branded as Tokyo 2020 Paralympic Games, opened on August 24, and will wrap up on September 5.
Iranians athletes are reportedly vying for medals in judo, rowing, taekwondo, wheelchair basketball, cycling, sitting volleyball, athletics, archery, shooting and weightlifting.