Iranian javelin thrower Hamed Amiri has produced his best at the ongoing Tokyo 2020 Paralympic Games in Japan to claim the top podium and collect another gold medal for the Islamic Republic at the multinational and multi-sport event.  
On Friday morning, the 39-year-old pitcher took part in the men's F54 category contests at the Japan National Stadium, and sent the spear to 31.35 meters, which was the best of the day.
He also shattered the world record in that division, and bettered it by 1.90 meters. The  previous men's F54 category world record was set at 29.45 meters by Greek contestant Manolis Stefanoudakis during the 2016 Summer Paralympics in Rio de Janeiro, Brazil.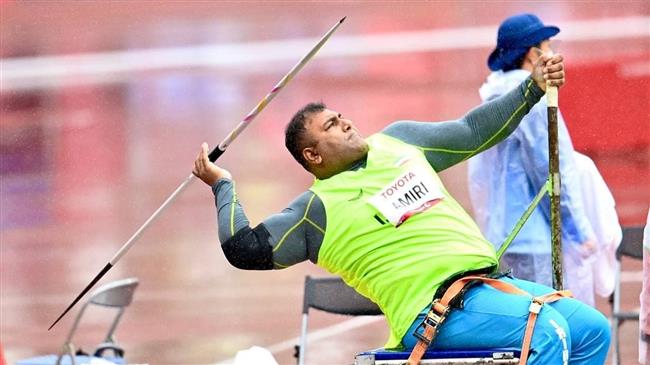 Moreover, Aleksei Kuznetsov of the Russian Paralympic Committee (RPC) was second with a best throw of 31.19 meters and grabbed the silver medal.
Justin Phongsavanh, representing the United States, finished third with 31.09 meters and earned the bronze.
Iranian athletes have already taken home 19 medals –ten golds, eight silvers and one bronze – putting the Islamic Republic in the 12th slot of the medal count table so far.
China tops the medal count table with 170 (80 golds, 46 silver, 44 bronze) medals.
Great Britain is second with 103 medals (37 golds, 28 silvers, 38 bronzes), and the Russian Paralympic Committee is third with a total of 101 medals (32 golds, 27 silvers and 42 bronzes).
The United States, Ukraine, Brazil, the Netherlands, Australia, Italy and Azerbaijan are in the 4th to 10th places respectively. 
The 2020 Summer Paralympics, branded as Tokyo 2020 Paralympic Games, opened on August 24, and will wrap up on September 5.
Iranians athletes are reportedly competing for medals in judo, rowing, taekwondo, wheelchair basketball, cycling, sitting volleyball, athletics, archery, shooting and weightlifting.