The Group of Seven (G7) leaders have said that they would not back down from supporting Ukraine in its war as Russian forces continue to make advancements in the pro-Moscow regions.
"Together with the entire G7 we have Ukraine's back and I promise we're not going anywhere," octogenarian US President Joe Biden claimed on the final day of the G7 summit in Hiroshima, Japan.
Earlier, Biden had announced to his allies that Washington supported joint allied training programs for Ukrainian pilots on F-16s warplanes, although Kiev has not won commitments for delivery of the fighter jets.
Giving the green light to the US-led allies who were willing to supply Ukraine with the F-16 fighter jets, conveys the message to Russia that Western countries are still adhering to the escalation scenario as the conflict approaches its 16th month of bloody fighting.
Also attending the G7 summit was British Prime Minister Rishi Sunak, who met one-on-one with Ukraine's President Volodymyr Zelensky once more after meeting him last week in England.
Sunak said pilot training for Ukraine's airmen would start this summer, insisting that Kiev would get the air force it wanted for the future.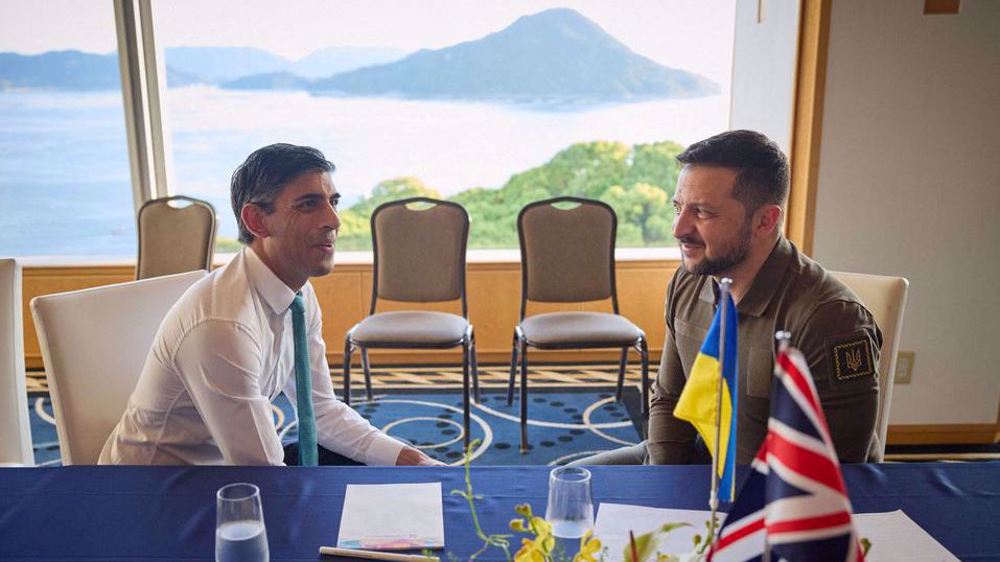 Japanese Prime Minister Fumio Kishida, who hosted the event, said it was "significant" that the G7 nations showed solidarity in their intention to uphold international law and order during a summit attended by Ukraine's Zelensky as a guest.
Both German Chancellor Olaf Scholz and French President Emmanuel Macron appeared to stand with Ukraine in opposing any notion of the war becoming a "frozen conflict," or any proposal for peace talks without Russian troops withdrawing.
Analysts say the Ukraine war could become frozen, similar to the conflict on the Korean Peninsula. North and South Korea remain technically at war as their 1950-53 conflict ended with a ceasefire.
"Peace should not make Ukraine a frozen conflict because that would lead to a war in the future. It needs to resolve the problem," Macron said.
In the meantime, the event opened a venue for Zelensky to talk one-on-one with other attendees, as he lobbies among Western allies to fund the war and send more arms and munitions.
Already, the West has supplied Ukraine with tens of billions of dollars worth of various weaponry since the onset of the Russian military campaign in February 2022.
Western weapons supplied to Kiev include advanced missile systems, armored vehicles, tanks, and communication systems, in addition to long-range attack drones, and other weapons, as the West continues to give its all-out support to Kiev amid Moscow's warning that the military support would prolong the war.