By Julia Kassem
The latest riots in - and more significantly outside - Iran were triggered by the tragic death of 22-year-old Mahsa Amini in police custody about two weeks ago. 
Since then, the riots on the streets of Tehran and other major Iranian cities have fizzled out. However, as the smoke and debris from the chaos clears, the truth of events and their circumstances remain unclear.
How it all started
The unruly protests that followed the death of Amini were fueled by unsubstantiated claims that she died from brutal beatings in police custody. The claims sparked a massive outcry on social media, and before the Iranian government could respond or investigate, the verdict from the internet jury was out: the whole Iranian state was guilty, despite forensic evidence challenging those claims.
These claims surfaced immediately after her death on September 16, three days after she fainted at a police station in Tehran while undergoing training on Islamic dress codes. Her death was due to cardiac arrest. 
The story about her death was broken by Niloufar Hamedi of the reformist daily Shargh. The journalist and some photographers who covered the Tehran riots are currently being investigated for potential links to the protests-turned-riots. 
Kurdish media and so-called "human rights" bodies immediately picked up the story and distorted it, with platforms like the HANA Human Rights organization claiming Amini was arrested by guidance security force at the entrance of Haqqani highway and beaten in the Vazira detention center in Tehran, before being declared brain dead at a hospital. 
On September 15, Kurdistan Press Agency reported that her consciousness level "dropped to 3" after she was allegedly confronted at a Tehran park and beaten.
A day before that, the London-based, Washington-IREX-funded IranWire platform had posted the story on its Instagram channel, regurgitating the same version, which was subsequently picked up by a few other pages without bothering to cross-check. 
IranWire is also supported by the Small Media Foundation and has provided a platform to the likes of Masih Alenejad, the virulently anti-Iran crusader and Voice of America journalist who openly collaborates with American and Israeli spy agencies. 
Alinejad is a recipient of US government funds, receiving a hefty $488,000 in US federal contracts over the last 5 years, including $95,000 this year alone, according to reports.
The story of Amini, however tragic, was brazenly hijacked, manipulated, and distorted by anti-Iran pundits. Alinejad in a tweet posted on September 14 claimed that she died of a heart attack before switching the narrative just a day later that she was "beaten by morality police".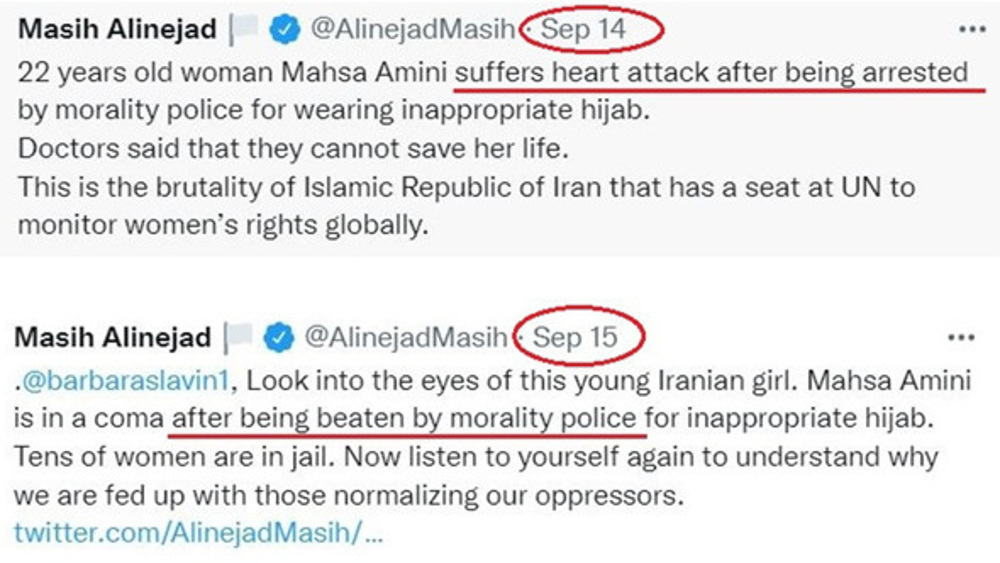 Yet, despite her ubiquitous appearances on mainstream Western TV channels, Alinejad is increasingly being seen as a "problematic" figure due to her open dealings with the Trump administration, close ties with the American and Israeli spy agencies, and her unhinged opposition to the Iran nuclear deal and advocacy of sanctions on Iranians.  
A scathing piece against Alinejad was published by the Soros-backed Quincy Institute think tank, with even liberal-imperialist watchdog Human Rights Watch and the US Democratic Senator Ilhan Omar publicly questioning her credibility.
Nonetheless, Alinejad still assumes an important role in setting the tone and discourse for color revolution incitements in the Islamic Republic, including the "White Wednesday" campaign that involved Iranian women waving their veils on a stick, a symbolic campaign replicated with the latest hijab-burning and hair cutting, or the 2014 #MySealthyFreedom campaign encouraging Iranian women to publish photos of themselves without hijab. 
And given the unconditional, uncritical support for the rioters, albeit with varying intensity and levels of foreign action against Iran's government, the end seems to justify the means, regardless of ideology.
At the same time, like the so-called "green revolution" of 2009, Iranian reformists, at home and abroad, have been the main driving force behind these ugly riots, as was evident from the arrest of the daughter of a former Iranian president for inciting riots. They have also been actively fanning the social media storm, which has acted as a catalyst for deadly riots on the streets.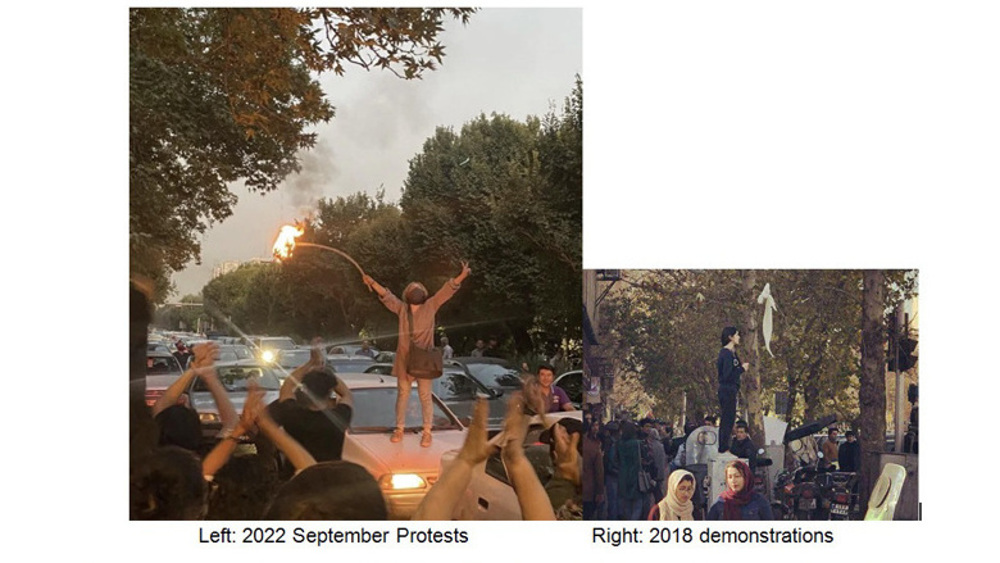 The Twitter traction, however, didn't take off until a few days later. After September 16, when UAE-based former Iranian footballer Ali Karimi's tweets bolstered the narrative, a big jump was seen in the number of fake accounts and bots, with over 6,000 accounts tweeting the viral hashtag #OpIran.
A significant number of Karimi's followers amplifying the narrative on Amini's death were found to be fake, created within a day or after of his tweet, many with 0 or 1 followers.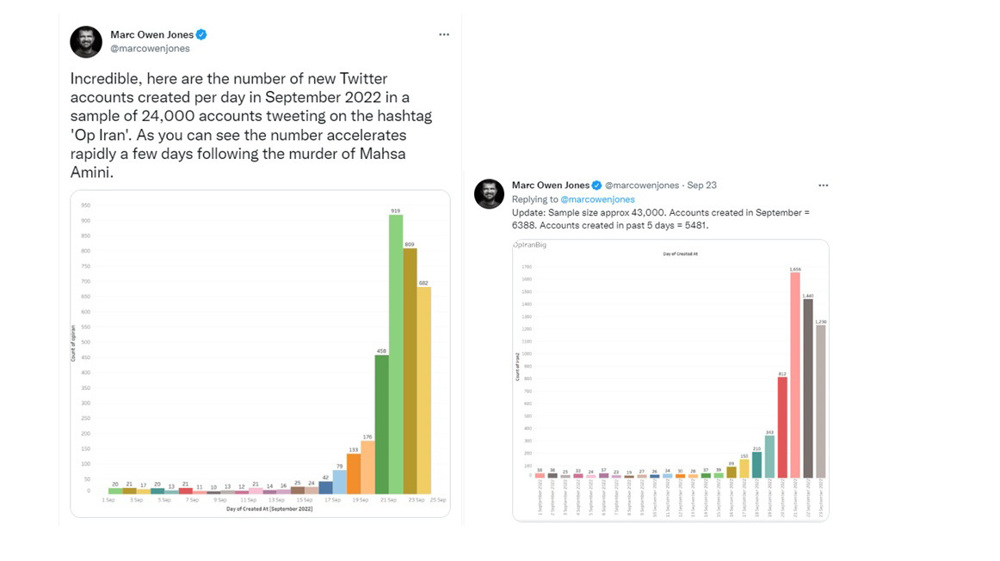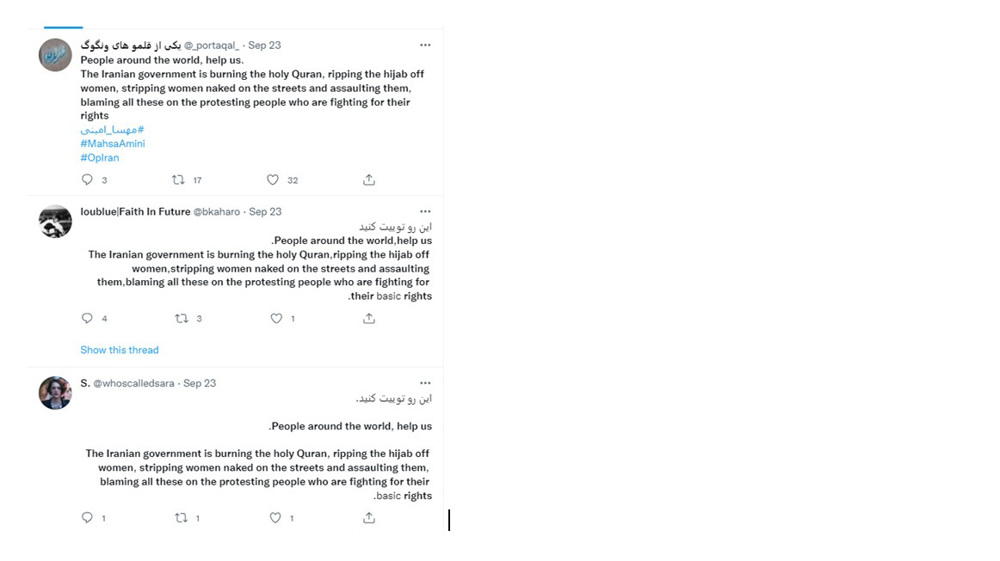 Twitter bots working overtime produced 76 million hashtags by 462,000 accounts in just a few days. To put that into perspective, Iran's total population is estimated at just over 80 million.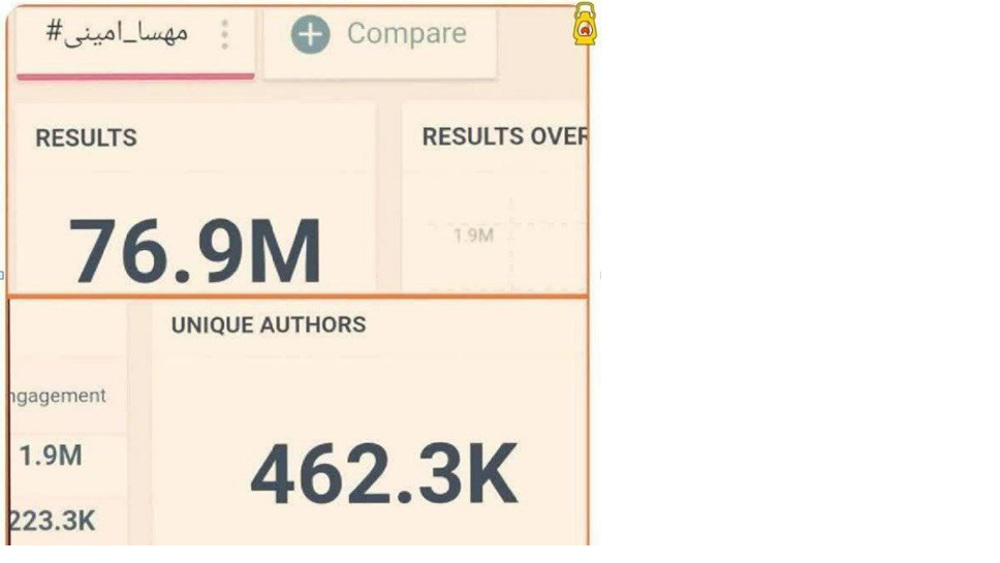 Meanwhile, Karimi had sold off his properties before fleeing the country, according to a Fars news investigation, transferring his assets to close associates.
The judiciary has not taken any initiative in seizing his property so far, contrary to rumors.
Symbolism
The propaganda current for the riots focused primarily on generating foreign support for "regime change" in Iran, giving the West the ideological base to insert itself in the Iranian context - not by military intervention or force, but by asserting Western liberal values as a norm to be followed to discipline the epistemologically Islamic system.
Running on liberal feminist tropes, sacrilegious actions such as burning sacred Islamic sanctities (a universal insult to Muslims and actions heavily picked up by rioters) have been claimed by some to be an act of dissent against the state, not the religion, yet the sight of a mosque being burnt, Imam Hussein's banner being torched, and hijab of women being ripped off women clearly pointed to otherwise.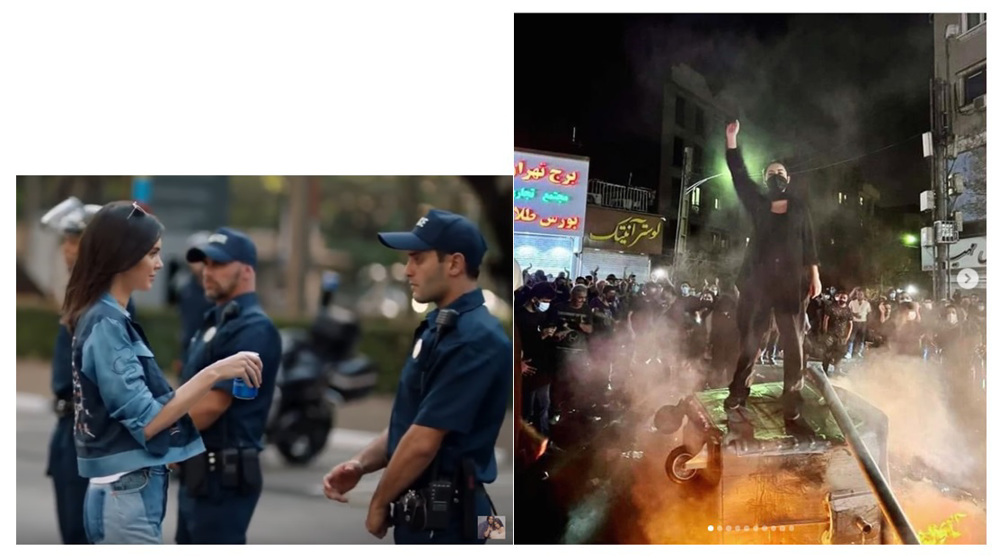 If the so-called liberal supporters of the unruly demonstrators insist that the Iranian state does not represent Islam, why support or apologize for the desecration of sacred Islamic symbols? Why not unequivocally and unapologetically condemn those actions? 
Having said that, the West holds its symbols as gospel in framing a narrative of the Iranian riots. Again, like in previous years, Tiananmen-like imagery of women in front of burning cars, dramatically taking off and waving their Hijab in the air was again seen. 
Symbolism and spectacle remained a key part in manufacturing consent for a
Western - and Westernized - audience, even, and especially when it had to fabricate a reality: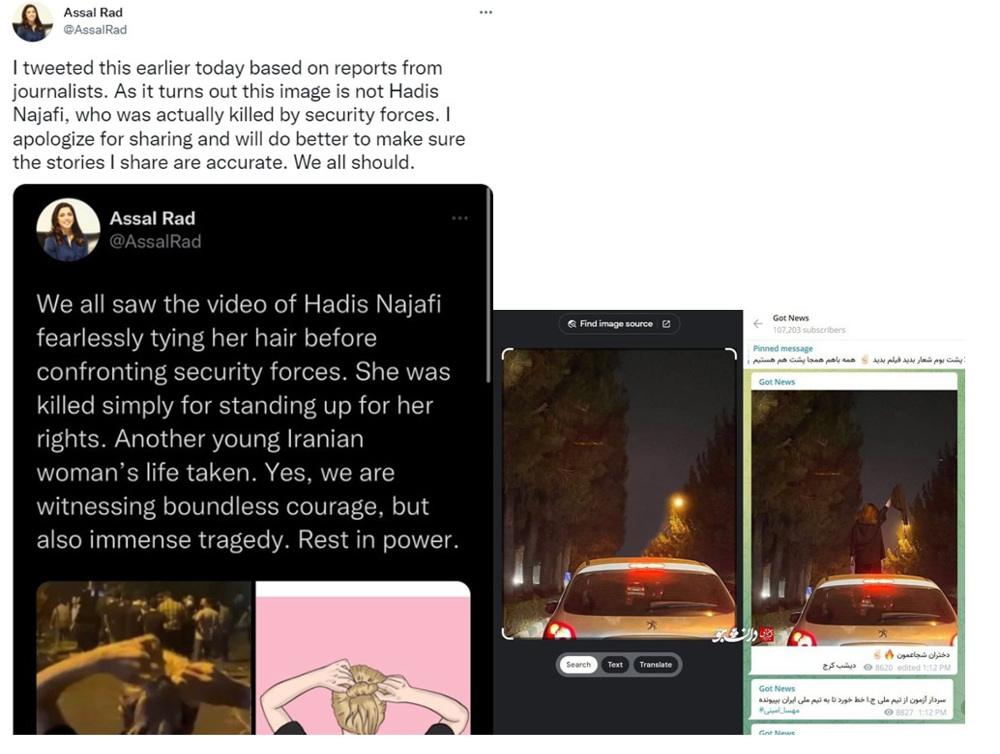 Political Context
Some social media users also emphasized on social media that Hadis Najafi, a young woman who was seen tying her uncovered hair in a viral video that fanned the riots, was of Azeri origin, possibly another attempt at feeding into separatist rhetoric.
Amini's cousin, who is part of the Komala Kurdish terrorist group, in an interview with Sky News beamed at how Amini's death was used to spark a "movement," while accusing the government of trying to bury the story.
He claimed that Iranian authorities pressured the family "not to release information to the media and the world" (despite the CCTV footage being released immediately and the evidence available clearly showing that Amini was not a victim of beating) bragging that "thousands" from her home town Saqez joined demonstrations over her death. 
In 2018, after the Trump administration unilaterally withdrew from the 2015 nuclear deal and imposed crippling sanctions on Iran under the so-called "maximum pressure campaign", the group registered in Washington DC as a formal lobby group.
Only two months ago, Iran caught a number of Mossad-linked operatives working with the group, arresting 10 of its members.
The Komala group has been involved in terror attacks and acts of sabotage in Iran in close collaboration with the US and the Zionist regime. In response to their acts of sabotage during the riots, which included the intent to use weapons transferred from Azerbaijan, including the discovery of such weapons in Saqez, the IRGC pounded Komala military targets in northern Iraq on Wednesday with ballistic missiles and suicide drones. 
In addition to being one of the main points of theft of Iraqi and Syrian oil, Kurdish terrorists operating out of northern Iraq often launch attacks on Iran, in collaboration with Mossad.
Who are the violent ones?
On September 22, days after the media charade over Amini's death started, the US State Department responded by slapping sanctions on seven different entities in Iran's security and defense apparatus. 
Framing the Iranian government and its security forces as violent against its citizens, especially women, and stitching together fictitious tales about its activities has been the latest rhetorical campaign in undermining the Islamic Republic, which incidentally comes amidst stalemate in talks aimed at salvaging the 2015 nuclear deal. The talks have been stalled due to West's procrastination and foot-dragging.
While anti-Iran, Western and Western-funded media falsely claimed that Iranian police were inciting violence and killing protestors, it was the West-backed rioters going on the rampage across the country, burning public properties, brutally murdering police officers, harassing women, and ripping off their Hijab. These well-documented incidents of violence did not receive any attention on anti-IR social media, as it didn't suit their deeply sinister agenda. 
Their narratives served to obfuscate the truth of brutal violence unleashed by the anarchistic rioters. Security forces and local police were brutally attacked, and their throats were slit in broad daylight by unruly mobs.
These attacks enabled saboteurs, organized foreign criminals, and other terrorists to come out of the woodwork. Iran caught the Daesh collaborators as well as Komala terrorists during the recent riots in Mazandaran province in northern Iran. Smuggling of weapons was foiled, which was aimed at instigating riots and fanning more violent demonstrations at a time when the Israeli and Turkish-backed troops of Baku are waging a brutal war against Armenians and have been increasingly provoking Iran at the border.
As the US strengthens its law enforcement, it aims its efforts at undermining the security and stability of countries like Iran through similar tactics, means, and end goals developed in Syria years ago. 
The greater context
What the corporate Western media and its sponsors tend to overlook or disregard are the decades of cruel US sanctions that have had a devastating impact on Iran's economy, and killed tens of thousands of people, including children. Complete sanctions removal should be the only legitimate demand Westerners and foreigners should make on Iran at this point. 
So, the complete sanctions removal should be the only demand Westerners and foreigners should make on Iran at this point. 
Again, the move should be total and not selective - rather than advocating the partial removal of sanctions to allow the US to easily penetrate Iran's internet, with Elon "We Can Coup Whoever We Want" Musk even making an idle boast on Twitter to impose upon Iran's airwaves his Starlink system.

When Iranians demanded, in one voice, that the murderous US sanctions be lifted, or when Iranians from all social denominations flooded the streets in every city (even BBC couldn't deny its scale and magnitude) against the diabolical US murder of top anti-terror commander Lt. Gen. Qassem Soleimani.
Whenever Iranians came together to demand an end to the US-Zionist occupation and intervention in the region in protests that far outnumber and are far more representative of the will of the Iranian people, they were conveniently ignored, in yet another testament of Western hypocrisy and blatant double standards when it comes to Iran.
Julia Kassem is an Economics and Political Science graduate from the University of Michigan, currently working on a Masters in Urban Policy and Planning from the American University of Beirut. Julia is also a freelance writer, having contributed to Detroit's own Riverwise, Against the Current, blogs like the Establishment, and nationally syndicated outlets such as Counterpunch, Mintpressnews, and TruthOut.
(The views expressed in this article are the author's own and do not necessarily reflect those of Press TV.)