Iran's Foreign Minister Hossein Amir-Abdollahian says the Islamic Republic sees no limits when it comes to establishment of friendly relations with neighboring countries.
Iran's top diplomat made the remarks in a meeting with Oman's Deputy Prime Minister for the Council of Ministers Sayyid Fahd bin Mahmoud al-Said in Muscat on Monday.
Elaborating on the foreign policy of the new Iranian administration, Amir-Abdollahian said boosting cooperation with regional countries is among the administration's top priorities, adding that further promotion of political, economic and cultural ties with Muscat is high on Tehran's agenda.
Underlining Iran's fundamental stance on the need to boost cooperation with Persian Gulf littoral states, Iran's top diplomat emphasized that Tehran sees no limit or exception to establishment of cordial relations with regional countries.
The Iranian foreign minister voiced the country's readiness to improve economic cooperation with Oman, particularly in the fields of freight and passenger transport, energy and tourism.
He further briefed the Omani official on the latest developments in the ongoing talks between Iran and the P4+1 group of countries in the Austrian capital of Vienna and urged the participating sides to pursue practical and constructive initiatives.
Amir-Abdollahian emphasized that Iran is resolved to reach a "good agreement" with the five remaining parties to the 2015 landmark deal, officially known as the Joint Comprehensive Plan of Action (JCPOA), if the opposite side shows goodwill and seriousness.
Speaking in a televised interview whose text was published on Sunday, the Iranian foreign minister said it is possible for negotiating parties in the Austrian capital to reach a good agreement in the shortest possible time if there is serious will on all sides.
Iran's top diplomat said, "If there is serious will, we will be able to reach a good agreement in the shortest time, and as of today, we believe that negotiations are positive and moving forward."
Elsewhere in his Monday meeting, Amir-Abdollahian pointed to the Yemen war and said the Islamic Republic's principled stance is to support efforts aimed at finding a political and dialogue-based solution to the crisis in Yemen and hailed Oman's position in this regard.
Saudi Arabia and a number of its regional allies, including the United Arab Emirates, launched the brutal war against Yemen in March 2015 to eliminate Yemen's popular Houthi Ansarullah movement and reinstall former Yemeni president Abd Rabbuh Mansour Hadi, a staunch ally of Riyadh.
The war, accompanied by a tight siege, has failed to reach its goals, killing hundreds of thousands of Yemeni people instead.
The UN says more than 24 million Yemenis are in dire need of humanitarian aid, including 10 million suffering from extreme levels of hunger. The world body also refers to the situation in Yemen as the world's worst humanitarian crisis.
The Saudi war has also taken a heavy toll on the country's infrastructure, destroying hospitals, schools, and factories.
The Omani official, for his part, said Tehran and Muscat enjoy close and cordial relations but they need to further improve cooperation.
Oman is keen to play a role in promoting convergence among regional countries, he added.
Heading a delegation, the Iranian foreign minister arrived in Muscat on Monday for a day-long visit.
Speaking to reporters upon his arrival, Amir-Abdollahian hailed the long-lasting and sustainable relations between Iran with Oman, emphasizing that the expansion of ties with Persian Gulf littoral states is top on the foreign policy agenda of the incumbent Iranian administration.
Amir-Abdollahian: Dialogue sole way to solve regional issues
In another meeting, Amir-Abdollahian and Omani Foreign Minister Sayyid Badr bin Hamad bin Hamood Albusaidi discussed ways to bolster mutual relations in various political, economic and cultural areas as well as leading regional and international developments.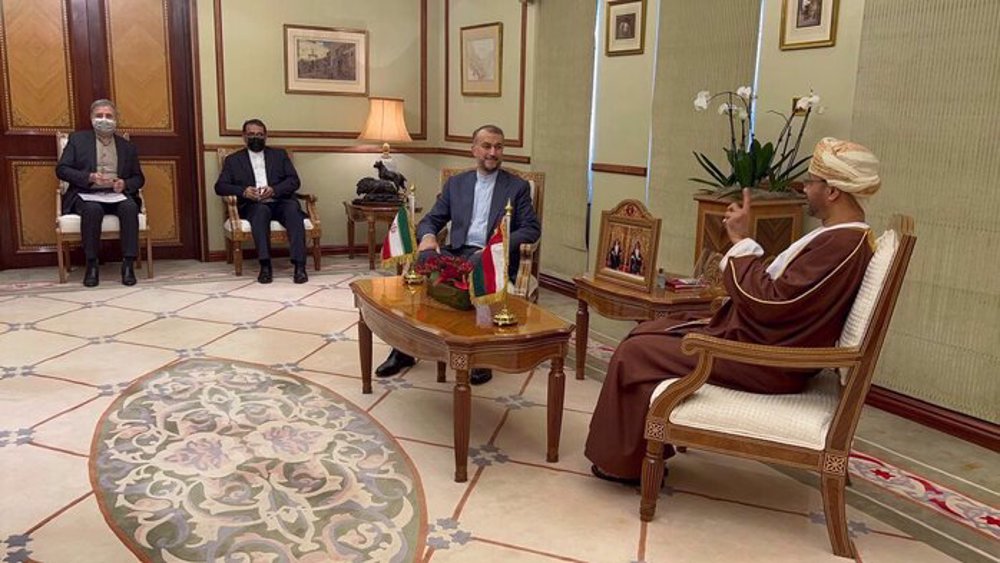 During his meeting with the Omani counterpart, Iran's foreign minister lauded Oman's approach to resolution of regional problems through dialogue and cooperation, emphasizing that dialogue is the sole way out of the current problems that have plagued the region.
He said Tehran and Muscat enjoy growing economic cooperation and expressed hope that trade and economic interaction among regional countries would serve as a model for lasting peace and security.
The Omani foreign minister, for his part, pointed to Iran's great economic capacities and human resources and stressed the importance of improving bilateral cooperation and making use of the region's economic potential.
In a phone call earlier this month, the foreign ministers of Iran and Oman discussed various issues of interest to both countries, stressing the importance of enhancing bilateral cooperation on the international level.
The top Iranian and Omani diplomat also urged the continuation of consultations on different mutual and international issues.