Thousands of Israelis have been forced to evacuate six settlements outside al-Quds amid a raging wildfire.
A large blaze broke out about 13 kilometers (8 miles) west of al-Quds on Sunday, blanketing the city in smoke.
Israelis in Beit Meir, Ksalon, Shoresh, Sho'eva, Ramat Raziel and Givat Ye'arim were asked to evacuate their settler units as a precaution.
Police spokesman Eli Levi told Army Radio that at least 10,000 people have been evacuated from their units so far. Several roads were blocked due to the forest fire, according to the police.
The region's fire chief, Nissim Twito, said the blaze may be the biggest in recent years in the area, adding that 60-70 firefighting teams and 12 aircraft were fighting the flames.
The Kan public broadcaster reported that at least three people were being treated for smoke inhalation.
A 32-year-old firefighter was also injured while battling flames near Shoresh on Sunday evening. His injury was classified as moderate.
Channel 13 quoted an unnamed fire-and-rescue official as saying that the fire was likely sparked by humans, but the official said it is not clear year whether it was arson or negligence.
Emergency units from other regions assisted the local services as strong winds were fanning the flames. The Israeli military also joined firefighters in the battle against the blaze.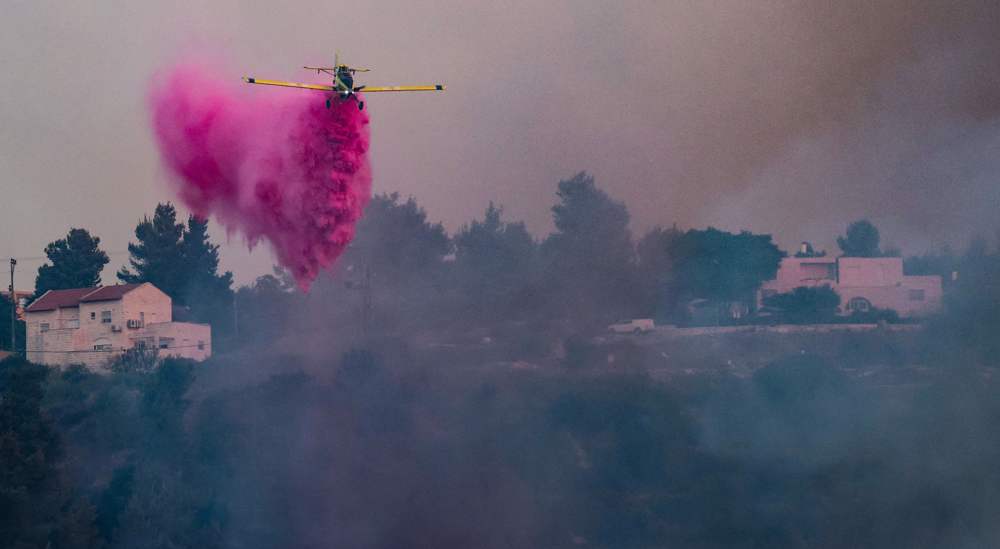 By Sunday evening, the fire in Beit Meir, Shoresh, Sho'eva and Ksalon was largely under control, according to local officials, but the blaze in Ramat Raziel and Givat Ye'arim was still burning.
Israel's prime minister Naftali Bennett said he would weigh if there was a need to accept offers of firefighting assistance from abroad.
Earlier this month, another major blaze hit the area. Despite the soaring temperatures that caused forest fires in Mediterranean countries, including Greece, Turkey and Algeria, in recent weeks, the local fire chief said that blaze was likely started by people rather than the weather.
In June, Israeli authorities claimed that Palestinians were suspected of being behind the fires that erupted near al-Quds.
More than 600,000 Israelis live in over 230 settlements built since the 1967 Israeli occupation of the West Bank and East al-Quds.
All Israeli settlements are illegal under international law as they are built on occupied land. The United Nations Security Council has condemned Israel's settlement activities in the occupied territories in several resolutions.