Turkish Foreign Minister Mevlut Cavusoglu has shown his gratitude to the Iranian government and nation for the generous support to the country in the wake of a massive earthquake that killed tens of thousands of people and left many more in need of shelter and aid.
Cavusoglu paid a visit to the field hospital set up by the Iranian Army in the hard-hit southeastern Turkish city of Adiyaman, which is providing medical treatment and various services to the quake victims.
During the meeting, Cavusoglu met with head of the Health and Medical Department of the Islamic Republic of Iran Army, Dr. Habib Sadr, and was briefed about the activities and services of the Iranian medical facility.
The Turkish foreign minister appreciated Iran's humanitarian assistance to the earthquake victims, and wished the government and the people of Iran health and success.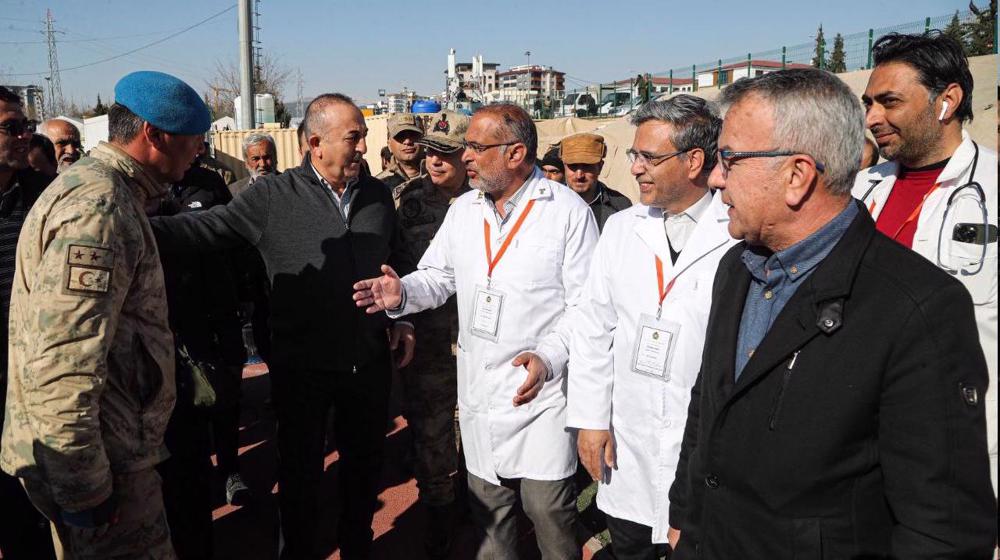 The Iranian Army's hospital has various departments, including emergency, radiology, laboratory, pharmacy and surgery. It is staffed by 12 physicians, 63 nurses as well as emergency, surgery, laboratory and radiology specialists.
At least 40,642 people were killed by the strong earthquake that jolted southern Turkey on February 6, the latest official data showed.
The quake was centered in Kahramanmaras and struck 10 other provinces – Adana, Adiyaman, Diyarbakir, Hatay, Gaziantep, Malatya, Kilis, Osmaniye, Elazig, and Sanliurfa. More than 13 million people have been affected by the devastating quake.
Thousands of international search and rescue personnel, including those from Iran, Pakistan and other Muslim countries, flew into Turkey after the quake hit southern provinces.
Ankara issued a level-4 alert, calling for international aid. More than 249,000 search and rescue personnel are currently working in the field, according to Turkey's Disaster and Emergency Management Presidency (AFAD).
Around 100 countries have offered assistance so far, with many having sent rescue teams.