People have staged demonstrations across Bahrain to voice their unwavering support for Palestinians and their legitimate struggle, protest against the normalization of ties with Israel, and demand the unconditional release of political prisoners.
Bahrainis held rallies in the villages of Diraz and al-Markh, where they denounced the Israeli military over rising violence in the occupied West Bank and East al-Quds and the sharp increase in the number of Palestinians killed.
They also reiterated their support for the Palestinian nation and their resistance against the Israeli occupation.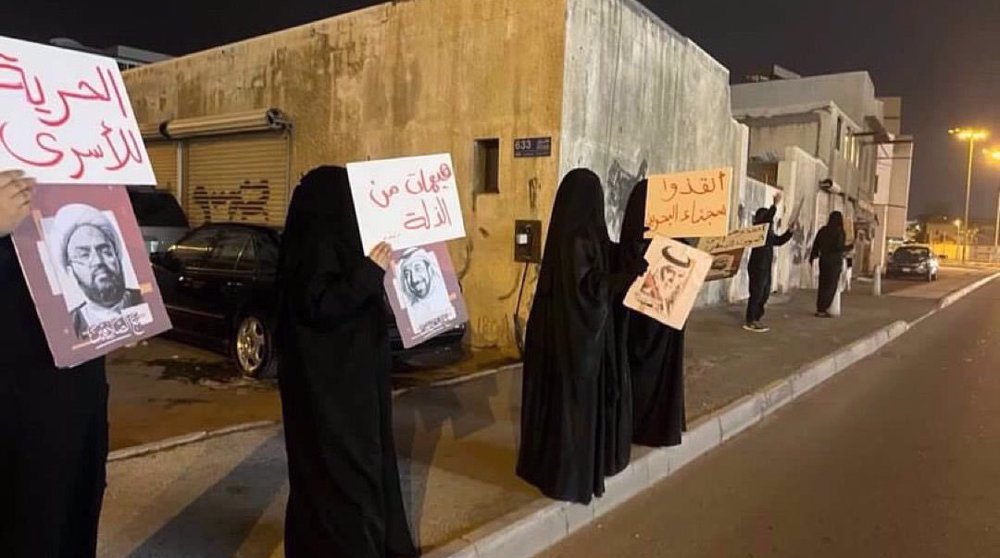 In Sanabis, demonstrators renewed the call for Manama to release political prisoners from its jails immediately and unconditionally.
The participants held up signs in solidarity with the inmates, as well as pictures of opposition leaders and figures.
Last month, Bahrain's Al Khalifah regime dispatched a "security" delegation to the Israeli-occupied territories, amid outrage among the public in the Persian Gulf kingdom over normalization with the regime in Tel Aviv.
The New Khalij news website, citing a post published by Israel in the [Persian] Gulf Twitter account of the Israeli Ministry of Foreign Affairs, reported on January 17 that the visit took place recently, without specifying its location.
The account, which defines itself as the official account of the virtual Israeli embassy in the Persian Gulf region, announced on Tuesday evening that a delegation headed by Bahrain's Public Security Deputy Chief Major General Sheikh Hamad bin Mohammed Al Khalifah, arrived in Israel on an official visit and met with the Commissioner-General of the Israel Police.
Bahrainis have repeatedly expressed their opposition to the normalization of ties with the Israeli regime by holding demonstrations.
Bahrain's main opposition group al-Wefaq and the kingdom's top cleric Sheikh Isa Qassim have also repeatedly condemned the normalization move made by the al-Khalifah dynasty.
Bahrain and the United Arab Emirates signed US-brokered normalization agreements with Israel in an event in Washington in September 2020.
Sudan and Morocco followed suit later in the year and inked similar US-brokered normalization deals with the occupying regime.
The move sparked widespread condemnations from the Palestinians as well as nations and human rights advocates across the globe, especially within the Muslim world.
Palestinians slammed the deals as a treacherous "stab in the back" and a betrayal of their cause against the decades-long Israeli occupation of Palestinian territories. Palestinians are seeking an independent state in the occupied West Bank and the Gaza Strip with East al-Quds as its capital.