Tunisians have headed to polls to take part in the second round of parliamentary elections, as all eyes are on the turnout amid deepening economic woes.
A total of 262 candidates are competing for 131 seats in the new legislature, a body largely stripped of its powers following President Kais Saied's dramatic power grab.
The voting stations for the run-offs opened on Sunday after the first round of polling drew only an 11 percent turnout. Only 30 candidates, out of the total who wanted to fill the 161-member parliament, gained enough votes in the initial round last month.
Critics of the president blamed the low turnout on the sweeping political changes brought about since Kais Saied rose to power
Saied has decreed the new, mostly powerless, parliament as part of a reconfigured presidential system that he introduced after shutting down the previous parliament in 2021 and assuming broad control over the state.
His critics accuse him of seeking to dismantle the democratic system enacted after Tunisia's 2011 revolution, which sparked the Arab Spring in turn.
They also ridiculed December's low turnout as evidence that his sweeping political changes lack popular support.
Meanwhile, Saied's new rules for parliament place the legislative body below the executive body of government, giving the president the needed authority to form or dismiss governments. The rules also reduce the role of political parties, with parliamentary candidates listed only by name without reference to their political party affiliations.
Saied's critics say the elections are an "orchestrated show" aiming to emanate "an image of democracy" in the country.
In past weeks, state television had increased its focus on Sunday's runoff votes including through debates between candidates. Critics of the president say the move is part of the government's efforts to boost turnout.
At a cafe in Ettahrir, Mongi Layouni, one of seven men sitting together and drinking coffee, said he might vote in the elections. "I don't know. Maybe I will go later."
Another man, also in the cafe, who gave his name only as Imad, said he did not believe his vote mattered after Saied's political changes.
"The president alone is deciding everything," he said. "He does not care about anybody and we do not care about him and his elections."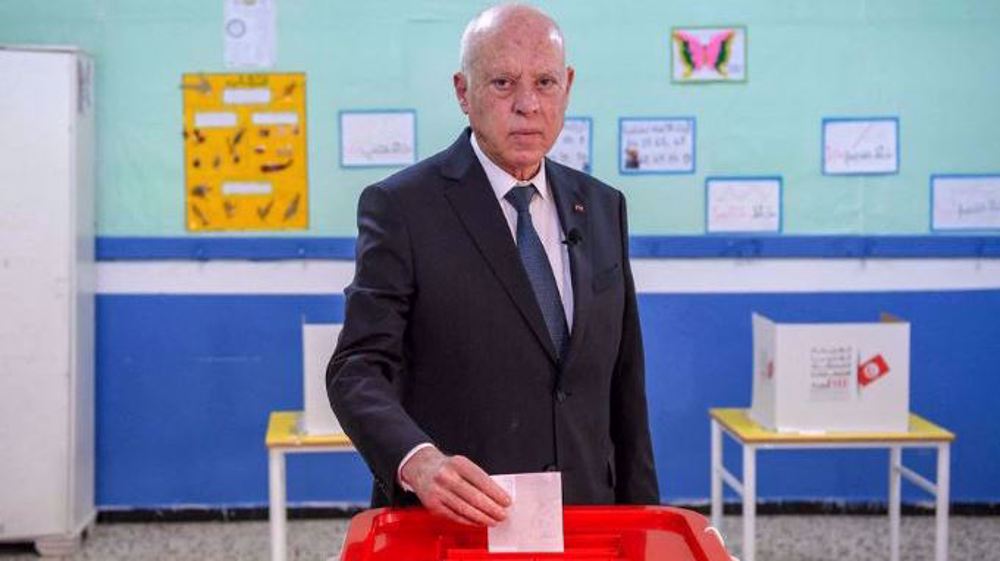 However, another man who was casting his vote at a polling station insisted that it was the responsibility and duty of all Tunisians to show more initiative and have active participation in the elections.
"The new parliament may or may not change the situation, but Tunisian citizens must change their thinking. Tunisian citizens must be responsible and active, not only ask the government to do everything. Tunisian citizens must take the initiative and uphold their duties." Ali Ben Mabrouk said.
Polls are open from 8 a.m. until 6 p.m. (0700 GMT-1700 GMT).