In the holy month of Ramadan, the month of Muslim fasting, spirituality fills the air, people are automatically drawn to the iftar table at sunset when it is time to break their fast.
You don't have to be a practicing Muslim to want to join in since, fortunately, hospitality is second-nature to Iranians and the people of the region so it wouldn't be hard to get a taste of the puddings and savories served at iftar, and a sense of the appreciation that comes after a whole day of abstinence from food or drink, abstinence from dawn to dusk which goes on for the whole of the 9th month of the Islamic lunar calendar.
Traditional iftar fare is tasty but simple, yet not cheap, presently everything is expensive and many of the fasting populace can only get by with a little help from their friends, which is precisely what Ramadan is all about, doing good deeds.
So it's a win-win situation for those receiving alms in cash or meals, as well as those giving them out; the faithful, charities and religious organizations, as well as the Government.
Iranian New Year 1401, which started on the 21st of March, has brought our pre and post-Islamic periods together. As the Nowruz, or New Year, holidays ended in picnicking on April the second, Ramadan began on April the third; a most auspicious coincidence.
Iranians are essentially seeking justice and pure spirituality free of materialism and that's why they are interested in Imam Ali's virtues – Shias' first imam - and made him their role model.

Apart from Imam Ali, the Islamic values, not considering those of the Umayyad and Abbasid caliphates we don't accept, [Sic.] have been the very virtues Iranians had lost.

It seems as if before Islam was introduced to the country, the Iranian society had been shrunken and fenced, but this change in religion has somehow released the energy and made Iran the peak and zenith of the Islamic civilization. Iranians have become pioneers in every field.

Mahdi Jamshidi, Research Institute for Islamic Culture & Thought
Ramadan is a month of revelation, birth and death; cause for celebration and mourning in reverence. Ramadan is the month in which the Holy Quran was revealed; Hassan, the second Shia Imam (leader) a descendent of the Holy Prophet was born; Ali the first Shia Imam was assassinated; a conclusive battle at Badr was won; and Muslims must fast; except in travel or if sick or pregnant.
Now what sets apart an officially Shia Iran from the rest of the Muslim world at large, is that the first Shia Imam Ali is officially mourned, on his day of demise or martyrdom, the 21st of Ramadan. Shia Muslims  mourn the dead, unlike Sunni Muslims who say: We are from God and to God we must return. 
But the similarity in Sunni and Shia versions of fasting and festivity is far greater than differences and the deeper meaning of every  rite and ritual is common to all.
The basic idea of fasting is self-control, empathy for the poor, forgiveness, and appreciation of God's bounty. Self-control is believed to benefit the individual by elevating his or her spiritual nature or energy.
I mean, there may be superficial differences between Shiites and Sunnis, but the deeper we go, the more commonalities there are. What you just mentioned is true when we talk about the essence. What you said is only natural.

The social and cultural values on a transnational scale can help shape a civilization. That's because civilization isn't bound to the geographical borders of a nation.

We can't consider a government and its people a civilization. Civilization is the sum of several societies; several governments and nations join to form a civilization. That's the preliminary supposition. What binds them together is their strong religious commonalities.

Mahdi Jamshidi, Research Institute for Islamic Culture & Thought
Ramadan is both a reminder and a practice, as a visitor to Iran put it. It comes every year to remind us to be good to others, be they man, animal or plant. 
The holy month of Ramadan is not a month for worship per se. It's a whole culture. Ramadan is the month of cooperation; assistance, getting closer to relatives, helping the poor, avoiding and ending grudges, selfishness and others.

This month is a time for practicing good qualities and avoiding indecencies. All these characteristics of Ramadan have given the holy month a special place in the Muslims' religious culture and official and oral rhetoric, especially among the Iranians.

Ramadan is represented as a special month in the poems of Hafez and other Iranian poets. Worshiping during this month is quite a great gift.

Hamed Rostami, Assistant Professor, University of Islamic Denominations
The deeper meaning of Ramadan is expressed or celebrated in ritual and custom and in a multi-ethnic Iran, in many different tones.
Ramadan has a night life of its own, with cities coming to life from dusk but with the whole family participating. Tehran the capital is lit up more than usual with food stalls open some from dusk to dawn, and restaurants cafes and stores open till really late.
Eating is permitted from dusk till dawn, but not obligatory. However it is not allowed to eat in public outside these hours in Iran. But as travelers often cannot abstain, hotel restaurants everywhere are open at regular hours, as are supermarkets and bazaars.
We've had a variety of programs scheduled over the past year. We've had detailed plans for children of labor. We've thrown parties for orphans. We were with orphaned children at the moment when the New Year began, the orphans who have no parents. Everybody wants to be with their family on New Year's Eve, and we were with ours.

Together with Tehran's Mayor, Dr. Zakani, we had a great event in the Milad Tower for the orphans. We spent happy moments there because the children were happy. The 5-hour event started in the year 1400 in the Solar Calendar and went on until midnight on the first day of the year 1401.

The children were very happy and had fun. We took them to the amusement park, served them dinner, and gave them toys. We've had such events during the year. We'll have similar plans for Ramadan as one of the tens of such plans in the year.

Ahmad Ahmadi Sadr, Tehran Municipality Welfare, Services & Social Participation Organization
For those who wish to participate in Ramadan rituals, Mosques usually provide Iftar, as do private homes. Iftar which follows the evening prayers, can often come as Nazri or alms offered for a wish to be granted or to thank the Almighty for a wish already granted.
We predicted that we would provide assistance packages in the holy month of Ramadan and during the Nowruz holidays to 30-thousand households that meet the criteria I mentioned. We donated some of those packages on New Year's Eve, some others during the Nowruz holidays, and the rest will be distributed by the end of Ramadan, God willing.

Ahmad Ahmadi Sadr, Tehran Municipality Welfare, Services & Social Participation Organization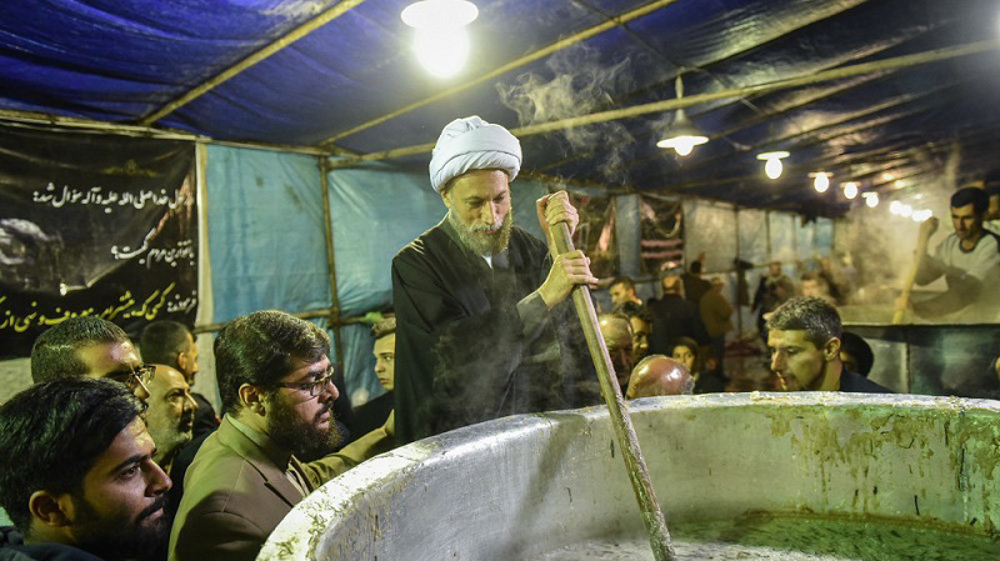 A province particularly colorful in Ramadan is Semnan. Among its customs and traditions are night-time singing, sewing a wish bag or bag of blessings , the henna or hair hand and foot dying ceremony, knocking on the doors of houses to receive broth and pudding, and cooking local foods.
It's on the 27th day of Ramadan, or the last Thursday of the month, when women and girls get together to sew a bag for themselves, in which they put some money, say a prayer and blow on them, and then keep them in their trunks until the next year.
In some parts of the province, people even go onto the rooftops of homes and mosques an hour before sunrise, to sing poems and recite prayers. There is a purpose to it: to wake others up!
Quranic verses and different hadiths have underlined the sheer value of the month. The holy month of Ramadan is so important that verses 84 and 185 of Surah al-Baqarah talk about fasting, its rules, and expiation for not fasting.

Strengthening piety, promoting peace of mind and body, equality between rich and poor, reviving moral virtues and avoiding vices, the existence of Ghadr nights in the holy month of Ramadan, reciting the Qur'an in Muslim countries, and the spirit of empathy and brotherhood are among the benefits and virtues of fasting during this blessed month.

Hamed Rostami, Assistant Professor, University of Islamic Denominations
Then there's just the enchantment of some places, regardless of ritual or custom. In Isfahan, you can lose yourself to the evening breeze on Zayandeh Roud or River, as you walk along its magnificent historical bridges.
For religious occasions such as Ramadan, Mashhad and Qom are the most visited cities in Iran as they are among Shia capitals of the world.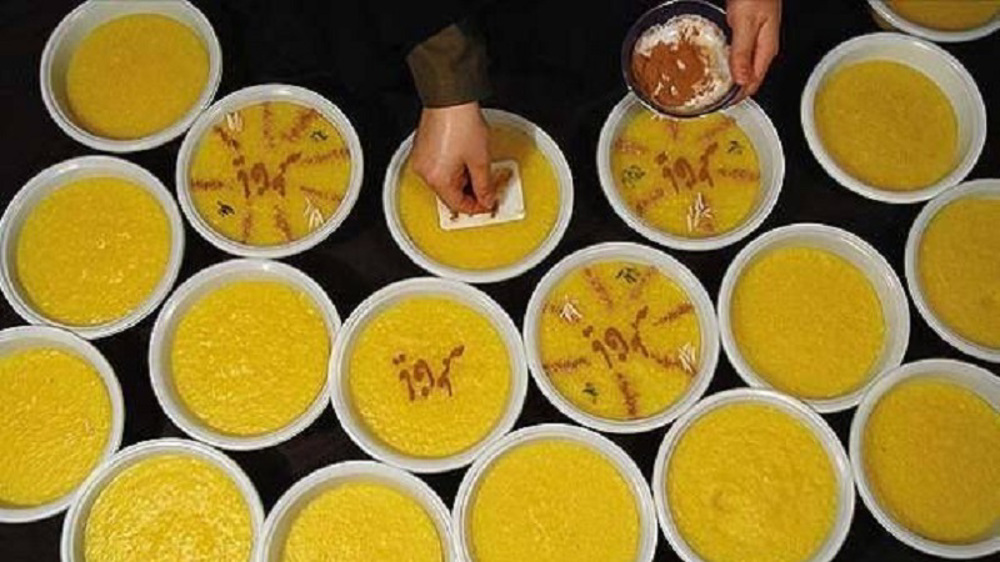 The City of Mashhad in Khorassan, one of Iran's 31 varied provinces, is the burial place of the 8th Imam of Shi'a Imam, Imam Reza, and the home to the biggest mosque on earth, the Shrine of Imam Reza. Qom although small in size, is the burial place of Imam Reza's sister Masumah and the country's scholastic centre for clerical studies.
Ramadan comes in various flavors. The Iranian version and flavor is steeped in Iranian culture and tradition.  
The Westerners provide humanitarian aid, but we provide faithful aid. This type of aid is superior to the humanitarian one because it's given for God. This means helping others for (the love of) God and not for a transitory feeling of pity. It's considered a religious and holy act. It's a movement. It's a kind of helping where they don't seek personal benefits.

The Western civilization is at fault for several reasons. They've realized that they're dividing society. They promote totalitarianism, individualism, and egoism.

Grassroots and faithful aid are the exact opposite. It means that one shouldn't stop at themselves but has to care about others too, and not expect anything in return. It's a faithful help, which means the one you'll be dealing with is God and not the person you're helping.

Mahdi Jamshidi, Research Institute for Islamic Culture & Thought
Now in talking of the Iranian brand of Ramadan, let's not forget the nature of the month is common to all Muslims as a reminder and practice of humane ways. And strategically speaking, it is cause for unity among them.
The unifying element of Ramadan
The holy month of Ramadan creates a kind of unity and convergence among the hearts of Muslims. Fasting during the holy month lays the foundation of such a convergence.

No matter where in the world they are, Muslims are required to fast. Although Shiites and Sunnis have differences in some issues, there's virtually no difference of opinion between the two over fasting.

All branches of Islam share the same views on the matter. In fact, the holy month of Ramadan brings the hearts of Muslims closer and strengthens the unity of the Islamic Ummah.

Hamed Rostami, Assistant Professor, University of Islamic Denominations
Back to custom and culture: In Ramadan known as the month of God's feast—that's when Muslims are invited to a grand feast held by God—here's what his worshippers put out in Iran generally: Many break their fast with warm water or a sip of sweet tea or a date, before prayer, then sit down to the Iftar table after their evening prayer.
Options for iftar
Tea always with Zolbia Bamieh, dates, bread & cheese & fresh herbs or walnuts and the likes, rice and saffron porridge or Shole-Zard meaning wobbly yellow similar to rice pudding but with safron, a special meat porridge called Halim, which is nice with sugar.
A broth called Ash-Reshteh which is made with noodles, beans and herbs and cutlets and scrumptious starters made with aubergines.
As you see, not eating all day doesn't mean starving! Also at dawn, before the sun rises, which is the time when Muslims say their morning prayers and the fasting begins, they set a special table similar to the iftar table. That is the Sahari or dawn-time table.
For some it could mean starving. But the Tehran Municipality Welfare Organization tells of how it has tended to that.
In considering support packages for the residents in Tehran, we want to be a piece of the jigsaw puzzle that helps the citizens. We have a target community that we want better access to.

Our target community includes mostly those who are considered underprivileged.

There are people who, for any reason, are dealing with addiction that threatens their families. There are women who're heads of households and we have moral obligations to them. There are families struggling with poverty.

The target community was identified over the past few years, especially the last year.

Ahmad Ahmadi Sadr, Tehran Municipality Welfare, Services & Social Participation Organization
We asked if they had had more thanks coming their way or objection by those not receiving alms. But apparently my question was pointless as Ramadan is just a flash in the whole year, during the entirety of which the homeless are provided with free shelter.
We identify those we see on the streets and talk to them and invite them over. We have patrol cars specializing in providing such services. The vehicles are tasked with identifying homeless people across the city. We have social workers on the vehicles.

Sometimes people call the Municipality's 137 system and report when they see a homeless person or one who's publicly using illegal drugs. The patrols will then be informed and get there and bring the person to the housing centers we've created across the city. They bathe and eat breakfast, lunch, and dinner.

If they're migrants and want to go back to their cities, we'll help send them. If they're homeless, we'll continue to help them.

Ahmad Ahmadi Sadr, Tehran Municipality Welfare, Services & Social Participation Organization
In 2021 also, some 210,000 food packages [were] distributed among deprived families as part of the third phase of Iran-e Hamdel (literally meaning sympathetic Iran) national campaign which kicked off at the beginning of the holy month of Ramadan...
During the campaign which carried on into subsequent years, the first four days of Ramadan, saw 727,762 warm meals, 96,990 iftar packages, 210,516 food packages distributed among the underprivileged.
The campaign was first launched in 2021 aiming to provide financial assistance to the needy affected by the COVID-19 pandemic, which has collected 1.5 trillion rials.
It's a matter of giving others what you have and putting yourself in their shoes. You shouldn't always be waiting for the government to take care of things. The government has an obligation, but what about the people?

Shouldn't they have a thirst for helping people? We saw that last year. The last Ramadan was one of the most remarkable since the victory of the Islamic revolution. There hadn't been such a worldview before.

We've heard from our grandparents that they'd help somebody. But we're talking here about a religious aid movement. This is a social movement. Groups of young people would provide such aid packages to those in need completely independently and without anyone asking them to.

Tying such beneficence to Ramadan is extremely valuable. Therefore, Ramadan isn't about mere spirituality.

Mahdi Jamshidi, Research Institute for Islamic Culture & Thought
Planning is not as easy as with a solar calendar. The difference between the lunar calendar on which Ramadan is the 9th month and other calendars is of the rotation. They rotate through different seasons. In 2022, Ramadan started on April 1st and in Iran April the second.  
In order to unify, or coordinate Muslim countries, the lunar calendar was adopted by all despite not being as reliable as the solar calendar.
 For official matters and everyday life, apart from religious events, some countries like Iran use the solar calendar.
Our studies and observations show that before the victory of the Islamic Revolution, people were mostly concerned with the superficial aspect of Ramadan.

They believed the holy month as being purely ritualistic, meaning that they shouldn't have eaten or drank anything for several hours. But the change that took place, in my opinion, was that Ramadan's rituals became much deeper.

We've gone past the superficial aspect and given it meaning. It doesn't mean that we don't adhere to the basic principles, but we don't stop at them either. In my opinion, Ramadan's rituals have become a means for personal transformation.

We're now expecting a spiritual transformation during the holy month. We're seeing if we can develop our souls or whether we can stop a bad habit. We're not considering Ramadan as a month of mere hunger and thirst.

Mahdi Jamshidi, Research Institute for Islamic Culture & Thought
As the arrival of Ramadan is announced by viewing the crescent of the moon it also ends after the crescent moon is seen again by specialists and this is followed by greatest prayer or Namaz of Muslims. 
The last 10 days are especially important because the Quran was revealed this month on the 'Night of Destiny' (lailat al-qadr), which is any of the 10 days in question. Some people actually retreat into prayers during these days.
The Shiias of Iran celebrate the Qadr nights from 19th to the 21st of Ramadan, as those coincide with Imam Ali's assassination and his subsequent death on the 21st.   The three nights, from the stabbing to his death, are known as the nights of Revival (shab i aheya) . Finally though comes the time for celebration.
How the government facilitates fasting varies year by year. But basically it gives handouts in cash or essential staples to the less fortunate. And for employees it cuts down on working hours
Our centers are spacious enough to house the homeless people across the city, for now anyway. We have enough space. There's no shortage of space to receive people.

But we want to expand it further and make it so that the areas are divided for each type of guest. This means that the seasonal workers, the homeless people, or relatives of hospital patients wouldn't sleep among those who're suffering from addiction. We're making improvements in that regard.

Ahmad Ahmadi Sadr, Tehran Municipality Welfare, Services & Social Participation Organization
Like Nowruz, Ramadan begins and ends in special ritual or occasion. A month of abstinence from consumption and self-purification ends in Eid-ul-Fitr or the Fitr celebration with family members and friends coming together for a feast, dressed to the nines.
The Fitr festivity does not mean that the spirit of the month is forgotten. In fact part of the jubilation is in the sharing, and Fitriyah or Zakat-il-Fitr;  gifts in cash which are given to the deprived or dependants.