Russia's defense ministry says it has resumed "offensive actions" in Ukraine after announcing a ceasefire earlier on Saturday to allow residents of two besieged cities of Mariupol and Volnovakha to evacuate.
"Due to the unwillingness of the Ukrainian side to influence nationalists or extend the ceasefire, offensive actions have been resumed at 18:00 Moscow time (1500 GMT)," defence ministry spokesman Igor Konashenkov said in a video briefing.
Ukraine earlier accused Russia of violating a limited ceasefire by shelling the besieged port city of Mariupol, as the war in the country entered the tenth day.
Officials in the city said on Saturday Russia continues shelling the city, despite a ceasefire agreed earlier to allow civilians to leave the port of Mariupol on the Sea of Azov.
"Due to the fact that the Russian side does not adhere to the ceasefire and has continued shelling both of Mariupol itself and its environs and for security reasons, the evacuation of the civilian population has been postponed," officials said in a statement on social media.
Russia and Ukraine are holding talks in Belarus for a way out of the conflict. During the second round of talks on Friday, the two sides agreed to create humanitarian corridors to evacuate civilians from unspecified locations. A third round of talks is expected to take place next week.
In the wake of the agreement on truce, the southern city of Mariupol, with about 450,000 people, was scheduled to begin the evacuations at 0900 GMT. But the municipal officials asked "all Mariupol residents to disperse and head to places where they can shelter."
"At the moment, negotiations are underway with Russia to establish a ceasefire and ensure a safe humanitarian corridor," the statement said.
The Russian Defense Ministry, however, denied the accusation, saying the Russian forces had respected the ceasefire. It accused Ukrainian forces of shoring up defenses during the halt in fighting.
The ministry also accused Ukraine nationalists of blocking Ukrainians from leaving Mariupol and Volnovakha towards Russia.
"The same is happening in Kharkiv and Sumy, as well as in a number of other settlements," the defense ministry said in a statement, referring to two other cities in eastern Ukraine at the heart of battle.
The Ukrainian government has, meanwhile, posted a video showing an attack on a Russian helicopter on Saturday.
The Ukrainian forces say they shot the Mi-24 helicopter by a surface-to-air missile.
Ukraine also said its forces destroyed hundreds of Russian tanks and armored vehicles using hand-held anti-tank missiles supplied by the US, reports have said.
On February 24, Russian President Vladimir Putin ordered a military campaign in Ukraine over concerns about NATO's military activities close to its borders.
In a bid to end the deadly conflict, Putin said on Friday that he was "open to dialog with the Ukrainian side, as well as with everyone who wants peace in Ukraine."
The Russian leader, however, said this could happen only if "all Russian demands are met." These include the neutral and non-nuclear status of Ukraine, recognition of Crimea as part of Russia and of the "sovereignty" of people in eastern Ukraine.
Putin warns third parties against imposing no-fly zone over Ukraine
The Russian president warned world counties against imposing a no-fly zone over Ukraine, saying any such move would have "catastrophic consequences" for the whole world. "Any movement in this direction will be considered by us as participation in an armed conflict by that country."
The president said imposing a no-fly zone would have "colossal and catastrophic consequences not only for Europe but also the whole world." Putin also dismissed reports that Russia is planning to declare martial law.
"Martial law should only be introduced in cases where there is external aggression ... we are not experiencing that at the moment and I hope we won't," Putin said. 
US, allies discuss Zelensky replacement
The United States and its Western allies are discussing how to secure "the line of succession" in Ukraine in the event President Volodymyr Zelensky is captured or killed, the New York Times reported Saturday.
According to officials from multiple governments, having "an independent leader" to recognize will help prevent Russia from replacing Zelensky with "a puppet leadership" in Kiev, the Times wrote.
The United States, Britain and the European Union (EU) would not recognize a government set up by Russia, according to the report.
The US had reportedly offered to evacuate Zelensky in the first few days of the war in Ukraine.
American officials deny they ever offered to evacuate him. Zelensky, however, refused to leave.
Foreigners fleeing Ukraine face 'racism' at border
In the meantime, foreign students attempting to leave Ukraine say they are experiencing racist treatment by Ukrainian security forces and border officials.
Many are currently stranded at the border town of Shehyni. Several students say racism makes it harder to flee the country.
Social media videos show African, Asian and West Asian travelers being assaulted by border guards and turned away from buses and trains while people were let through.
"Mostly they would, they would consider white people first," said a student from Ghana. "White people first, Indian people, Arabic people before black people. As long as you are black, no one likes you."
Ukraine's Foreign Ministry, however, denied claims of discrimination in crossing the border, saying in a tweet that a "first come first served approach applies to all nationalities."
More than 1.3 million people have so far fled Ukraine into neighboring countries, according to UN figures.
'Ukraine war to worsen global hunger crisis'
The World Food Program (WFP) has warned that the Ukraine war would take the global hunger crisis to tragic levels.
The United Nations' agency said it is ramping up food aid to Ukraine, citing reports of severe shortages of food and water in the capital Kiev and the northeastern city of Kharkiv.
"In a year when the world is already facing an unprecedented level of hunger, it's just tragic to see hunger raising its head in what has long been the breadbasket of Europe," WFP Executive Director David Beasley said.
Ukraine has closed its ports since the war began.
"The bullets and bombs in Ukraine could take the global hunger crisis to levels beyond anything we've seen before," Beasley added.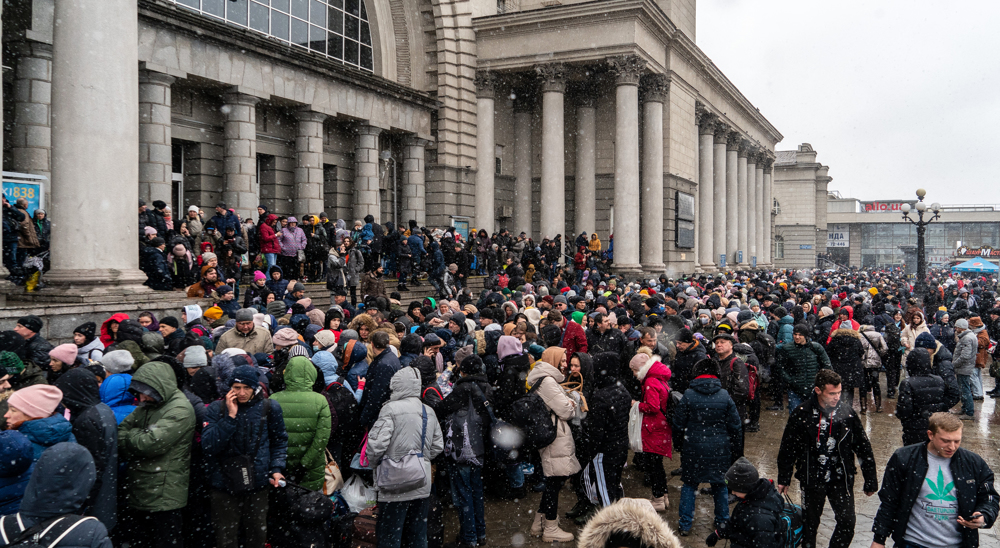 UN Secretary-General Antonio Guterres also warned earlier this week that the crisis in Ukraine could have a serious impact on vulnerable people around the world.
Both Russia and Ukraine play a crucial role in supplying food in the world. Together, they account for 29% of global wheat exports and 19% of global corn exports.
The WFP itself buys more than half its wheat from Ukraine.