The United States has warned that it would bolster its military presence on NATO's "eastern flank" and inflict "severe economic harm" on Moscow, "should Russia invade Ukraine."
The terse warning to Moscow comes on the eve of a virtual meeting between US President Joe Biden and his Russian counterpart Vladimir Putin.
A senior US official was quoted as saying by reporters on Monday that Biden will make clear there "will be genuine and meaningful and enduring costs to choosing to go forward should (Russia) choose to go forward with a military escalation".
The official, who spoke on condition of anonymity, further said Washington and European allies are prepared to take "substantial economic countermeasures... that would impose significant and severe economic harm on the Russian economy" if Russia attacks Ukraine.
According to the official, Biden will also make clear that if Putin moved in, "there would be an increasing request from eastern flank allies and a positive response from the United States for additional forces and capabilities and exercises".
Putin has listed out his own threats ahead of the call, including the potential deployment by NATO of offensive missiles systems on Ukrainian territory.
The United States, its NATO allies and Ukraine accuse Moscow of enlarging the number of troops near Ukraine's border as well as planning an invasion.
However, Russia says there is no such plan, but it has warned against any provocation from Ukraine that could trigger such an invasion.
Moscow accuses Washington of aggressive maneuvers in the Black Sea, where Ukraine and the United States have held military drills recently.
The unnamed US official, however, stopped short of threatening direct intervention of the American military force should Russia attacks Ukraine.
Washington is "not seeking to end up in a circumstance in which the focus of our countermeasures is the direct use of American military force", he said, on whether the US was prepared to send troops into Ukraine if Russia attacks.
Such talk, the official added, "would be precipitous conflict saber-rattling, and we'd prefer to keep those communications with the Russians private."
Earlier on Monday, the Kremlin said Russia is not expecting "breakthroughs" from the video call.
"Although our bilateral relations are still in a very sad state, there is still a revival; dialogue is beginning in some areas," Kremlin spokesman Dmitry Peskov said.
US State Department spokesman Ned Price said that Washington still believes that the Minsk agreements between Russia and the West on implementing a ceasefire in Eastern Ukraine were possible.
"We believe there is an opportunity, a window before us to resolve this diplomatically," Price said.
If Moscow does not show interest in that, the US is prepared to apply "high-impact economic measures that we've refrained from using in the past", Price warned.
Ukraine flexes muscles against Russia
Ukraine's President Volodymyr Zelenskiy has vowed to fight off any alleged Russian attack.
"The servicemen of the Armed Forces of Ukraine continue to fulfill their most important mission - to defend the freedom and sovereignty of the state from the Russian aggressor," Zelenskiy said in a statement.
"The Ukrainian army ... is confident in its strength and able to thwart any conquest plans of the enemy," he hastened to add.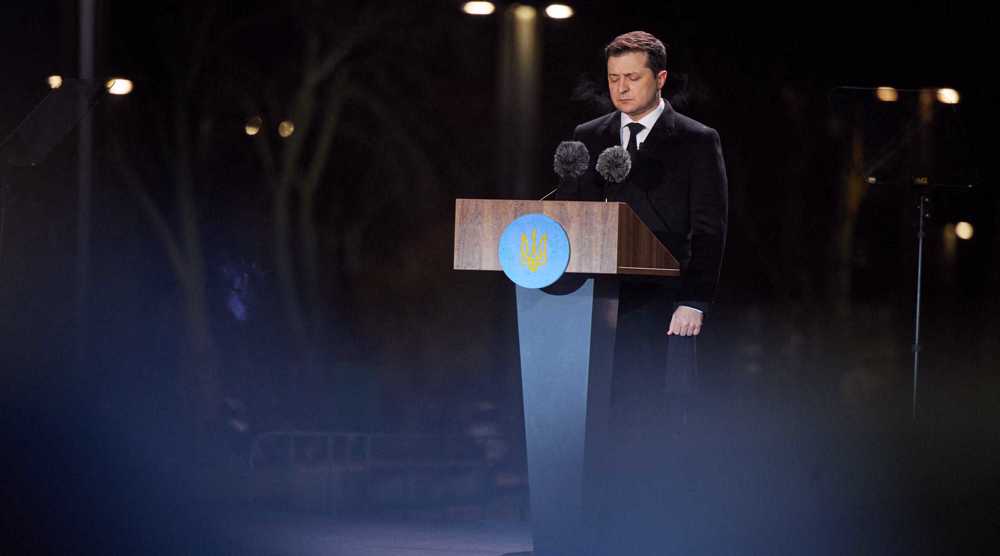 Zelenskiy's remarks came as Ukraine marked its national army day, with Kiev, Lviv and the southern port city of Odessa displaying US-made armored vehicles, Humvees.
A ceremony was also held in Odessa to hand over two recently delivered US Coast Guard patrol boats intended to bolster Ukraine's navy.
Relations between Ukraine and Russia have gone through declension since 2014, when the then Ukrainian territory of Crimea voted in a referendum to rejoin the Russian Federation.
Ukraine, along with its Western allies, claims that Russia has a hand in the ongoing conflict that erupted in the Donbass region between Ukrainian government forces and ethnic Russians in 2014.
Moscow refutes the allegation.