Security forces in Haiti have killed four of the attackers who assassinated President Jovenel Moise at his private residence, officials say.
In a televised briefing late on Wednesday, Haitian National Police chief Léon Charles said police had killed four of the "mercenaries" and detained two more, adding that security forces would not rest until all the assailants were killed or captured.
"We blocked them en route as they left the scene of the crime," Charles said. "Since then, we have been battling with them."
"They will be killed or apprehended," he added.
The police chief said three police officers who had been held hostage by the suspected gunmen had been freed.
Earlier in the day, Haiti's Communications Secretary Frantz Exantus said police had arrested the "presumed assassins," without providing any further details.
Moise, 53, was shot dead and his wife was seriously wounded after gunmen, some speaking Spanish, stormed their home in the hills above the capital, Port-au-Prince, at around 1 am local time on Wednesday.
The office of Interim Prime Minister Claude Joseph confirmed in a statement that Moise had been killed, saying the attack was carried out by an "armed commando group" that included foreigners.
Joseph, who has now taken helm, declared a state of emergency across the country. "I am calling for calm. Everything is under control," he said. "This barbaric act will not remain unpunished." He also said the First Lady had been airlifted to the United States for treatment and was in stable condition.
The Wednesday attack came amid a rising wave of violence in a country divided by a dispute over when Moise's term in office should have ended. Moise had been ruling Haiti by decree after the country failed to hold legislative elections in 2018. The opposition said his five-year term should have ended in February 2021.
Moise took office in 2017 and his term saw fierce protests, with the opposition accusing him of corruption and seeking to install a dictatorship by overstaying his mandate.
In February, Haitian authorities said they had foiled an attempt to overthrow the government of Moise. His assassination now is expected to bring more chaos to the impoverished Caribbean country, which is already struggling with political unrest, a surge in gang violence, and a growing humanitarian crisis.
The brazen killing has drawn condemnation from neighboring Latin American countries as well as other nations across the world.
Meanwhile, Haiti's Ambassador to the United States Bocchit Edmond has claimed that the assailants were masquerading as US Drug Enforcement Administration (DEA) agents as they entered Moise's guarded residence.
"This was a well-orchestrated commando attack," he said. "They presented themselves as DEA agents, telling people they had come as part of a DEA operation."
Edmond said he had asked the White House for help in identifying and capturing the killers.
Expressions of concern
The streets of Haiti's capital were mostly deserted on Wednesday and the airport was closed. Still, according to local reports, a caravan of vehicles including the ambulance carrying Moise's corpse to the morgue had to change route because of gunfire and roadblocks.
With Haiti politically polarized and facing growing hunger, fears of a breakdown in order are spreading.
As details of the assassination emerged, Colombia's President Ivan Duque called on the Organization of American States (OAS) to send an urgent mission to "protect the democratic order in Haiti."
The Dominican Republic closed its border with Haiti on the island of Hispaniola, except to returning nationals, and beefed up security.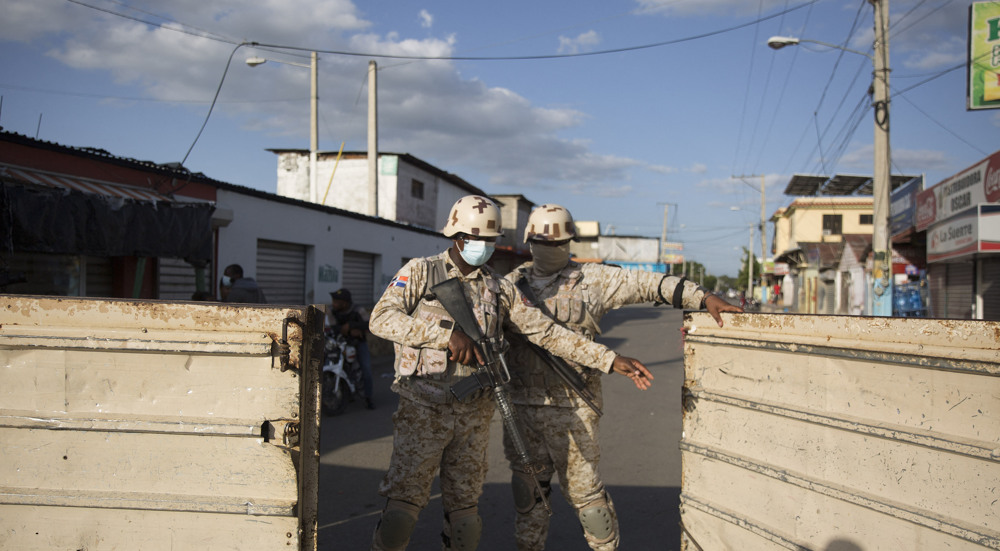 The US Embassy in Haiti said it would be closed on Wednesday due to the "ongoing security situation."
US President Joe Biden denounced the killing as "heinous" and called the situation in Haiti "worrisome."
The United Nations Security Council expressed deep shock and sympathy over Moise's death ahead of a closed-door meeting on Thursday, requested by the United States and Mexico to evaluate the situation.
The Pan-American Health Organization (PAHO) also expressed concern that the violence could deal a setback to efforts to fight the coronavirus pandemic in Haiti.
Haiti also faces chronic poverty, recurrent natural disasters, and a shortage of food. The country wanted to push through controversial constitutional reforms aimed at strengthening the executive branch, which were backed by Moise. The reform proposal was overwhelmingly rejected by the opposition and many civil society organizations.