Iranian paddlers received two bronze medals at the men's kayak and canoe 500-meter competitions to raise the country's total medal count to 29 at the 19th edition of the Asian Games.
Sepehr Saatchy and Peyman Ghavidel Siah Sofiani clocked 1:39.291 in the men's kayak double 500-meter final competition at the Fuyang Water Sports Center in the eastern Chinese city of Hangzhou and got a bronze.
China's Bu Tingkai and Wang Congkang crossed the line first by 1:35.568.
South Korean rowers Cho Gwanghee and Jang Sangwon finished their heat in second place in the men's kayak double 500m, clocking 1:37.690.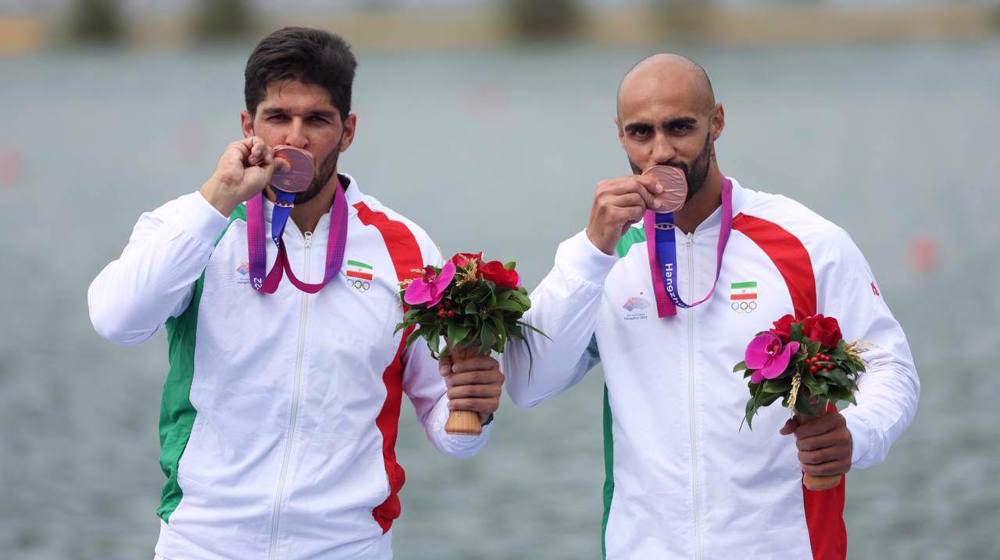 Moreover, Adel Mojallali-Moghadam and Seyed Kia Eskandani-Hosseini finished third at the end of men's canoe double 500-meter contests with 1:50.486 and clinched a bronze medal. 
Kazakh pair Sergey Yemelyanov and Timur Khaidarov clocked 1:49.010 and landed in the first spot, claiming the top honor.
Hashimoto Masato and Naganuma Ryo of Japan took the second place with 1:49.237.
A record high of nearly 12,500 athletes from 45 countries and territories compete across 40 sports in the prestigious continental multi-sport event.
Iran has sent 289 male and female athletes to the Games in 34 sports events.
The Islamic Republic of Iran has so far collected a total of 29 medals – three golds, twelve silvers, and fourteen bronzes – at the Asian Games, and currently stands in the 11th place.
China leads the standings with 251 medals, including 139 golds. Japan is in the second slot with 116 medals, among them 30 golds while South Korean athletes rank third, having won 30 golds and 128 medals in total.