Iranian President Ebrahim Raeisi has arrived in the Indonesian capital Jakarta on an official two-day visit that aims to enhance the Islamic Republic's relations with the Asian countries in political and economic arenas.
Heading a high-ranking political-economic delegation, Raeisi was officially welcomed by his Indonesian counterpart Joko Widodo shortly after his arrival on Tuesday.
The two presidents planted saplings as a sign of peace and friendship between Tehran and Jakarta after receiving a 21-gun salute.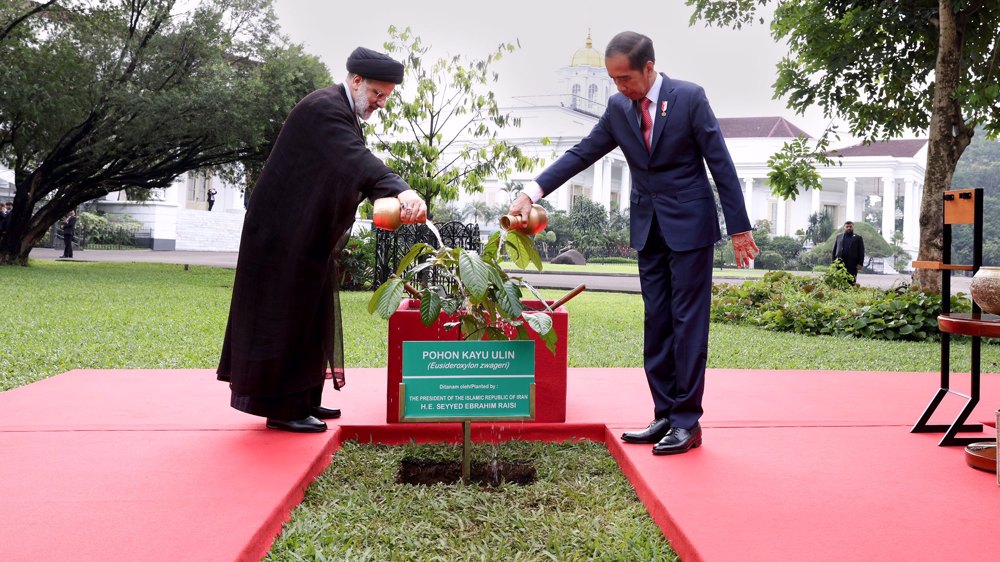 After the ceremony, Raeisi and Widodo held talks at the Merdeka Palace while senior delegations of the two countries also held negotiations.
The two sides are expected to sign preferential trade agreement (PTA) and other important cooperation documents in various fields.
Raeisi's state visit to Jakarta marks a turning point in bilateral relations, set to commence a new chapter in relations between the two countries.
Iran, Indonesia sign cooperation documents, agreements
Senior officials of Iran and Indonesia signed 11 documents and agreements to strengthen cooperation.
According to the agreements, Tehran and Jakarta would improve cooperation in preferential trade, cancellation of visas, cultural exchanges, supervision over the pharmaceutical products, science and technology as well as oil and gas.
The agreements were signed by Iranian ministers of foreign affairs, information and communications technology, oil and vice president for scientific and technological affairs and deputy minister of industry, mine and trade with their Indonesian counterparts.
The agreements were inked in the presence of the Iranian and Indonesian presidents.
Negotiations between the two countries encompass a wide range of bilateral, regional, and international topics and they seek to deepen cooperation in various areas, including political, economic, trade, energy, scientific and technological, cultural, parliamentary, and security fields.
Both Iran and Indonesia have had tense relations with the United States and seek to strengthen political and economic ties amid heightened global geopolitical tensions.
According to Indonesia's Trade Ministry, Raeisi's trip to the Muslim-majority nation is expected to improve mutual relations as Tehran seeks alternatives to the US-led Western domination of international affairs and further cooperation after the two states concluded negotiations on the Indonesia-Iran Preferential Trade Agreement this month.
The ministry's data showed that trade between Indonesia and Iran amounted to $54.1 million between January and March, while the bilateral trade value last year increased by more than 23% to $257.2 million.
Referring to Iran as a nontraditional trade partner for Indonesia, Johni Martha, director of bilateral negotiations at Indonesia's Trade Ministry said, "With this PTA, we hope to widen our market reach and export opportunities in the Middle East and Persia."
Speaking in a news briefing in Tehran before his departure on Monday, President Raeisi said Iran and Indonesia are united against unilateralism and that the two Muslim countries support lasting peace and security in the region.
"Indonesia is an important country in Southeast Asia and has an important position in regional and international developments," Raeisi told reporters.