President Ebrahim Raeisi is traveling to Indonesia on Monday, his 12th foreign visit during the 21 months in office, with Foreign Minister Hossein Amir-Abdollahian calling it "a turning point" set to commence a new chapter in bilateral relations.
Shortly after he took the helm, President Raeisi outlined two main priorities in Iranian foreign policy: improving relations with neighbors, and expanding ties with Asian powers.
His choice for foreign minister reflected his goals. Amir-Abdollahian has emphasized expanding Iran's trade and bilateral ties with Asia. "The 21st century belongs to Asia where we see emerging economic powers," he told parliament during his confirmation hearing in 2021. "Neighbor-centered and Asia-centered policy is the main priority," he added.
Ever since, Amir-Abdollahian has highlighted "untapped capacities in Asian countries such as Russia, China, India, Malaysia, Indonesia and subcontinental countries."
Tajikistan
President Raeisi's first trip abroad as president was to the summit of the Shanghai Cooperation Organization (SCO) in Dushanbe, Tajikistan in September 2021. The SCO, founded in 2001, focuses on regional economic and security issues. The bloc, led by China and Russia, includes India, Kazakhstan, Kyrgyzstan, Pakistan, Tajikistan, and Uzbekistan. Iran gained observer status in 2005. In 2021, the SCO began the process to formally admit Iran as a full member at the Dushanbe summit.
One of the most important achievements of the trip was the signing of eight cooperation documents between Tehran and Dushanbe. They signed six memorandums of understanding on cooperation, an agreement and a technical protocol of customs cooperation.
President Raeisi's visit marked the conclusion of the first cooperation agreements between Iran and Tajikistan. But the most important achievement of the trip was the approval of Iran's permanent membership in the Shanghai Cooperation Organization.
Turkmenistan
Later in November of the same year, the president attended the Economic Cooperation Organization (ECO) summit in Ashgabat, Turkmenistan, where he oversaw the signing of a tripartite gas swap agreement to transfer up to 2 billion cubic meters of gas a year from Turkmenistan to Azerbaijan via Iran.
Russia
About two months later, Raeisi visited Moscow and presented his counterpart Vladimir Putin with draft documents on strategic cooperation that would cement collaboration for the next two decades. The trip received immense attention in the world media. It ushered in bilateral cooperation in infrastructure, energy and resulted in a leap in trade between the two countries. On Wednesday, the two presidents oversaw, via video-link, the signing of a deal to finance and build an Iranian railway line as part of the international North–South Transport Corridor. The Rasht-Astara railway is seen as an important link in the corridor, intended to connect India, Iran, Russia, Azerbaijan and other countries via railways and sea - a route that Iran and Russia say can rival the Suez Canal as a major global trade route.
Qatar
The next month in February, the Iranian president traveled to Doha for a summit of gas exporting countries. He was the first Iranian president to visit Doha in 11 years, leading a delegation with the aim of developing economic, energy and political cooperation between Iran and Qatar. Qatar's Emir Sheikh Tamim bin Hamad al-Thani received President Raeisi at the airport and the two sides inked 14 agreements to turn a new page in their bilateral relations.
Oman
In May 2022, the Iranian president visited Oman, a week after a delegation of 50 Iranian businessmen traveled to the sultanate. He was greeted by Sultan Haitham bin Tareq at the airport and received a 21-gun salute at the royal palace. Oman is seeking to import gas from Iran by building an offshore pipeline between the two countries, which are also discussing the development of joint gas fields offshore.
Turkmenistan
The next month, President Raesi went to Ashgabat on his second visit to Turkmenistan, for a summit with the leaders of the other four countries along the Caspian Sea to discuss regional cooperation and international issues. In a communiqué, Iran, Russia, Azerbaijan, Turkmenistan and Kazakhstan emphasized the importance of cooperation among the Caspian nations. The presidents of Iran and Turkmenistan also reviewed agreements concluded between the two countries, emphasizing that their full implementation would open a new chapter in their cooperation and bring a leap in economic and commercial relations between Tehran and Ashgabat.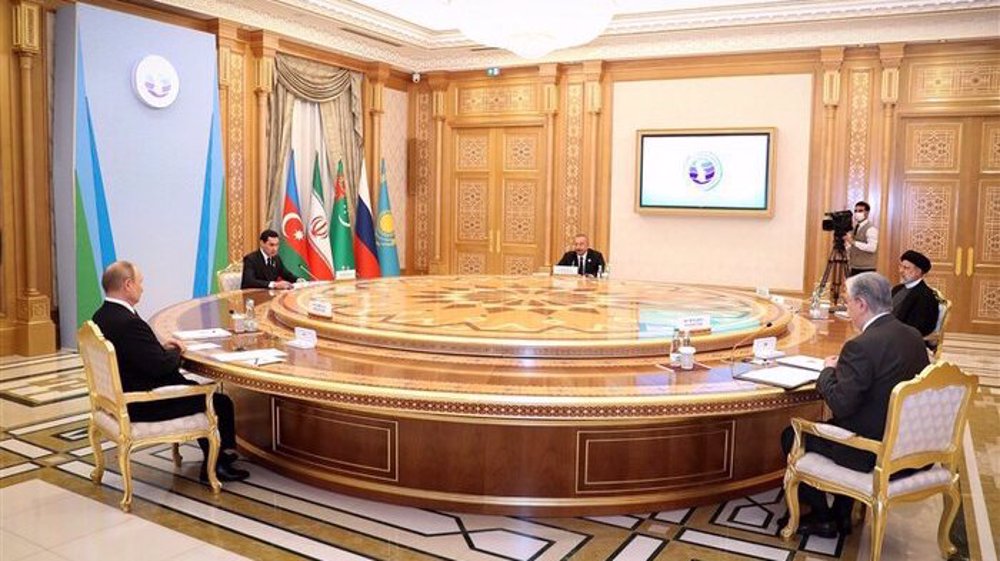 Uzbekistan
In September 2022, Raeisi went to Samarkand in Uzbekistan for another SCO summit, where the Islamic Republic was officially announced a full member of the bloc. It was one of his most fruitful foreign trips to neighboring and regional countries, resulting in the conclusion of 17 cooperation documents in the fields of energy, industry, agriculture, sports and culture and meeting with 11 SCO leaders. Raeisi held discussions with the presidents of Uzbekistan, Kyrgyzstan, Russia, Belarus, China, Turkey, Tajikistan, Kazakhstan and the prime ministers of India and Pakistan and the secretary general of the Shanghai Cooperation Organization. During the visit, President Putin announced that a delegation of 80 large companies would visit Iran next week.
New York
Later the same month, the Iranian president traveled to New York to attend the United Nations General Assembly. On the sidelines, he met with presidents of France, Bolivia, Switzerland, Finland, Serbia and Zimbabwe and prime ministers of Pakistan, Iraq, Lebanon, Japan and Armenia as well as the president of the European Council and the UN secretary general.
Kazakhstan
In October 2022, President Raeisi traveled to Astana in Kazakhstan to attend the six summit of the Conference on Confidence-Building Measures in Asia (CICA) and was welcomed by Kazakh Prime Minister Alikhan Smailov at the airport. On the sidelines of the one-day visit, he held important commercial talks with the Qatari emir and the Azerbaijani president.
CICA members cover 90% of the area of the Asian continent and host almost half of the world's population. President Raeisi's participation in the summit and his chance to rub shoulders with Asian leaders allowed Iran to engage in the dialogue about solving Asian problems and finding an effective way to promote initiatives for interaction and confidence building at higher levels.  
China
In February, Chinese President Xi Jinping hailed Beijing's "solidarity" with Iran as he hosted President Raeisi at the start of a three-day trip. For the first state visit by an Iranian president to China in more than 20 years, Raeisi took a large trade and finance delegation to Beijing. The two sides signed 20 cooperation documents worth more than $10 billion in the fields of agriculture, trade, tourism, environmental protection, health, disaster relief, culture and sport. Xi said China supports Iran in safeguarding national sovereignty and "resisting unilateralism and bullying".
Syria
Earlier this month, Raeisi traveled to Damascus where he met his counterpart Bashar al-Assad in Damascus in the first visit by an Iranian president since Syria's war began in 2011, underlining close ties. The visit came as Iran and Saudi Arabia rebuild relations after years of tensions, and as Arab states engage in fence-mending with the Syrian government. Raeisi and Assad signed a long-term strategic cooperation agreement, including a memorandum of understanding on oil industry cooperation. Assad said he hoped the visit would give a "strong push" to trade and investment.
Indonesia
The upcoming state visit of President Raeisi to Jakarta marks a turning point in bilateral relations, set to commence a new chapter in relations between the two countries.
Negotiations between the two countries encompass a wide range of bilateral, regional and international topics and they seek to deepen cooperation in various areas, including political, economic, trade, energy, scientific and technological, cultural, parliamentary and security fields.
"Despite the excellent relations, constructive cooperation and mutual support in international forums, it must be acknowledged the current volume of trade relations between the two countries is below expectations given the available capacities," Foreign Minister Amir-Abdollahian wrote in an article published in Jakarta Post on Monday.
"Therefore, President Raeisi and his accompanying delegation in this to Jakarta provide a valuable opportunity for the public and private sectors of both countries to become more familiar with each other's economic and commercial capacities and capabilities," he said.
"The Islamic Republic of Iran, within the framework of a balanced, smart and dynamic foreign policy, attaches special prominence to the development of relations with Indonesia."