Republican Senator Bill Cassidy from Louisiana has said he does not believe former US President Donald Trump can win another general election, with an American analyst saying that "more and more Republicans are seeing Trump as an albatross."
"I don't think Trump can win a general election," Cassidy said on Sunday, reinforcing views expressed by some other GOP lawmakers that Trump is unlikely to clinch a victory in 2024.
Cassidy made the remarks when CNN's host Jake Tapper pronounced comments from Florida Governor Ron DeSantis, who is expected to launch his own 2024 bid later this week.
DeSantis has said that only he, Trump and Democratic President Joe Biden are "credible" candidates for the 2024 presidential election, but that only he and Biden have a chance of getting elected.
Cassidy added that the Florida governor's remarks are "a nice way for him to diss people like Tim Scott who's a pretty formidable candidate," in reference to Republican Senator Tim Scott of South Carolina who made his 2024 bid official last week.
Scott on Friday announced he is running for president. Scott, the Senate's only Black Republican, filed paperwork with the Federal Election Commission to seek the GOP nomination in 2024.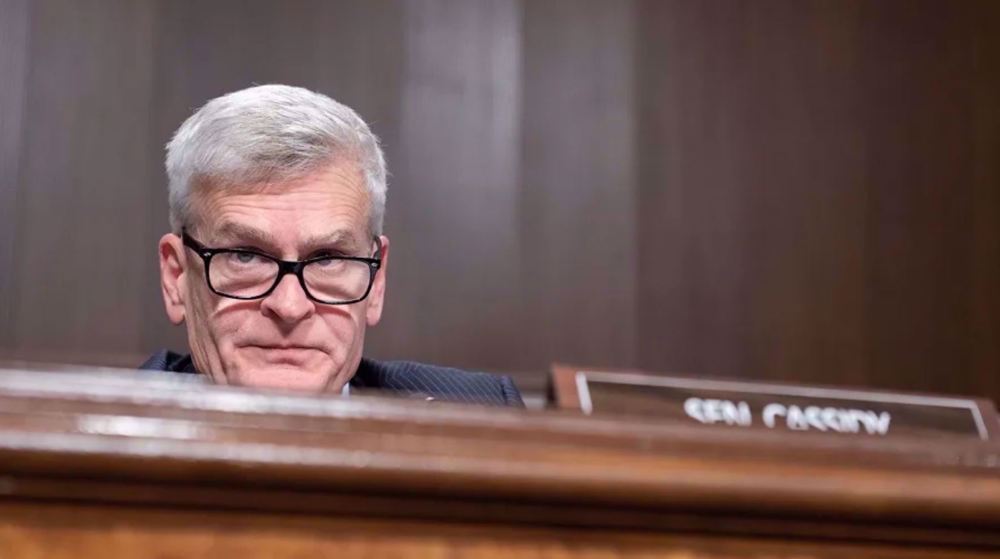 "So you just have to take this as a competitor trying to diss others," Cassidy said of DeSantis's comments.
But Senator Cassidy then pointed out that, during 2022 midterms, many of the candidates Trump endorsed for the US Senate lost their races.
"I think the President's kind of high-profile endorsement of those candidates actually hurt those candidates, at least in the general election," Cassidy said. "So if past is prologue, that means President Trump is gonna have a hard time in those swing states, which means that he cannot win a general election."
Trump has been polling well ahead of other Republicans in a hypothetical GOP primary, with DeSantis as a top potential challenger. But odds against Trump are piling up.
'It's a slow drip which could turn into a deluge'
Myles Hoenig, an American political analyst and activist, said in an interview with the Press TV website on Sunday that "more and more Republicans seeing Trump as an albatross," something that causes persistently deep concern or anxiety.
Hoenig, a former Green Party candidate for Congress, said, "It's a slow drip which could turn into a deluge."
"Slowly, Republicans are coming out recognizing that Trump could be a liability for their chances in 2024, not just in the presidential election but down the ballot," he stated.
"Even those who brave the primary battles are still unable or unwilling to separate themselves from the cult leader and his followings. They are, after all, the base of the Republican Party," he stated.
"In a general election, what the already announced candidates need to do is to appeal to the remainder of the Republican Party and draw from the conservative wing of the Democrats to win an election. However, those numbers are very unlikely to put them over the top," he noted.
Hoenig warned that there are "some crucial issues that are destined to doom Republican chances, as we have already seen."
"Promoting election fraud, restricting, even abolishing, women's reproductive rights, and being neutral, nuanced or downright practical on opposing the US proxy war all have negative consequences for the Republican Party at large. After all, the Democratic Party and much of the nation loves a good war against Russia with the pretense of protecting another country's liberty," he added.
Hoenig said that Tim Scott, Ron DeSantis, soon Asa Hutchinson all have "a steep hill to climb if they want to successfully challenge Trump."
"Like Ted Cruz, DeSantis is running a strong second to Trump, but will also falter in the end. It will either be because of his negative ratings outside of Florida by the general population, or the never-ending assault from Trump as he did to Cruz. The Republicans would likely need to rely on a dark horse to be the most serious challenger to Trump, perhaps those already mentioned," he pointed out.
Dems not known for their 'democratic principles'
"Another factor in the election of 2024 is who the Democratic nominee will be. Never known for its democratic principles, the Democratic Party has already announced their nominee by refusing any Primary debates," the analyst said.
"In 2016 they railroaded Bernie Sanders, perhaps knowing that in the end he would be sheep-dogging for the party anyway," he observed.
"For the moment, there is Robert F. Kennedy, Jr. who's challenging Biden. As much as Americans love a 'good war', they also have a soft spot for family dynasties and Kennedy would be appealing to many Democrats, not that he'll have much of a microphone to promote himself, considering mainstream media answers to either the Democratic or Republican Party funders and establishment," Hoenig said.
"Sen. Cassidy is right to question Trump's viability as a candidate for his party. Yet nothing is likely to stop Trump's juggernaut to the nomination. Even being jailed. Eugene V. Debs, the Socialist, won nearly a million votes while in prison for opposing WW1," he stated.
"Fascist Donald Trump could easily garner tens of millions of votes, yet still likely to lose," the commentator concluded.