Oman's energy minister Salim al-Aufi has said a long-stalled project to lay an undersea pipeline to carry Iranian gas to Oman is finally progressing.
According to Aufi, Tehran and Muscat have agreed to form a technical team to review the progress of the Iran-Oman gas pipeline project.
"The Iranians have progressed well in completing the pipeline project and made good achievements," he was quoted by Omani media as saying.
CEO of Iran Gas Engineering and Development Company Reza Noshadi recently said that Tehran had begun laying the pipeline for transfer of gas to Oman from Minab to Kuh Mubarak near the Iranian port of Jask.  
The agreement to revive the project was reached during a trip to Oman by Iranian Oil Minister Javad Owji ahead of an official visit to the Persian Gulf Arab state by Iranian President Ebrahim Raeisi about a year ago.
Last month, Aufi visited Tehran where the two countries "seriously" discussed various issues related to the project, including the mechanism of Iran's gas sales to Oman.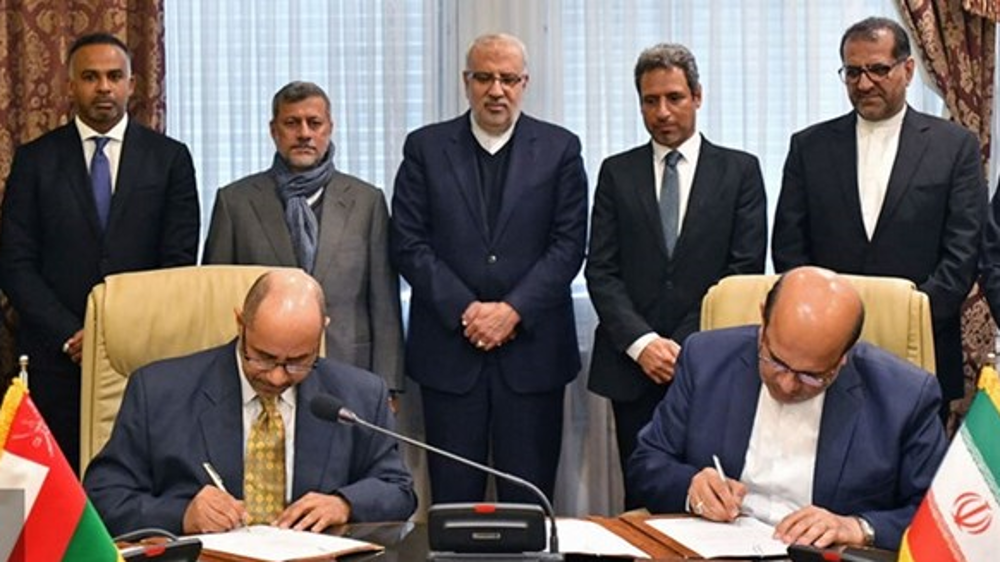 "With Iran's gas in Oman, all options are there," Aufi said in his new interview.
The revival of the project could also bring a joint LNG plan back to life, while Oman is further laying out for production of hydrogen which is generated from natural gas, but uses carbon capture technology to curb up to 90% of the resulting emissions.
According to Aufi, Oman can meet its gas needs for the next 10 years, but imports from Iran can allow his country to convert the imported gas to liquid gas or blue hydrogen and expand its domestic industries or re-export it to India and the UAE.
Omani economic research Majid bin Abed al Kharusi said receiving Iranian gas at a preferential price would help reduce costs and increase growth opportunities in the Arab country's economic and industrial areas.
Moreover, strategic projects are a boon to the security and stability of the region, he added.
Oman, Kharusi said, sees Iran - which holds the world's second largest gas reserves - as an economic development partner.
He touched on the recent breakthrough in diplomatic relations between Iran and Saudi Arabia, saying the normalization has deepened ties between Tehran and Muscat.
"Muscat believes that political isolation is not in the interest of any party in the region, but rather deepens conflicts and harms the interests of all parties. Hence, good political relations with Iran as a neighbor will positively reflect on various economic and commercial aspects," he added.
In 2013, the two countries signed a deal, valued at $60 billion over 25 years, for Iran to supply gas to Oman through an undersea pipeline.
The 176-kilometer offshore pipeline connects to an onshore section, which runs underwater from Iran's Kuh Mubarak port to Sohar in Oman. It has to traverse the deeper waters of the Sea of Oman because of the UAE's apparent opposition to the pipeline's passage through its shallows, increasing the time and cost of the construction.
Under an agreement signed in September 2018, the pipeline will initially be built with a capacity of 28 million cubic meters per day (1 billion cubic feet) or 10 billion cubic meters a year. The ultimate capacity is to reach 1.5 billion cubic feet or 42 million cubic meters a day.
Economic observers say the pipeline to Oman will certainly become a bridge between Iran and the Persian Gulf Cooperation Council (GCC) countries, noting the geopolitical significance which it also carries.
Iran hopes to export its natural gas to other countries of the region through Oman. Iranian officials have not ruled out building another line parallel to the planned pipeline if the strategy succeeds.
Oman has said it is considering extending its pipeline network to Yemen. An existing pipeline in Sohar runs to Salalah near the Yemeni border.   
Gas is needed in a country like Yemen to start to move from conflict to creating industries and opportunities for their people. The ongoing diplomatic push which has seen a landmark swap of prisoners between Saudi Arabia and Yemen has raised hopes that Yemen's peace process would see progress.
A Saudi delegation, which is seeking a permanent ceasefire deal to end military involvement in the war, on Thursday concluded peace talks in Sana'a with Ansarullah, whose top negotiator said talks had made progress and further discussions would be held to iron out remaining differences.
Iran has the second largest gas reserves in the world, but it presides over less than one percent of the world's market share for natural gas. The country's plans for production of liquefied gas, LNG, with the aim of diversifying away from selling crude oil have also been in flux.
Officials have said Iran could build an LNG industry, but in 2020 they scrapped two of the country's proposed projects - South Pars LNG and Persian LNG - which would have processed gas from the massive South Pars field.
The then head of the National Iranian Oil Company (NIOC) said the projects were suspended because they were "too costly and complex", and that Iran would instead build more gas pipelines.
With a global glut of LNG and western companies effectively having a monopoly on the relatively new liquefied gas technology, Iran appears resigned to using Oman's facilities for the purpose.
Omani officials have said the country would look to utilize some of Iranian gas for industry to increase its LNG and petrochemical production capacity, and also potentially delve into the hydrogen space.
The sultanate has conducted debottlenecking operations at its Oman LNG facility, allowing exports to expand by about 2 billion cubic meters a year.
A separate LNG deal, signed in 2007, foresees building a facility in Oman to process Iranian gas and export it to global markets. Oman has undertaken to pay the entire cost of the pipeline and the related infrastructure.