Tens of thousands of mourners have poured out onto the streets of Tehran to pay their respects to two military advisers of Iran's Islamic Revolution Guards Corps (IRGC), who lost their lives in an Israeli airstrike near the Syrian capital Damascus last week.
The massive ceremony started in the Iranian capital city on Tuesday morning, with people carrying the coffins of Milad Heidari and Meqdad Mehqani, draped with the Iranian flag, en route from iconic Imam Hussein Square to Shuhada Square.
Chief Commander of the Islamic Revolution Guards Corps (IRGC) Major General Hossein Salami, Commander of the IRGC Quds Force Brigadier General Esmail Qa'ani, and many other high-ranking Iranian officials were in attendance.
The Iranian IRGC military advisers were martyred in Friday's aerial assaults conducted by Israel on the suburbs of Damascus.
Heidari, a 32-year-old father of two, was from Kurdistan Province. He was living in Tehran's Qarchak county.  Mehqani, 31, later died of the wounds he sustained during the Israeli attack. He was from Golestan Province and had a two-year-old son.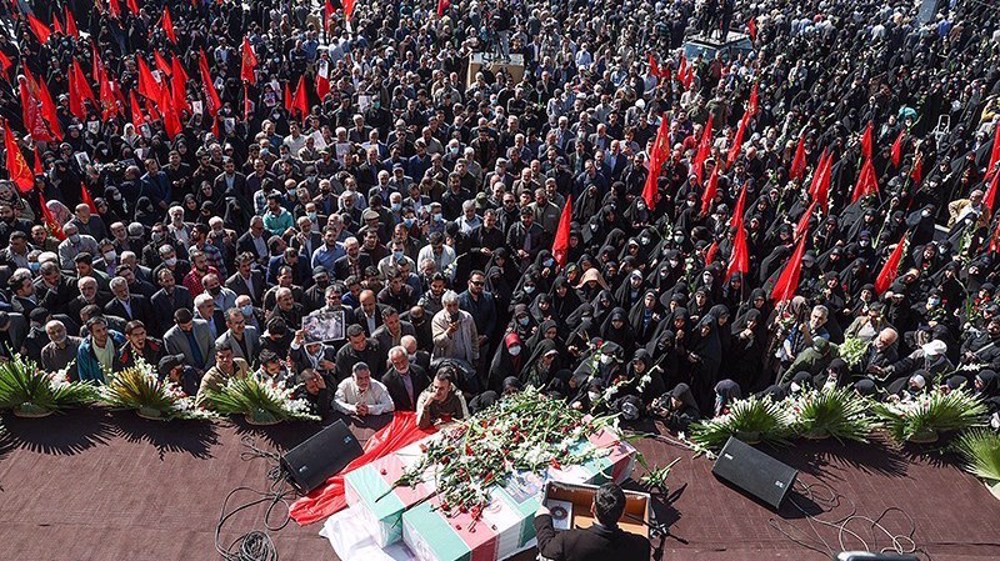 Iran maintains an advisory mission in the Arab country, helping it in the face of foreign-backed terrorism. Back in 2017, the advisory assistance helped Syria vanquish the Takfiri terrorist group of Daesh.
Iran VP: Israeli strike blatant violation of intl. law
Iran's First Vice President Mohammad Mokhber has decried the killing of two IRGC officers, saying that the air raid was a flagrant violation of international law and attests to the fact that the occupying Tel Aviv regime is close to implosion.
Israel's fatal air raids in Syria came at a time of mass protests against prime minister Benjamin Netanyahu's now-shelved plans to overhaul the judiciary.
Known as one of the main supporters of terrorist groups that have battled the government of President Bashar al-Assad since foreign-backed militancy erupted in Syria in early 2011, the Israeli regime frequently violates Syrian sovereignty and conducts attacks in the Arab country.
The targets usually include residential buildings. Military positions especially those of the Hezbollah resistance movement, which has played a key role in helping the Syrian army in its fight against foreign-backed terrorists, are also frequently hit by Israeli strikes.
Israel largely remains silent about the attacks. Damascus has repeatedly complained to the UN over Israeli assaults, urging the Security Council to take action against Tel Aviv's crimes. The calls have, however, fallen on deaf ears.