Israeli forces have fatally shot a Palestinian youth in the southern part of the occupied West Bank, saying he carried out a car-ramming attack against the regime's troops at a checkpoint.
Mohammad Ra'ed Baradiyah, 24, was gunned down by the regime's forces near the town of Beit Ummar, north of the West Bank city of al-Khalil, also known as Hebron, on Saturday, the official Palestinian Wafa news agency reported, citing the Palestinian Health Ministry.
According to the report, Israeli authorities said the young man rammed his car into the regime's soldiers stationed at a checkpoint near the town of Beit Ummar, injuring three of them, two of whom are in critical condition.
The ministry said Israeli soldiers opened fire at the young Palestinian man as he was driving his vehicle, critically injuring him. He later succumbed to his injuries.
After the shooting, Israeli forces left Baradiyah bleeding helplessly until he died of his wounds, while they prevented medical personnel from accessing the scene.
Hamas, Islamic Jihad hail al-Khalil attack on Israeli forces
Following the incident, a spokesman for the Gaza Strip-based Hamas resistance movement, hailed the attack on the Israeli forces at the checkpoint near al-Khalil. 
Muhammad Hamadeh said the operation near Beit Ummar was a natural response to the repeated Israeli crimes against the Palestinian people, the latest of which was killing a Palestinian youth at an entrance to al-Aqsa Mosque compound.
Hamadeh stressed that the Palestinian people and resistance will not be deterred by the repeated Israeli crimes, affirming that they will continue to defend al-Aqsa Mosque against desecration by Israeli forces and settlers.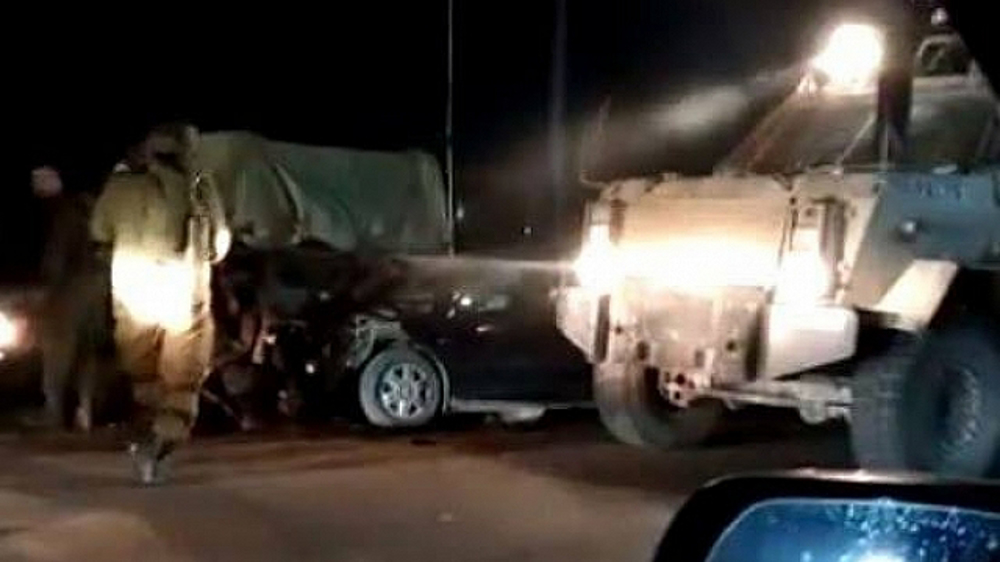 The Islamic Jihad Movement, for its part, hailed "the heroic operation," describing it as a natural response to Israel's crimes against Palestinians.
The movement's spokesman, Tariq Ezz-ed-Din, emphasized that Israel's crimes against Palestinian people in the occupied West Bank and al-Quds, and the settlers' incursions into al-Aqsa Mosque, will not go unanswered.
He stressed that all attempts by the occupying regime to impose a new reality on the ground in al-Aqsa will fail under the blows of the Palestinian resistance
Israel has ramped up its violence against Palestinians across the occupied West Bank during the fasting month of Ramadan.
Baradiyah's death came only hours after Israeli forces fatally shot another young Palestinian in front of one of the gates leading to al-Aqsa Mosque compound in the Old City of the occupied al-Quds.
The deaths took to 92 the number of Palestinians who have been killed by the regime's forces since the beginning of the year.