By Syed Zafar Mehdi
In line with its pragmatic 'neighborhood-first' policy and iron-clad commitment to Persian Gulf security, the Ebrahim Raeisi government has in recent weeks demonstrated how regional countries can overcome hostilities through diplomacy and dialogue.
It started last week with the blockbuster diplomatic breakthrough in the Chinese capital between Tehran and Riyadh that came as a proverbial thunderbolt to war-mongering hawks and rabble-rousers in Tel Aviv and Washington.
The much-awaited rapprochement between the two regional arch-rivals after two years of off-and-on marathon talks brokered by Iraq and Oman signals a paradigm shift in Persian Gulf power dynamics and a wake-up call to the West.
Tension-easing talks between Iran and Saudi Arabia kick-started in April 2021 and gradually gathered momentum after the Raeisi-led cabinet assumed charge later that year. The role of Iraq, as well as that of Oman, was instrumental in helping the two estranged neighbors bury the hatchet.
Iran's top security official Ali Shamkhani's task in Beijing was cut out - to cross the finish line. After several days of intense deliberations with his Saudi counterpart, the two countries agreed to restore diplomatic ties and re-open diplomatic missions, an announcement that has been widely welcomed.
The news, however, dealt a weighty blow to Israeli premier Benjamin Netanyahu's project to continue so-called "normalizations", destabilize the region and form a regional alliance against Iran.
The two countries severed their ties in January 2016 after angry protesters stormed the Saudi embassy in Tehran over the execution of prominent Saudi Shia cleric Sheikh Nimr Baqir al-Nimr.
Sheikh al-Nimr, who belonged to the Shia-dominated Awamiyah village in the Qatif region of Saudi Arabia, was a strong human rights advocate and a vocal critic of the Saudi establishment's rights record.
In the final round of fence-mending talks in Beijing last week, the two sides reportedly discussed the condition of persecuted Shia minority in the Arab kingdom as well as the devastating war in Yemen.
The joint statement issued by Iran, Saudi Arabia and China said the diplomatic ice was broken due to efforts of Chinese President Xi Jinping "based on the principle of good neighborliness" as well as the "desire of the two countries to resolve differences through dialogue and diplomacy".
The rapprochement came less than a month after President Raisi's historic visit to China, the first state visit by an Iranian president to the country in two decades. As Shamkhani asserted, the president's high-stakes visit paved the ground for the restoration of diplomatic ties between the two countries.
President Raeisi's visit to Beijing came in the wake of a diplomatic row between Iran and China over a controversial joint statement by China and GCC during Xi's Riyadh visit in December. Iranian president not only cleared the air with Beijing but also gave a nod to the China-mediated peace deal with Riyadh.
The foreign ministers of Iran and Saudi Arabia are now expected to meet and discuss the exchange of ambassadors and reactivation of diplomatic missions, which will likely happen within two months.
The duo had a fleeting conversation in December last year on the sidelines of the Baghdad-centric summit in Amman, which set the tone for more formal meetings between the two top diplomats.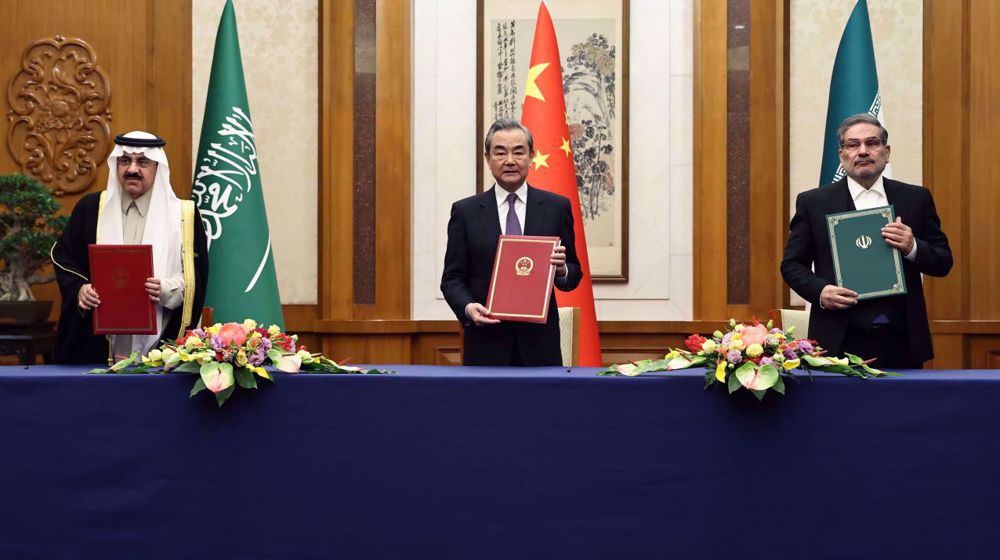 Iran's foreign ministry spokesman Nasser Kanaani in his Monday press conference said arrangements have already been made about the place and timing of the meeting, without going into specific details.
He also hinted at the possibility of similar agreements with other regional countries, including Bahrain and Jordan, stressing that Tehran-Riyadh detente can have "positive consequences" for the region.
Days after clinching the peace accord with Saudi Arabia in Beijing, Shamkhani on Thursday dashed off to Abu Dhabi for high-level talks with top Emirati officials with the aim of boosting bilateral cooperation.
Abu Dhabi downgraded its ties with Tehran in January 2016, following in the footsteps of its ally Riyadh, after the execution of Sheikh Nimr prompted angry protesters to storm the Saudi embassy in Tehran.
Over the past two years, since President Raeisi assumed office, the two countries held talks at various levels, which finally resulted in the United Arab Emirates sending its envoy to Tehran in August last year.
UAE's foreign ministry in a statement at the time cited the "common interests of the two countries and the wider region".
Iran, as deputy foreign minister Ali Bagheri Kani said on Thursday, is also ready to depute its ambassador to the Emirati capital in near future, which will formally spur diplomatic ties between the two neighbors.
Shamkhani, as a key implementer of President Raeisi's national and regional security doctrine, held wide-ranging talks with his Emirati counterpart Sheikh Tahnoun bin Zayed Al Nahyan, UAE president Sheikh Mohammed bin Zayed Al Nahyan and UAE king Sheikh Mohammed bin Rashid Al Maktoum.
In unequivocal terms, Iran's top security official told his Emirati counterpart that "cooperation and convergence must replace divergence and hostility" in the Persian Gulf region and "outsiders" must not be welcomed, in reference to Americans and Israelis.
The prolongation of "existing challenges", he asserted, is "not in the interest of any regional country", calling on the UAE and other Persian Gulf neighbors to remove distrust and differences.
The fruitful meeting with Sheikh Tahnoun was followed by another important meeting with UAE President Sheikh bin Zayed, in which Shamkhani again called for bolstering bilateral and regional cooperation between the two countries, especially in the wake of the full restoration of diplomatic ties.
According to reports, the Iranian top security official's next stop will be Baghdad, where he is expected to hold talks with senior Iraqi officials on addressing common security challenges.
Notably, Shamkhani's visit to Iraq comes days after Pentagon chief Lloyd Austin made an unannounced visit to Baghdad and proclaimed Washington's intent to maintain its menacing military presence in the Arab country, despite fierce opposition from Iraqi political and resistance groups.
Iran has repeatedly called for the ouster of US forces from Iraq, and other regional countries, blaming them for carrying out destabilizing military activities and fueling tensions between regional countries.
The presence of terrorist groups in Iraq's semi-autonomous Kurdistan region, with the overt and covert backing of Americans and Israelis, is also something Iran has repeatedly condemned.
Last month, Nour News, which is close to Iran's top security body that Shamkhani heads, in a report said terrorist groups holed up in Iraqi Kurdistan were behind a failed attack on a military facility in Isfahan.
Some Israeli and Western media outlets linked the attack to the Israeli regime, which shows that Kurdish authorities have allowed the regime agents to gain a foothold in the region despite Iran's warnings.
Shamkhani's successful trips to China and UAE and the upcoming visit to Iraq have sent Iran's enemies into a fizzy, as they fear it would prove to be a "game changer" in the region.
Reacting to it, Iran's foreign minister in a tweet on Friday said the top security official's visits are carried out "within the framework of existing security relations" and are "not a new phenomenon".
"Everything is within the framework of the system and under the supervision of the president. There is coordination. Let the enemies know, there is no difference," he asserted, pointing to close coordination between them in bolstering diplomatic and security cooperation with neighboring countries.
 
Syed Zafar Mehdi is a Tehran-based journalist, political commentator and author. He has reported for more than 13 years from India, Afghanistan, Kashmir and West Asia for leading publications worldwide.
(The views expressed in this piece do not necessarily reflect those of Press TV.)