Tens of thousands of teachers have taken to streets in the Portuguese capital, Lisbon, as the country's Socialist government faces a wave of discontent over the cost of living crisis.
The new demonstration on Saturday has been described as one of the biggest protests in Portugal in recent years.
"(We) have been badly treated for a long time," said Portuguese language teacher Maria Coelho, 55, as she held a banner reading "Respect" at the protest organized by the FENPROF union.
"We are here today and we will be here for many more to come," she added.
The union said it expected more than 100,000 people to take part in the protest, but police authorities gave no estimate of the number of protesters.
It is the third time in less than a month that teachers and school workers have held mass demonstrations in Portugal.
Teachers on the lowest pay scale make around 1,100 euros ($1,174.25) per month, but even teachers in higher bands typically earn less than 2,000 euros. They also want the government to speed up career progression.
"I feel robbed every day of my life," said special needs teacher Albertina Baltazar, who added, "(We want) respect for our profession."
Education Minister Joao Costa was quoted as saying that negotiations with teachers' unions were ongoing and that they hoped to reach an agreement soon.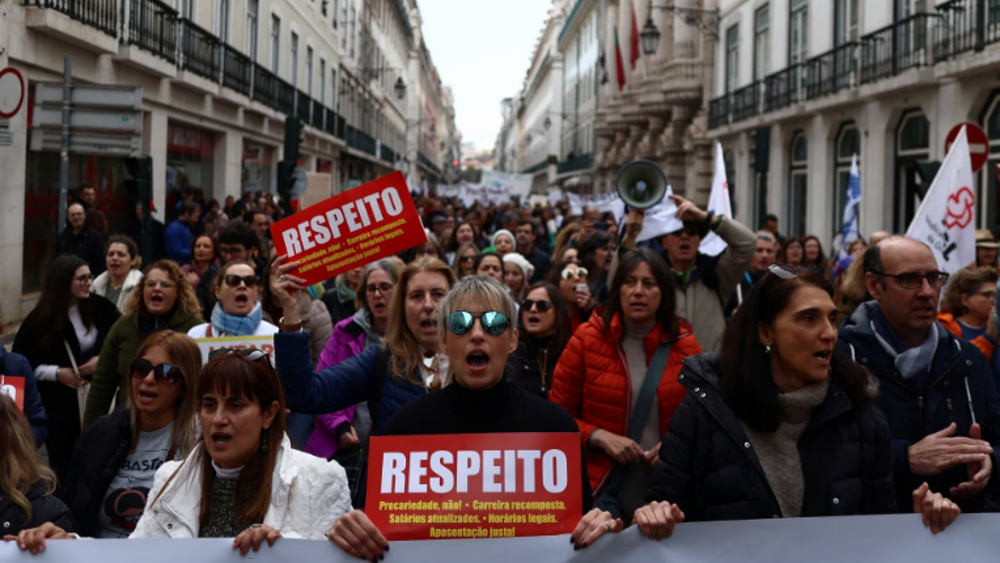 The wave of teachers' protests comes as Socialist Prime Minister Antonio Costa is facing a slump in popularity and street protests not just by teachers, but by other professionals just a year after he won a majority in parliament.
Portugal is one of Western Europe's poorest countries, with government data showing more than 50% of workers earned less than 1,000 euros per month last year. The minimum wage is 760 euros per month.
The country's biggest umbrella union, the CGTP, held several protests and strikes across the country on Thursday against rising prices, urging the government to increase workers' pay.
Nurses have also been striking due to lack of career advancement and doctors are expected to walk out for two days next month.
The Fair Life movement is now encouraging people to hold a protest rally in Lisbon over the cost of living crisis on Feb. 25.
Meanwhile, inflation in Portugal is close to three-decade highs.
House prices in Portugal rose 18.7% in 2022, the biggest increase in three decades, and rents have also increased significantly.
"If we are persistent and if we do not abandon the fight I'm convinced the government will really have to listen to us," said Carlos Faria, a 47-year-old primary school teacher.