The commander of the Quds Force of Iran's Islamic Revolution Guards Corps (IRGC) has travelled to Syria to assess the quality of the Islamic Republic's outreach operations aimed at the quake-hit people in the Arab country.
Brigadier General Esmail Qa'ani arrived in the northwestern Syrian city of Aleppo on Wednesday, paying a visit to one of the centers that have been set up by the Islamic Republic there to render assistance to the stricken nation.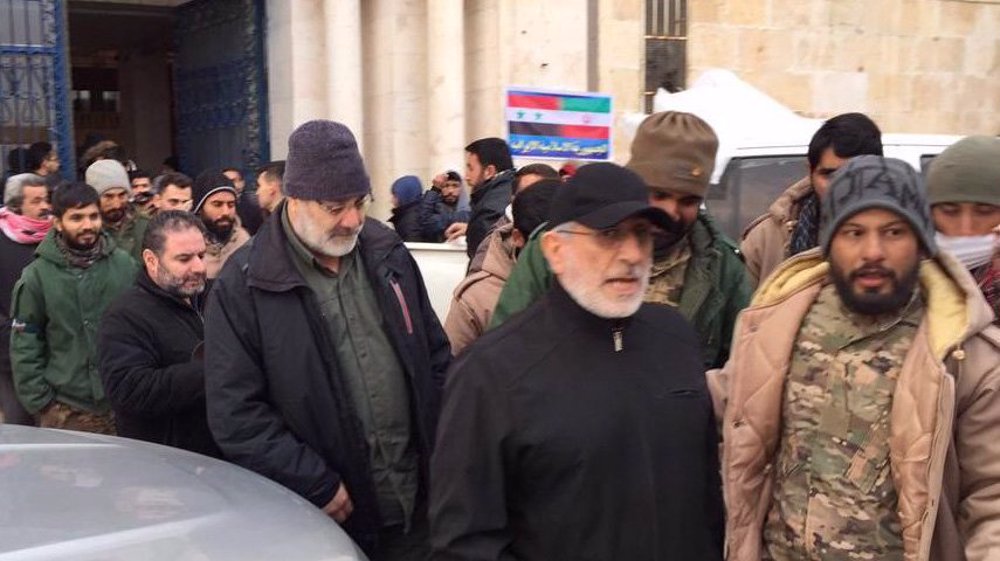 Footage taken from the visit showed Qa'ani personally examining affected households in the city and being closely informed about the status Iran's assistance mission.
The earthquake hit Turkey and neighboring Syria in the wee hours of Monday. The 7.8-magnitude temblor has so far claimed respectively 9057 and 2,992 people in the countries.
Iran has so far flown four tranches of aid to Syria since the incidence of the earthquake.
The first aid-laden Iranian plane landed at the Damascus International Airport in the Syrian capital on Tuesday, bearing as much as 45 tons of foodstuffs, medical items, and other direly-needed materials.
The second and third aircraft were sent respectively to Aleppo and Latakia, another northwestern Syrian city.
Also on Wednesday, a fourth plane touched down in Aleppo, carrying such aid materials as makeshift tents and foodstuffs.
Earlier in the day, Leader of the Islamic Revolution Ayatollah Seyyed Ali Khamenei offered condolences to the peoples of the quake-hit nations, assuring them of Iran's continued assistance.
"We are sorry to hear what happened to our brothers in Syria and Turkey. We pray that the souls of the victims rest in peace, and we ask God to grant their families patience," the Leader said. "We have also been inflicted [with earthquakes] and know what it is like. When an earthquake hits and beloved ones are killed, it is such a bitter and sad experience. We can feel their pain," Ayatollah Khamenei stated.
The heads of Iran's Executive, Legislative, and Judiciary Branches have also called Turkish and Syrian officials, offering their condolences and asserting the Islamic Republic's readiness to ramp up its relief efforts.