Iranian President Ebrahim Raeisi has said that having successfully developed their diplomatic relations, Tehran and Moscow now need to enhance their "strategic economic cooperation."
Raeisi highlighted the need for the expansion of Iran-Russia ties in a Sunday meeting with the new Russian Ambassador to Tehran Alexey Dedov.
"Iran and Russia have good grounds for cooperation in bilateral, regional and international fields," he said.
The Russian ambassador, who submitted his credentials to President Raeisi, said the continuous development of all-out economic cooperation with Iran is among his country's priorities.
Dedov added that Western countries have lost hope in their sanctions policy due to the expansion of strategic economic cooperation between Tehran and Moscow.
Tehran and Moscow both have been targeted with US-led sanctions in recent years, but the sanctions have failed to secure Western countries' interests.
Russia has been targeted with draconian sanctions following its February "special military operation" in neighboring Ukraine. The US has also tightened its sanctions on Iran since 2018, when Washington unilaterally withdrew from the Iran nuclear accord in pursuit of a more confrontational policy toward Tehran.
Implementation of Iran-Venezuela deals can strengthen cooperation: Raeisi
In a separate meeting with Venezuela's new Ambassador to Tehran José Rafael Silva Aponte, Raeisi said that during a June visit to Tehran by his Venezuelan counterpart Nicolas Maduro, the two sides signed fruitful agreements to expand their relations.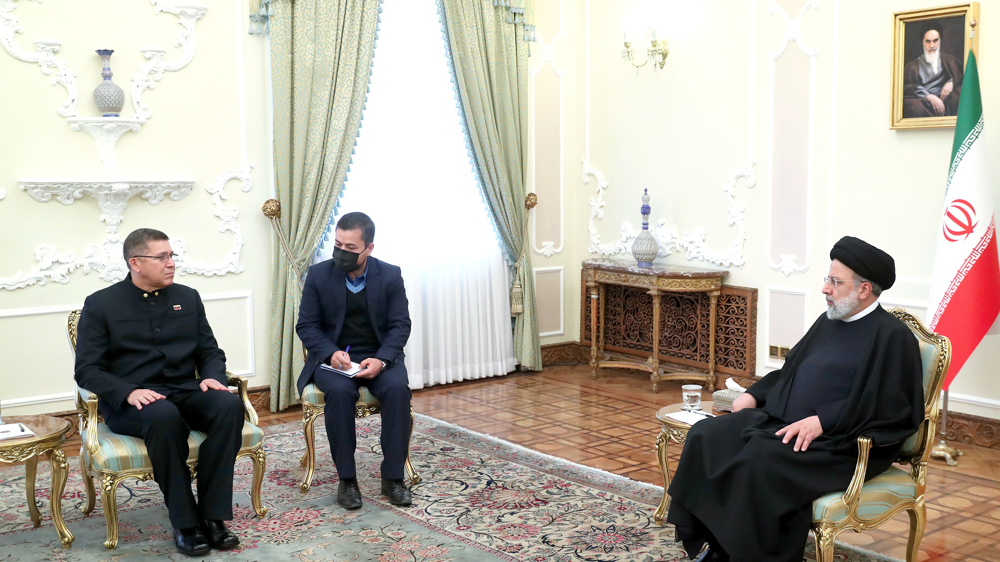 The implementation of these agreements can help the two countries use their capacities in different fields to further develop cooperation, the Iranian president added.
In the presence of the Iranian and Venezuelan presidents, the two countries' high-ranking officials signed a 20-year partnership agreement aimed at bolstering cooperation in various fields between Tehran and Caracas.
The partnership agreement includes cooperation in the fields of science, technology, agriculture, oil and gas, petrochemicals, tourism, and culture.
Elsewhere in his remarks, Raeisi told the Venezuelan ambassador that Tehran and Caracas enjoy very cordial relations.
The Iranian president, while receiving Aponte's credentials, expressed hopes that effective steps will be taken to implement bilateral agreements during the new diplomat's mission in Tehran.
He hailed the independence-seeking spirit of the Venezuelan people and said, "The current desire of the Americans to get close to Venezuela is not due to friendship but because of the country's need for energy resources."
The Venezuelan diplomat, for his part, hailed Iran's support for his country and vowed to make utmost efforts to expand economic cooperation between the two countries.
Raeisi underlines need to boost Iran-Malaysia cooperation
Also on Sunday, President Raeisi received the credentials of Malaysia's new Ambassador to Tehran Khairi Bin Omar.
During their meeting, Raeisi said Iran has managed to take major steps towards development and progress despite all the sanctions and threats.
He expressed hopes that Iran and Malaysia would make use of their great capacities to further develop their bilateral cooperation.
"The priority of the Iranian government is the development of economic, cultural and political relations with Muslim countries," he said.
Khairi, for his part, said Tehran and Kuala Lumpur have the capacities to increase interaction in the fields of trade, investment, education, science and technology, and tourism.
Iran ready for enhanced economic ties with Africa: Raeisi
The Iranian president, in a meeting with Mali's new ambassador to Tehran Muhammad Maïga, said Tehran is ready to increase economic relations with various African countries, including Mali, while relying on its own huge capacities.
He said Iran has been pursuing plans to develop relations with African countries ever since the victory of the 1979 Islamic Revolution.
The Iranian chief executive expressed hope that the new government of Mali would take great steps toward independence and development with the help of the country's people.
He also condemned the West's policy toward African countries, saying the Western countries went into Africa not to help its people but to plunder their wealth.
"We believe that African countries, given their rich natural and human resources, will manage to achieve more progress through their own independence and without the interference of the West," Raeisi said.
He added that the presence of Western countries in different parts of the world has only destabilized those regions and failed to establish security there.