US President Joe Biden has blamed increasing political violence and hatred in America on the Republican Party, following an assault on US House Speaker Nancy Pelosi's husband at their residence in San Francisco.
Speaking at a political event in Pennsylvania hours after Paul Pelosi was attacked and gravely injured by an intruder, Biden blamed the Republican Party, increasingly influenced by the political vitriol of former President Donald Trump, for "too much political violence."
"There's too much violence, political violence, too much hatred, too much vitriol," Biden said to applause by the audience.
"And what makes us think that one party can talk about 'stolen elections,' 'COVID being a hoax,' 'this is all a bunch of lies,' and it not affect people who may not be so well balanced?  What makes us think that it's not going to corrode the political climate?" Biden added.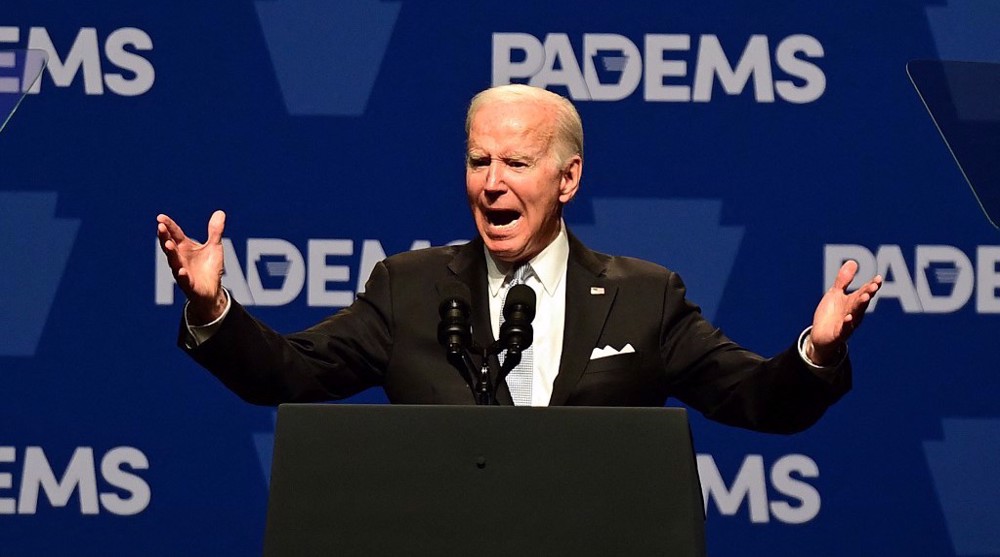 Trump has formerly called the COVID-19 pandemic a hoax, and continues to call the 2020 presidential election that he lost to Biden "stolen."
Most notoriously, Trump incited a mob of his supporters to attack the Capitol Hill on January 6, 2021, as the Congress was in the middle of confirming Biden's victory. Congress members, including Pelosi, and even Trump's own Republican Vice President Mike Pence had to be hurried by security detail to bunkers for safety. As the attack unfolded, Pelosi's aides locked themselves in an interior room while Trump's supporters were outside, looking for Pelosi, whom Trump had vilified.
'Where is Nancy?'
While the Friday assault on Paul Pelosi is still being investigated, police have said that the assailant who broke into the house from a back door and severely injured the speaker's husband with a hammer repeatedly asked "Where is Nancy? Where are you, Nancy?" before he engaged in an altercation with Paul, signaling that the attacker was looking to target the speaker, who was away at the time.
For many, that has recalled the January 6, 2021 attack on Capitol Hill, where the mob of Trump supporters famously shouted "Where is Nancy? Where is Nancy?" as they roamed around and vandalized her office.
On October 13, The New York Times released the findings of an analysis that showed hundreds of Republican midterm candidates had questioned or spread misinformation about the 2020 election. "Together they represent a growing consensus in the Republican Party, and a potential threat to American democracy," it said starkly.
The Friday attack has also renewed a debate about violence, political and otherwise, in America.
"In the five years since Mr. Trump was elected in 2016, the number of recorded threats against members of Congress increased more than tenfold, to 9,625 in 2021, according to the Capitol Police," according to The New York Times. "Many lawmakers say they live with a sense of dread after experiencing their own horror stories, such as the time someone smashed a window at a politician's home or when an angry man showed up with a gun."
'No place seems safe'
Trump has repeatedly used rhetoric to whip up his base and aggrandize his status, sharply dividing America in the process.
"It does highlight an extreme problem that we have in this country with the political violence that's being threatened over and over again, at all levels, whether it's school boards [or] members of Congress," Charles Ramsey, former chief of police in Washington, DC, told CNN on Friday.
"The number of threats have [sic] dramatically increased, and it seems like the climate is just continuing to get worse," Ramsey said.
And Maureen Dowd, an opinion columnist for The New York Times, said there seems to be no respite.
"America seems haunted by random violence and casual cruelty every day. In New York, subway riders getting pushed onto the tracks and innocent bystanders being shot. Officials across the country facing kidnapping plots, armed visits to their homes, assaults and death threats," Maureen Dowd, an opinion columnist for the Times, wrote in a piece on Friday.
"No place seems safe, from parks to schools to the supposedly impregnable, guarded Capitol and homes of the wealthy and well known," she added.