Iranian security forces have arrested the perpetrators behind the murder of Mohammad-Rasoul Doust-Mohammadi, a member of the Basij volunteer force, during recent violent riots in the northeastern city of Mashhad.
Mashhad's Governor Mohsen Davari announced the news on Friday. He did not give further details on the matter.
Davari said Doust-Mohammadi was martyred on Wednesday in a stabbing attack.
The governor said investigations were also underway to identify the murderers of Moslem Javidi, a member of the Army who was martyred in Quchan.
The funeral for the two martyrs will be held on Sunday in Mashhad, near the holy shrine of Imam Reza (peace be upon him), he said.
Iran has witnessed incidents of street violence over the past few days in the wake of the death of a 22-year-old woman, Mahsa Amini, in hospital after she was detained by police.
Despite clarification on the circumstances surrounding Amini's death, violent protests led to attacks on security officers and acts of vandalism against public property as well as ambulances and police vehicles.
At least five security personnel have been killed while trying to confront riots in Mashhad, Quchan, Shiraz, Tabriz, and Karaj. Several members of the security forces have also been injured.
According to the IRIB News Agency, over a dozen people were also killed during the street violence.
Mahsa Amini's father: 'We're against riots'
Meanwhile, Iranian President Ebrahim Raeisi has ordered a thorough investigation into the case of Amini, assuring her family that every effort will be made to protect her rights.
Amini's father, however, said on Thursday that the result of forensic examinations "has not been delivered to us."
He also said, "These gatherings have nothing to do with us and have not been from our side ... Our sole demand is to deal with and punish the perpetrators of my daughter's death."
Several Iranian intelligence and military bodies have issued separate statements in condemnation of the riots. They say the recent plot hatched by the enemies is also doomed to failure.
The riots have also inflicted damage on public property. The Iranian Health Ministry announced on Thursday that over 60 ambulances have been destroyed during the riots in several cities.
Describing the attacks on ambulances as an inhumane act and demanding that rioters be held accountable, the ministry said the move had disrupted emergency health services and the treatment process of patients.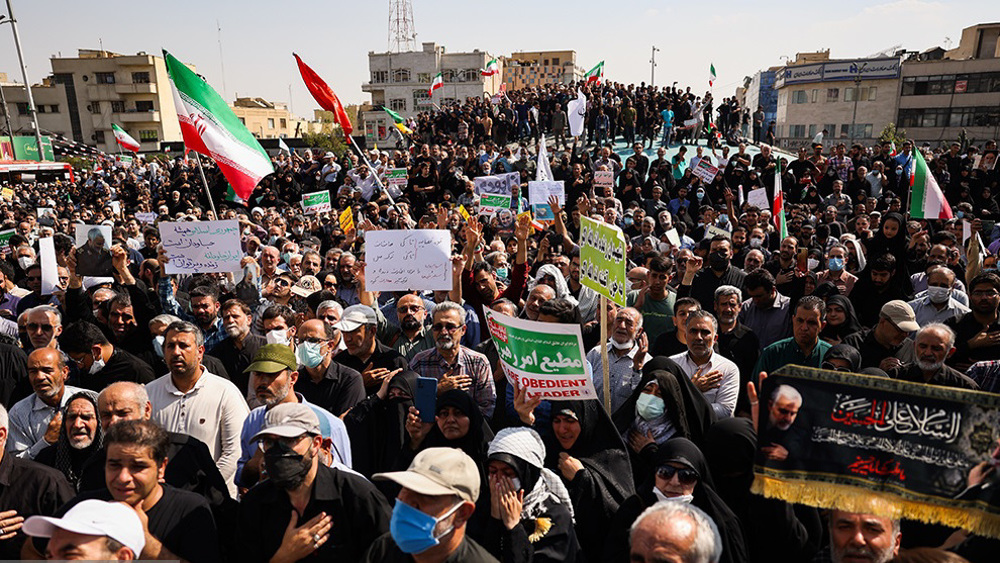 Millions of Iranians took to the streets nationwide after Friday prayers in condemnation of the desecration of Islamic sanctities and acts of vandalism by rioters in the past few days.
The demonstrations, according to a statement by the Coordinating Council of Iran's Islamic Propagation Organization, condemned "disruptive measures of few mercenaries and deceived individuals who insulted the sanctity of the Holy Quran and Prophet Muhammad (peace be upon him), set fire to a number of mosques and sacred flag of the Islamic Republic of Iran, assaulted the hijab of women, vandalized public property, and undermined the security of people."