Israeli forces have torn down yet another Palestinian house and demolished a plant nursery in occupied East al-Quds under the pretext of lacking construction permit.
Palestinian media said Israeli bulldozers, escorted by troops, raided Jabal al-Mukabber neighborhood on Monday morning and demolished the under-construction house.
Separately, bulldozers swept a plot of land and tore down the nursery in Isawiyya neighborhood.
Israeli forces have on numerous occasions issued demolition and construction halt notices and flattened Palestinian houses in the area under the said pretext.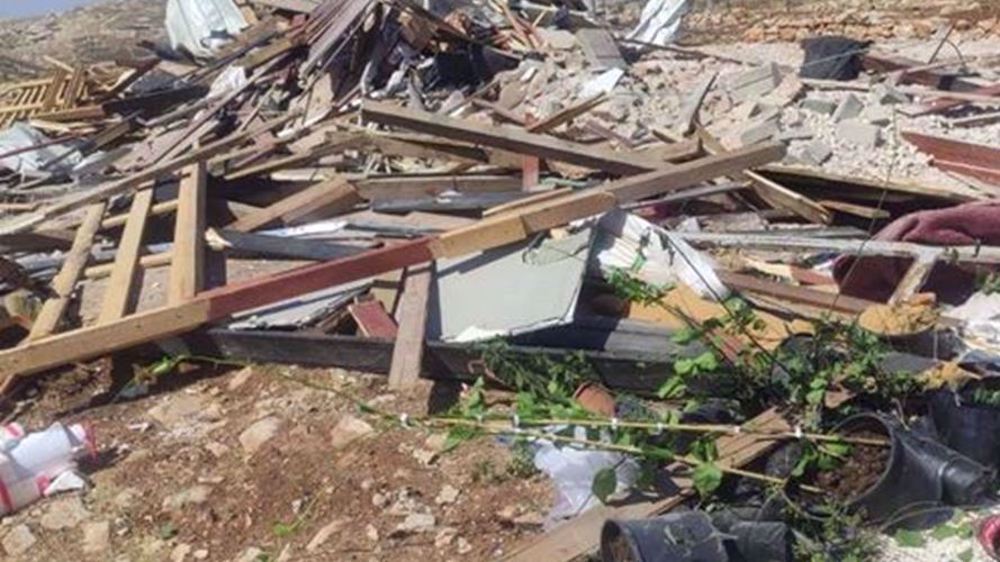 According to a United Nations (UN) study, the construction permits are "virtually impossible" to obtain.
The UN has reported a 21-percent increase in the number of Palestinian structures confiscated or destroyed last year. Some owners have been left with no choice but to raze their homes themselves to avoid being charged thousands of shekels for the demolition costs.
Many believe Israel is seeking to forward its settlement expansion through the demolitions. Some say the destruction of Palestinian property is political in nature and part of the regime's grand scheme of ethnic cleansing.
Israel occupied the West Bank, including the western part of the holy city of al-Quds, in 1967. It later annexed East al-Quds, which Palestinians want as the capital of their future state.
Between 600,000 and 750,000 Israelis occupy over 250 settlements built across the West Bank since the 1967 occupation. The UN Security Council has in several resolutions condemned the regime's settlement projects.
Also on Monday, Israeli police abducted two young Palestinian men in East al-Quds and took them away to an undisclosed location.
The regime forces frequently conduct such raids into Palestinian houses in search of 'wanted' Palestinians. Clashes with residents are commonplace. The raids take place in areas under full control of the Palestinian Authority. They are carried out without a search warrant.
Under Israeli military law, army commanders have full executive, legislative and judicial authority over three million Palestinians living in the West Bank. Palestinians have no say in how this authority is exercised.