A new survey by CNN has found that many young Britons living in London are actively avoiding Queen Elizabeth II's Platinum Jubilee celebrations that are underway this weekend.
Ahead of the celebrations, which mark the Queen's 70-year reign, CNN spoke to several Britons under 30 living across London – the epicenter of festivities – about their views.
The results showed many are against the celebrations, citing everything from colonialism to the lack of diversity as reasons why they won't be out in the crowds of royal revelers this weekend.
Many were also indifferent to it, while some others were irritated by all the ceremony for a person and institution they say has no place in their lives.
"I'm sick of it. I'm currently in the middle of packing to go to Italy," Joss MacDonald told CNN on Tuesday from his home in the London borough of Hackney, where nearly 50 street parties have been organized this weekend.
MacDonald, 29, said that his childhood wasn't filled with memories of the Queen and his family were far from "royalists."
However, he said, his mother is still going to a jubilee gathering on their street, "mostly because it's a good excuse for a party."
Like many other young Britons, MacDonald said that the monarchy, whose wealth and power is linked to a legacy of British colonialism, has failed to modernize and is disconnected from today's multicultural Britain.
He went on to say that he thought the royal family with "its history of militarism and imperialism" was undemocratic and should be abolished -- not celebrated in a four-day jubilee holiday across the UK.
"I won't begrudge people a good time. I think the opportunity to have a big national celebration is great, but it's such a shame that it has to be for this institution," he added.
Josie Watson, 25, also said she won't be tuning in to watch the festival.
Watson, who lives in Ealing, a district in west London, where 154 street parties will be hosted by residents, said she is apathetic about the jubilee because she "doesn't see the point in celebrating someone who was just born into a family and assigned a role."
Despite having grown up in a family that is pro-monarchy, Watson believes that "young people disconnect with the royal family because we've never lived at a time where their leadership has meant much."
They served their purpose to provide "patriotism and leadership" during wartime but now "priorities have shifted," she added.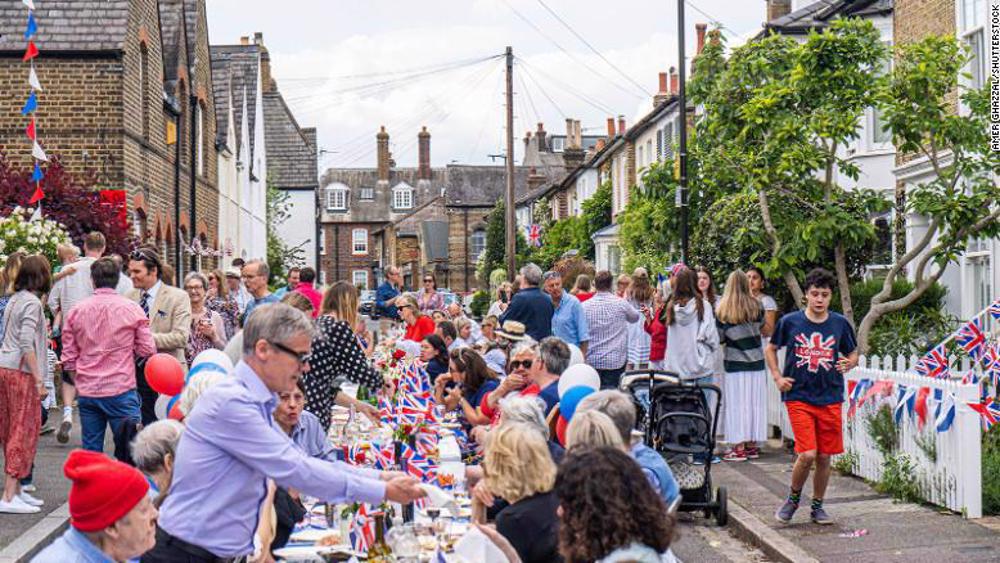 Robert Hazell, professor of government and the constitution at University College London and co-editor of "The Role of Monarchy in Modern Democracy: European Monarchies Compared," told CNN there are many possible reasons for the apparent shift in attitudes towards the British monarchy among a younger generation of Britons.
"We have an aging monarch. It's difficult for young people to identify with someone who's very old," Hazell said.
But for Watson, age isn't the issue. "We just don't see enough of ourselves in them," she said.
Roisin Conneely, a 26-year-old digital communications professional, also said she has decided to spend time it at her home in Redbridge, in east London, watching TV series.
"I couldn't care less," she said of the jubilee.
This comes as polling suggests attitudes towards the royal family among young people in Britain have shifted since 2019.
Polling by YouGov in 2019 indicated that 46% of 18- to 24-year-olds thought the monarchy should continue, while 26% said the country should have an elected head of state and 28% were unsure.
However, polling conducted by YouGov from March to May 2021 showed that 31% of 18- to 24-year-olds surveyed said they wanted to see the monarchy continue, while 41% believed that Britain should have an elected head of state and 28% were undecided.
Millions in towns and cities across the UK will be celebrating the Queen's Platinum Jubilees in a four day holiday weekend from June 2-5.
The four days of celebrations will include public events and community activities, as well as national moments of reflection on the Queen's 70 years of service.