Iran's leading international newspaper, Tehran Times, has announced that it will be hosting an online event to draw attention to the plight of the Palestinian people and their courageous struggle against Israeli atrocities.
The event, titled "Remember Palestine," will be held to commemorate Nakba Day, otherwise known as the Palestinian Catastrophe, which is held on May 15, the day after the Gregorian calendar date for Israel's so-called independence.
To mark the special occasion, Tehran Times is calling on artists to register their related works in written or multimedia formats.
Submission topics include Palestine's history, intifadas (Palestinian uprisings), human rights and Palestine, the role of the international community in solving the Palestinian crisis, and memoirs.
Applicants can submit their posters, cartoons, video comments, blog posts, and essays at https://event.tehrantimes.com/remember-palestine/. The submission process begins on April 29 and will end on May 29.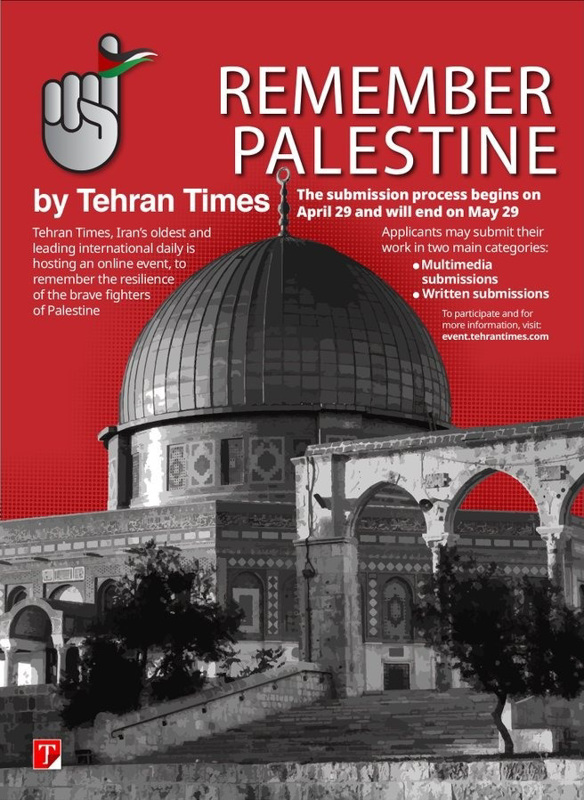 Some 750,000 Palestinians were expelled from their lands in 1948 and scattered across refugee camps in the occupied West Bank, the Gaza Strip, and Palestine's neighboring countries. Over five million Palestinian refugees are currently estimated to be still displaced.
Every year Palestinians and their supporters across the globe mark Nakba Day to condemn the Israeli regime's crimes against Palestinians and garner support for the Palestinian cause. This year, the event will come at a time of intensified Israeli violence against Palestinians in both the occupied West Bank and the besieged Gaza Strip.