Saudi Arabia has upped the ante in the war on Yemen by conducting a new round of airstrikes against various areas across the war-wracked Arab country, as Riyadh and its regional allies press ahead with their devastating war and brutal siege against the Yemeni nation.
Saudi warplanes carried out four air raids against the outskirts of the northwestern Yemeni city of Sa'ada early on Saturday, Yemen's al-Masirah television network said.
Initial reports suggest that two civilians were killed and a woman sustained injuries in the strikes.
Hours earlier, Saudi fighter jets had launched 45 airstrikes against different areas in Yemen's southern province of Shabwah.
Al-Masirah TV reported that the aerial assaults hit Usaylan, Bayhan and Ain districts. There were no immediate reports of casualties or extent of damage.
Saudi aircraft also bombarded al-Balaq area in the Wadi Ubaidah district of Yemen's oil-producing central province of Ma'rib, located some 175 kilometers (109 miles) east of the capital, Sana'a, on 16 occasions, though no reports about possible casualties were quickly available.
Three other aerial assaults targeted al-Jubah and Sirwah districts in the same Yemeni province.
Saudi warplanes also conducted seven airstrikes against an area in the Abs district of Yemen's northwestern province of Hajjah.
Saudi military aircraft launched two air raids against the Khabb wa ash Sha'af district in the northern Yemeni province of Jawf as well. There were no immediate reports about possible casualties.
Saudis violate Yemen's Hudaydah truce 126 times in 24 hours
Separately, forces of the Saudi-led military coalition and their mercenaries violated 126 times during the past 24 hours a ceasefire agreement between warring sides for the western coastal province of Hudaydah.
Al-Masirah television network, citing an unnamed source in Yemen's Liaison and Coordination Officers Operations Room, reported that the violations included three reconnaissance flights over various regions, in addition to 35 counts of artillery shelling and 63 shooting incidents.
Yemenis rally to slam Saudi war
In Hudaydah province, people took to the streets after Friday prayers to denounce the ongoing Saudi-led military aggression against their homeland.
Local media reports said the participants in the rally chanted vociferous slogans against the Yemen war while carrying the country's tricolor flag and pictures of top resistance leaders.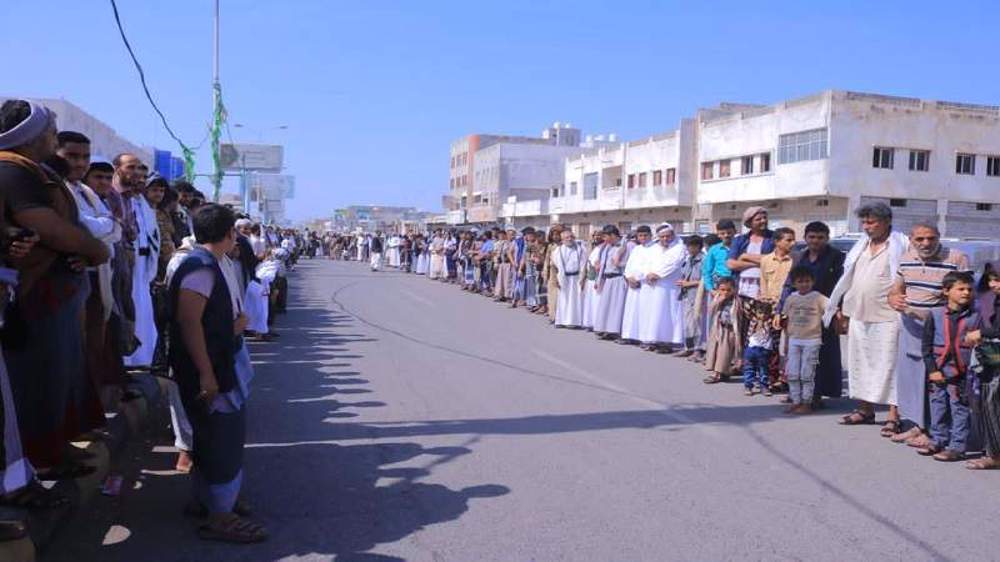 They also praised Yemeni naval forces for seizing a United Arab Emirates-flagged cargo vessel as it was engaged in "hostile acts," warning the Abu Dhabi regime against continuing its acts of aggression.
The demonstrators underscored that Yemeni people reserve the 'legitimate right' to defend their land, waters and airspace by all available means.
They called on people from all walks of the Yemeni society to mobilize forces to battlegrounds, and support Yemeni army troops and fighters from Popular Committees in their battles against Saudi-led coalition troops, Saudi-backed militants loyal to former Yemeni president Abd Rabbuh Mansour Hadi  as well as the Daesh Takfiri terrorists.
Saudi Arabia, backed by the United States and regional allies, launched the war on Yemen in March 2015, with the goal of bringing Hadi's government back to power and crushing the popular Ansarullah resistance movement.
The war has left hundreds of thousands of Yemenis dead and displaced millions more. It has also destroyed Yemen's infrastructure and spread famine and infectious diseases there.
Despite heavily-armed Saudi Arabia's incessant bombardment of the impoverished country, the Yemeni armed forces and the Popular Committees have grown steadily in strength against the Saudi-led invaders and left Riyadh and its allies bogged down in the country.