A new wave of coronavirus infections has swept across Europe in recent days, dashing hopes of return to normalcy with major member states announcing plans to reimpose full lockdowns and make vaccinations mandatory.
The situation in some of the states, particularly those with low vaccination rates, has been deteriorating as cases are surging in central and eastern Europe.
The Netherlands went back into western Europe's first partial lockdown of the winter season last week, putting into force restrictions that affect restaurants, shops, pubs and sport centers.
Over the past week, more than 110,000 people have tested positive in the country, an increase of almost 44 percent compared with the week before, according to official figures.
The Dutch government has been forced to announce a national partial lockdown for three weeks.
The Dutch city of Rotterdam turned into a scene of violence over the new Covid restrictions on Friday, with police firing warning shots and injuring several people after rioters torched a police car and hurled stones at the forces.
According to reports, dozens of people were arrested and seven people were injured in total, including police officers, during the night-time rampage on one of Rotterdam's main shopping streets.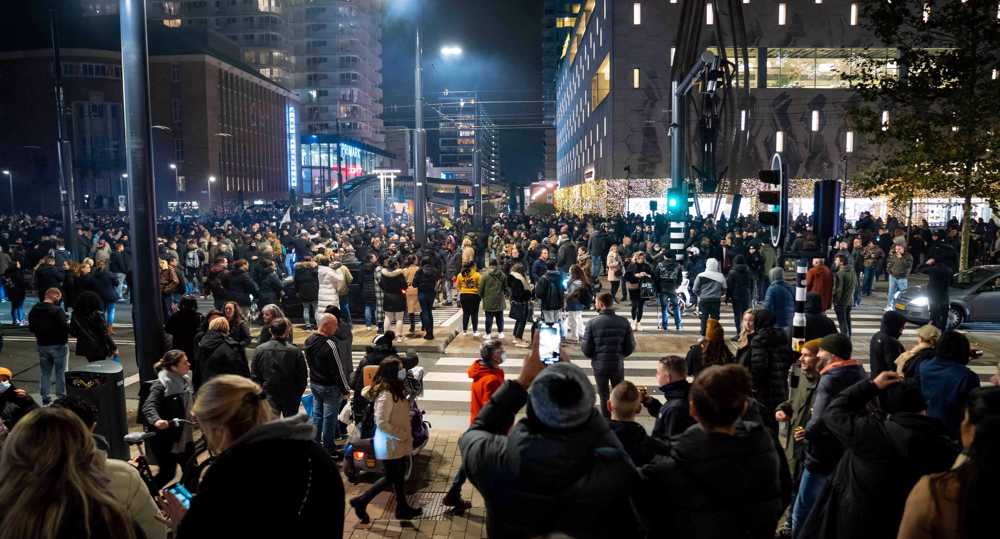 Dutch media said several hundred protesters shouted slogans including "freedom," then threw stones at police and firefighters and set fire to several electric scooters.
"Warning shots were fired several times. At one point the situation became so dangerous that officers felt compelled to shoot at targets," police said.
Rotterdam mayor Ahmed Aboutaleb described the riots as an "orgy of violence," saying, "The police have felt the need to draw a police weapon in the end to defend themselves."
Police said in a statement that the demonstration that started on the Coolsingel street "has resulted in riots. Fires have been set in several places. Fireworks were set off and police fired several warning shots."
The Dutch government earlier on Friday outlawed traditional fireworks over New Year for a second year in a row "to prevent an extra burden on care workers."
In Germany, Europe's largest economy, the Covid situation is so grave that a full lockdown, including for people who have been vaccinated, cannot be ruled out.
Speaking in a news conference in the capital Berlin on Friday, Germany's Health Minister Jens Spahn said, "We are in a national emergency," adding that the pandemic has worsened over the past week and is now "more serious than last week."
When asked about the possibility of imposing a new lockdown, Spahn said the fourth wave of Covid infections has seen case numbers reach record levels in Germany and that, "We're in a situation where we can't rule anything out."
The country recorded 52,970 daily new infections on Friday, a day after registering over 65,000 daily cases, a record since the start of the pandemic, with health officials warning that the number is likely to at least double in the coming days.
Health officials' reports said the number of new cases in Germany has jumped by more than 60% in the past two weeks.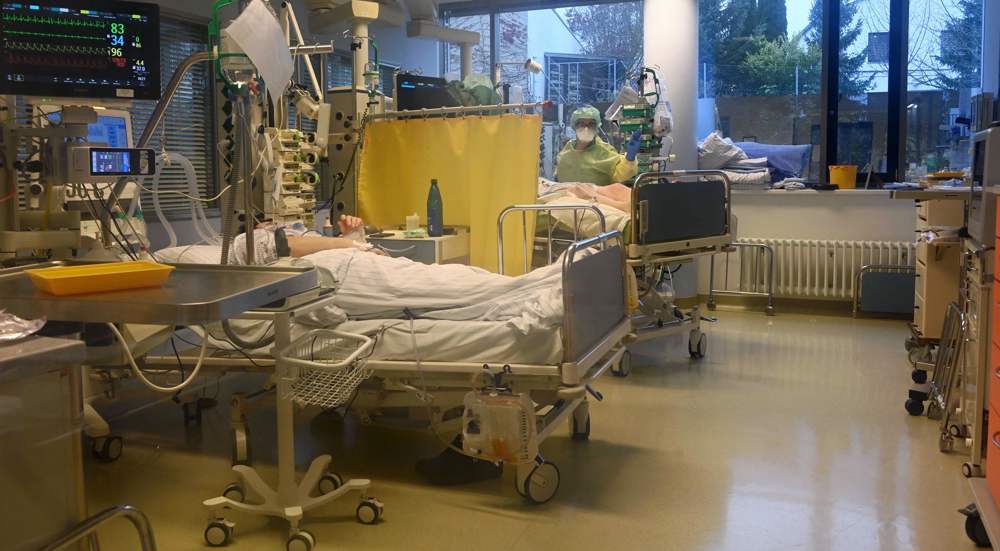 The southern German state of Bavaria — Germany's largest state — has one of the lowest vaccination rates in the country and one of the highest hospitalization rates.
Bavaria, with more than 13 million inhabitants, has cancelled all Christmas markets and imposed a lockdown on all districts that have a seven-day Covid incidence rate of over 1,000 per 100,000 people.
Meanwhile, British Prime Minister Boris Johnson said earlier this week that there were "storm clouds" gathering over parts of the continent with the "new wave" of the infections, adding it was unclear when or how badly it would "wash up on our shores."
According to official figures, Covid-19 infections have fallen in some parts of the UK but scientists warned that the rate remains high enough to put the health service under "significant strain" in the months ahead.
The Office for National Statistics — the executive office of the UK Statistics Authority — estimates one in 65 people in England contracted the virus in the week ending 13 November, down marginally from one in 60 the week before.
Also on Friday, Austria announced it would become the first country in western Europe to reimpose a full Covid lockdown and make vaccinations mandatory as more than 15,000 new cases were recorded in the Alpine nation of nearly nine million people.
Austrian Chancellor Alexander Schallenberg said Covid vaccinations will be mandatory from February 1 next year, while the lockdown will start from Monday and will be evaluated after 10 days.
The stringent measures infuriated many in the country, with the country's far-right party leaders posting a picture on Facebook with the inscription, "As of today Austria is a dictatorship."