Russian media say Armenia has asked Moscow to help defend its territorial sovereignty against attacks by Azerbaijani forces, amid renewed border clashes between the two sides.
Russia's TASS news agency cited the secretary of Armenia's Security Council, Armen Grigoryan, as making the plea in a televised address on Tuesday.
"Since there has been an attack against the sovereign territory of Armenia, under the 1997 treaty we are addressing Russia with a call for protecting the territorial integrity of Armenia. A written request is being prepared," Grigoryan said, referring to a treaty signed on August 29, 1997 on cooperation and mutual assistance between Russia and Armenia.
Grigoryan expressed hope that Russia would provide sufficient military assistance if negotiations with Azerbaijan failed to produce results.
The Armenian Defense Ministry said in a statement on Tuesday that the situation on the Armenian-Azerbaijani border in the Syunik region remained "extremely tense."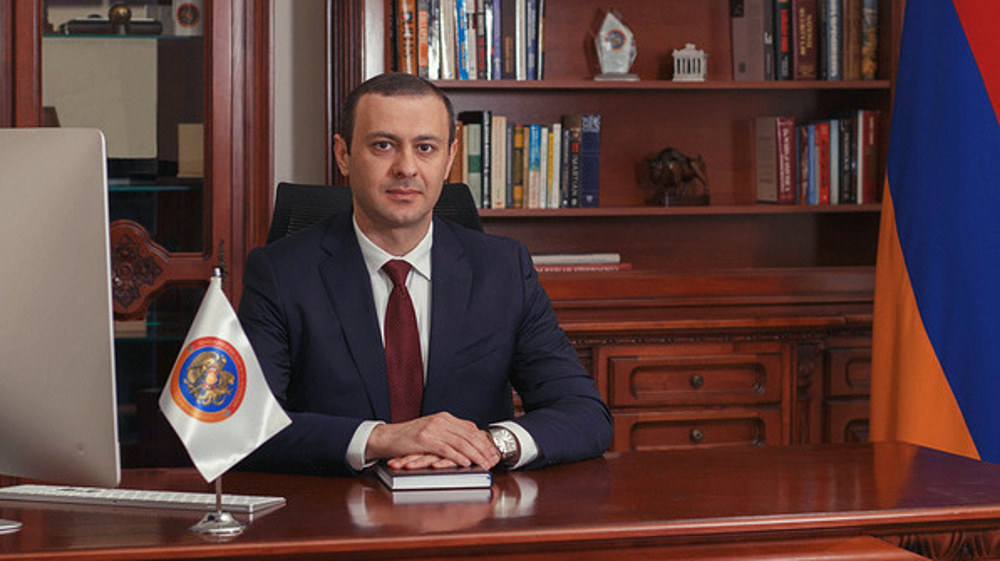 "The situation on Armenia's eastern border remained extremely tense as of 02:30 pm. Localized clashes are going on, with the enemy using artillery, armored vehicles, and firearms of various calibers. Armenia continues to carry out retaliatory action," the statement said, adding that Armenia's army had the situation under control.
Armenia reports casualties in Azerbaijan border clashes
The ministry also reported deaths and the loss of military positions in border clashes with Azerbaijani troops, saying, "There are fatalities and wounded among Armenian troops as a result of fighting that erupted following an attack by Azerbaijani forces."
It said the number of casualties was being verified and added that Yerevan had "lost control of two military positions."
Russia's Interfax news agency cited Armenia's parliament as saying that 15 Armenian soldiers had died in clashes on the country's border with Azerbaijan. The parliament added that 12 of their soldiers had been captured by Azerbaijan.
On the other side, the Azeri Defense Ministry also spoke of a tense situation on the border with Armenia and said a military operation was underway to repel large-scale "provocations."
The ministry said Armenian forces were shelling Azeri army positions with artillery and mortar fire and added that it had destroyed some Armenian military hardware. The Azeri Defense Ministry fell short of providing details on the number of possible casualties during the clashes with Armenian forces.
Earlier on Tuesday, the two sides had accused each other of initiating fighting along their shared border.
Armenian Prime Minister Nikol Pashinyan said on Monday that Azerbaijani troops had entered Armenia through an eastern sector of the border, sacking his Defense Minister Arshak Karapetyan over the incident.
EU chief demands 'full ceasefire'
Meanwhile, the president of the European Council, Charles Michel, urged the leaders of Armenia and Azerbaijan on Tuesday to call a "full ceasefire" after the new border clashes erupted between the two sides.
Michel said in a tweet that he had made the plea in conversations with Azerbaijan's President Ilham Aliyev and the Armenian premier.
Demanding an "urgent de-escalation and full ceasefire," Michel said, "EU is committed to working with partners to overcome tensions for a prosperous and stable South Caucasus."
Tensions between Yerevan and Baku remain high a year after the arch-foes fought a war over the disputed Nagorno-Karabakh region. The six-week conflict, which claimed more than 6,500 lives on both sides, ended last November with a Russian-brokered deal that left Azerbaijan largely in control of the territory.
Nagorno-Karabakh is internationally recognized as part of Azerbaijan but has been populated by ethnic Armenians. Russia has deployed 1,960 peacekeepers to the region for an initial five-year period. Since the truce, the two sides have accused each other of breaching the peace deal.