A review by US Senate Democrats has revealed details of how former US president Donald Trump pushed the Department of Justice (DOJ) to investigate his baseless claims of election fraud.
It confirms previous reporting on the attempts by former acting Civil Division Assistant Attorney General Jeffrey Clark to use his official federal government position to back various election fraud theories.
The report by Senate Judiciary Committee Democrats, which was released Thursday, also details a meeting on January 3, three days before Trump supporters stormed the Capitol to put an end to vote counting.
In addition, it highlights the role Rep. Scott Perry (R-Penn.) had in aiding the former Republican president's election fraud campaign.
According to the review, Clark directed his efforts to then-acting Attorney General Jeffrey A. Rosen, then-acting Deputy Attorney General Richard Donoghue and Byung Pak, a former US attorney from the Atlanta area. Pak resigned on Jan. 4 under pressure from Trump to interfere in election-related issues.
The report also contains new details about how former White House Chief of Staff Mark Meadows tried to persuade Rosen to launch "at least four categories of false election claims" in places such as Fulton County, Georgia and New Mexico.
"Today's report shows the American people just how close we came to a constitutional crisis," committee chair Dick Durbin (D-Ill.) said in a statement, arguing that "Trump would have shredded the Constitution to stay in power."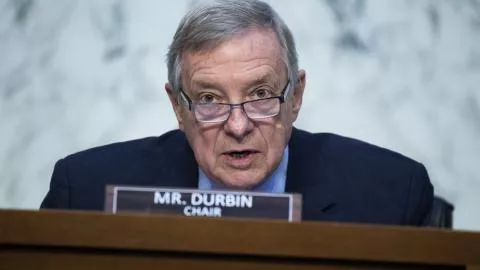 "Thanks to a number of upstanding Americans in the Department of Justice, Donald Trump was unable to bend the Department to his will. But it was not due to a lack of effort."
The review, which is based on documents, emails and testimony from Rosen, Donoghue and Pak, explains ties between the little-known DOJ official who quickly became an advocate for the former president's efforts within DOJ.
"Perry has acknowledged introducing Clark to Trump, and documents and testimony confirm that he directly communicated with Donoghue about his false Pennsylvania election fraud claims," the report states.
Republicans on the committee issued their own report, which had different conclusions.
"The available evidence shows that President Trump did what we'd expect a president to do on an issue of this importance: He listened to his senior advisers and followed their advice and recommendations," Ranking Member Charles Grassley said.