Bahraini protesters have staged nationwide rallies to express their vehement opposition to the visit by the Israeli foreign minister to the tiny Persian Gulf kingdom to mark the official establishment of relations between Tel Aviv and Manama regimes.
On Thursday evening, demonstrators poured into the streets of the capital Manama to protest the Israeli foreign minister's visit to the country.
They carried banners in condemnation of normalization with Tel Aviv, and set ablaze Israeli flags in rejection of Yair Lapid's trip to Manama to inaugurate the Israeli embassy in Bahrain.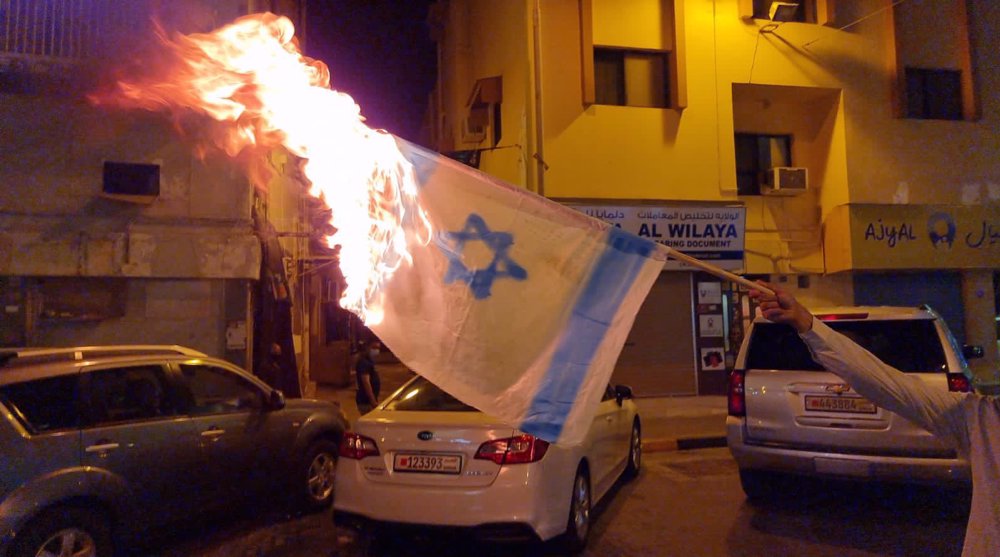 The protesters also waved national Palestinian flags, and voiced solidarity with the Palestinian nation and their legitimate cause.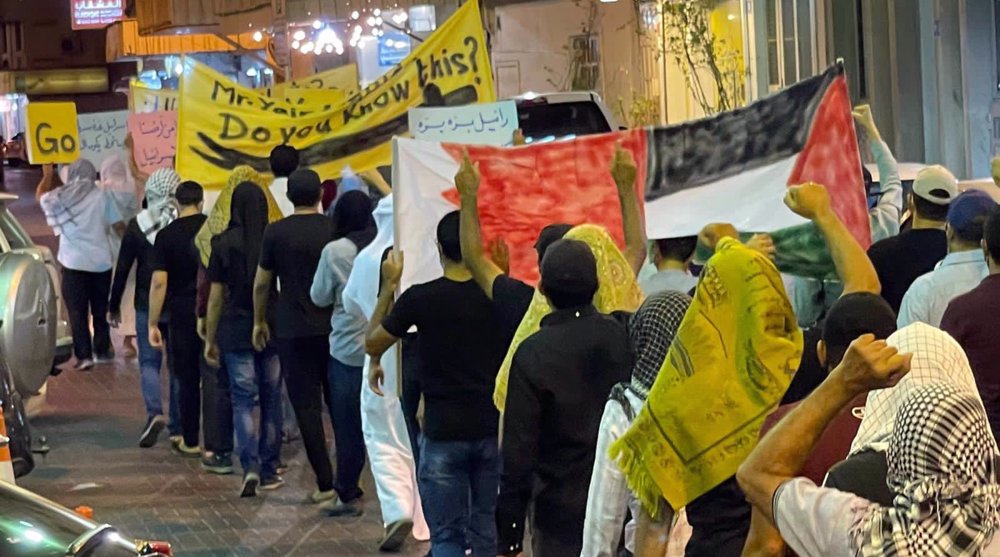 Similar rallies were held in the villages of Sadad and Sanabis, where protestors chanted slogans against Bahrain's ruling Al Khlifah regime, raised placards in denunciation of normalization with Israel, and burnt Israeli flags.
Lapid arrived at Manama airport on Thursday to become the highest-ranking Israeli official to visit the tiny Persian Gulf country since Israel and Bahrain established formal relations last year.
He met King Hamad bin Isa Al Khalifah and Crown Prince and Prime Minister Salman bin Hamad Al Khalifah.
Lapid met later with his Bahraini counterpart Abdullatif bin Rashid Al Zayani, and the two sides signed deals on cooperation in medicine, healthcare, sports, and on water and environmental conservation. He was also due to inaugurate Israel's embassy in Manama, according to Reuters news agency.
Former Israeli prime minister Benjamin Netanyahu signed agreements with Emirati Foreign Minister Sheikh Abdullah bin Zayed Al Nahyan and Bahrain's foreign minister during an official ceremony hosted by former US president Donald Trump at the White House on September 15 last year.
Palestinians, who seek an independent state in the occupied West Bank and Gaza Strip with East al-Quds as its capital, view the deals as a betrayal of their cause.