Thousands of people have started returning to their homes in Syria's southwestern province of Dara'a after Takfiri militants left for Turkey-controlled areas in the northern part of the Arab country.
They began arriving in Dara'a al-Balad as authorities removed roadblocks and opened roads while bomb squads combed areas previously held by Takfiri terrorists, official news agency SANA reported.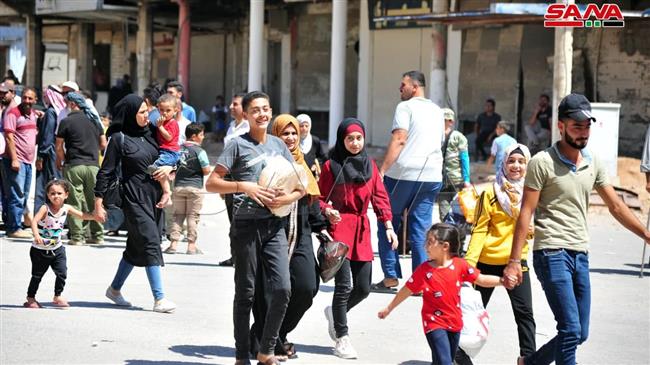 The UN Office for the Coordination of Humanitarian Affairs (OCHA) recently placed the number of internally displaced people in Dara'a province as a result of foreign-backed militancy at 38,600, including almost 15,000 women and over 20,400 children.
On Wednesday, Syrian army units entered Dara'a al-Balad and raised Syria's national flags there.
The Syrian military has begun searching buildings in residential areas, looking for weapons and improvised explosive devices planted by Takfiri militants, according to Russia's RIA Novosti news agency.
The Syrian army units also raised the national flag in al-Arbaeen neighborhood, within the framework of a truce agreement proposed by the Syrian government last month and brokered by the Russians.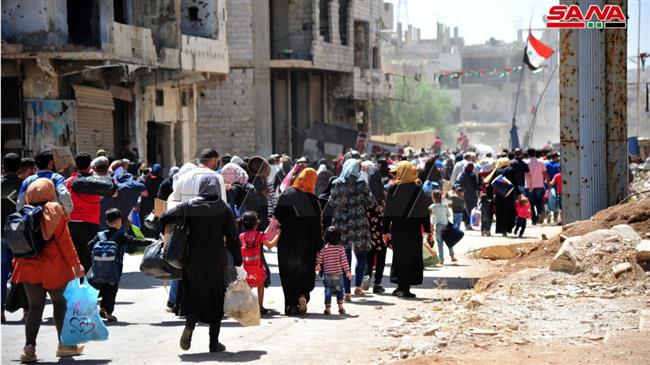 Under the truce deal reached on August 14, the militants agreed to hand over their weapons in Dara'a al-Balad where government forces will set up checkpoints in nine districts.
All militants who refused to lay down their weapons were to depart for the north of Syria or Jordan by buses provided by government authorities.
Back in 2018, Syrian army troops managed to establish control over Dara'a Province, which is bordered by Jordan to the south and the Israeli-occupied Golan Heights to the west.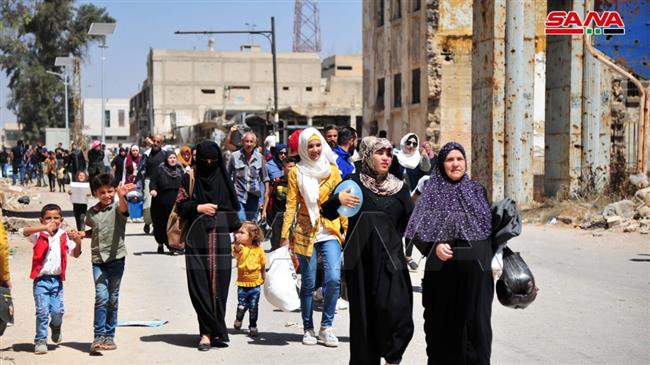 The government's full control over Dara'a is highly important because it borders the occupied Golan Heights, where the Israeli regime has treated wounded terrorists fighting against the Syrian government since 2011.
The territory's return to the government control could cut the much-reported collaboration between Israel and militants and deal a blow to Tel Aviv's plans to annex the Golan Heights.