Demonstrations against coronavirus vaccines and lockdown measures in Canada are taking place at Prime Minister Justin Trudeau's election campaign stops in various cities, prompting experts to warn of possible rising violence.  
Large crowds of angry protesters, hurling epithets and denouncing COVID-19 vaccine cards and pandemic measures have spilled onto Trudeau's campaign trail after he called a snap parliamentary election last month.
Anger at Trudeau has been building for years among right-wing groups in Canada, Barbara Perry, a professor at Ontario Tech University and director of the Center on Hate, Bias and Extremism, told Al Jazeera.
More recently, these groups have been able to exploit mainstream concerns around the coronavirus "and weave them into their own narrative," she added.
That has combined with discontent over the Trudeau government's pandemic policies to fuel rising anger, she said.
"It's really anti-Trudeau; it's not anti-Liberal, it's not just anti-state, it really is almost ad hominem attacks on Trudeau," Perry said about the recent rallies.
"There are multiple intersecting sentiments coalescing and it is a loose coalition, it appears that there's no sort of central organizing force [behind the recent protests]. It's a bunch of individuals connected by those anxieties and connected by the targeting of Trudeau." 
On Monday, a handful of gravel was thrown at Trudeau from the crowd during a campaign trail in London, Ontario, as he was leaving an event and was returning to his campaign bus.
Footage from the event showed groups of demonstrators waving signs for the far-right People's Party of Canada (PPC), which has no seats in parliament and is polling at less than 5 percent.
"No vaccine passports, no more lockdowns," some of those signs read.
It was the latest rally of what Trudeau has dubbed "anti-vaxxer mobs" to interrupt the Liberal Party leader's campaign events ahead of the September 20 vote.
Trudeau's main rival, Conservative leader Erin O'Toole, and New Democratic Party leader Jagmeet Singh condemned the incident, with O'Toole describing it as "disgusting."
Trudeau has on several recent occasions faced off with what he has described as "anti-vaxxer mobs" who are angry with his government's handling of the COVID-19 crisis. Last week, he was forced to cancel an event over security concerns.
Trudeau called a snap election in August, hoping to secure a majority government for his party, but he has slipped in the polls and is now in a statistical dead heat with O'Toole.
The recent developments come as experts have warned for months that coronavirus conspiracy theories were spreading at alarming rates in Canada and could pose a public health risk, as demonstrations against government's COVID containment measures are taking place in various Canadian cities.  
The messages are the same on all occasions-- opposition to the immunization requirement, misinformation about the virus and the vaccine, and still more who call the entire pandemic a hoax.
Alison Meek, a history professor at King's University College and a specialist on conspiracy theories and extremism, told Al Jazeera that the global anti-vax movement is evolving and "melding with a much darker, a much more violent, strain of anti-government" sentiment.
"You're starting to see that real dark underbelly, and I think that's what you're seeing with Trudeau. He has come out in favor obviously of vaccines, of mandatory vaccines, of talking about vaccine passports, and this seems to have tapped into that anger." 
Canada has inoculated much of its population against COVID-19, but the spread of the highly contagious Delta variant has raised concerns of a fourth wave, prompting some provinces to announce plans to impose vaccine passport systems for entry into restaurants, bars, gyms and other indoor public places.
Trudeau has said he plans to mandate coronavirus vaccines for all federal employees, while also announcing that passengers wanting to travel on airplanes and trains in Canada would be required to show proof of vaccination.
Anti-vaccine protesters also rallied outside Canadian hospitals in recent weeks to denounce mandatory vaccinations and other measures.
Anti-logging protest becomes Canada's biggest ever act of civil disobedience
Meanwhile, a wave of protests against old-growth logging have hit western Canada, becoming the biggest act of civil disobedience in the country's history.
At least 866 have been arrested since April, with police being condemned for violence against protesters defending Vancouver Island's ancient forests.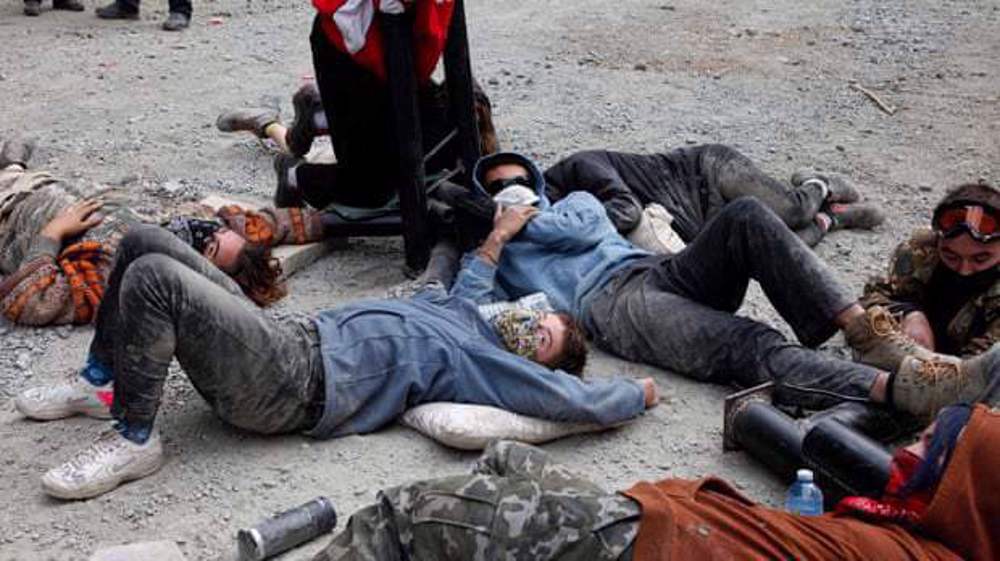 For months, hundreds of activists have locking their bodies to the logging road in a desperate attempt to shift the course of logging in the region. Police have responded by beating, dragging and pepper-spraying the demonstrators.
Police have increasingly faced sharp criticism for their tactics and use of force as well as their attempts to bar media from reporting on the long-running protests.
At stake for the activists are swaths of old growth forest on the south-western watersheds of Vancouver Island. These trees – towering western red cedar, Douglas fir and Sitka spruce – are often hundreds of years old, and are the few remaining pockets of original old growth forest. Most have been logged.