Three US police officers have been charged in the killing of Manuel Ellis, a 33-year-old Black man, last year.
Two of the officers from Tacoma, Washington, were charged with murder and the third one with manslaughter on Thursday in the death of Ellis who was shot with a stun-gun, beaten and restrained by the neck on March 3, 2020.
The Washington State Attorney General's Office charged officers Christopher Burbank and Matthew Collins with second-degree murder and officer Timothy Rankine with first-degree manslaughter.
The maximum sentence for both offenses is life in prison.
This marks the first time the office has criminally charged police officers for the unlawful use of deadly force.
"This year, I signed more than 12 bills creating the most comprehensive police accountability laws in the nation. It is my fervent hope that we can avoid future incidents and deaths," Washington's governor, Jay Inslee, said in a written statement.
"We must remain proactive – from those of us in elected office to those providing services in our communities – to turn the tide of injustice. Dr Martin Luther King Jr said, 'The moral arc of the universe bends toward justice,' and it takes all of us to usher it into existence."
According to witnesses, Ellis was walking home after getting a snack from a convenience store when he encountered the officers.
Witnesses said Burbank knocked Ellis to the ground with the door of his car, then tackled and beat him.
Video of the scene and statements from eyewitnesses show the officers hit the Black man with a taser multiple times. He was hog-tied, and at least one officer's knee was put on his neck or back.
In a series of Ring videos previously released, Ellis can be heard screaming, "I can't breathe sir. I can't breathe," followed by what appears to be an officer saying, "Shut the f*** up."
He was pronounced dead at the scene, prosecutors said in their statement.
According to Pierce County's medical examiner, Ellis, who had methamphetamine in his system, died from a lack of oxygen because of his restraint by officers.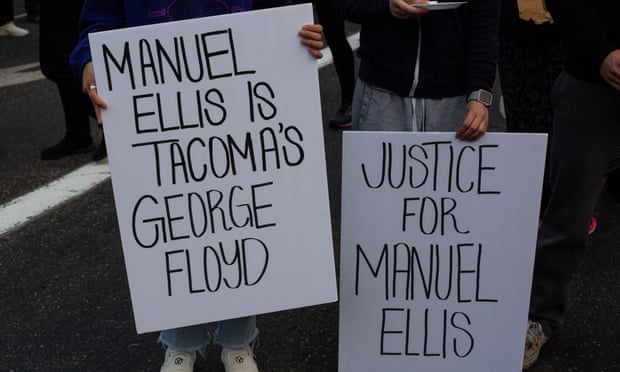 Ellis' death sparked protests in Tacoma by activists who said it marked the latest case of police brutality against African Americans.
The latest development comes as hundreds of people including members of George Floyd's family held a rally this week to mark the first anniversary of his death in Minneapolis, Minnesota.
Floyd, a Black man, died after former policeman Derek Chauvin knelt on his neck for more than eight minutes on May 25 last year. Last month, Chauvin was found guilty of murdering Floyd.
His dying words, "I can't breathe," became a rallying cry in a wave of street demonstrations against racism and police brutality across the United States and around the globe.
Floyd's family members met with President Joe Biden and US lawmakers on Tuesday to urge passage of police reform legislation stalled by policy disputes.