By Humaira Ahad
"In the last few days, I'm starting to feel more terrified than ever. I imagine myself underneath the rubble, and I have a great fear of staying alive under the rubble."
This is a text message Dr. Maisara Azmi Al Rayyes sent to a friend last week as Israeli warplanes hovered over the smoke-filled skies of the besieged Gaza Strip.
On November 7, Rayyes's worst fears came true. Israel bombed his home when the family was sleeping. The 28-year-old doctor was stuck under the rubble of a six-story building for 60 hours.
The complete blackout and siege imposed by the Zionist regime forces did not allow rescuer workers to reach Rayyes and his family as they were trapped under the rubble, taking their final breaths.
Muhammad Rayyes and Moayad Rayyes, two brothers of Dr. Rayyes, who had survived the first blast were trying to retrieve the body of their brother from the rubble when another airstrike struck.
Both of them were killed as well. All three brothers remained under the rubble for days.
A video on social media showed the bodies of the brothers lying under the wreckage of their home.
The young doctor had completed his degree in medicine from Al Azhar University in Gaza. His exceptional performance helped him get the prestigious Chevening Scholarship as well.
Rayyes joined King's College London for his Masters in 2019. He graduated with an MSc in Women and Children's Health. During his time at King's, his research was published in several high-profile journals, according to documents accessed by the Press TV website.
His hard work and dedication had earned him respect among all who knew him. Rayyes wanted to work to improve the healthcare for women and children in low-income and war-affected regions.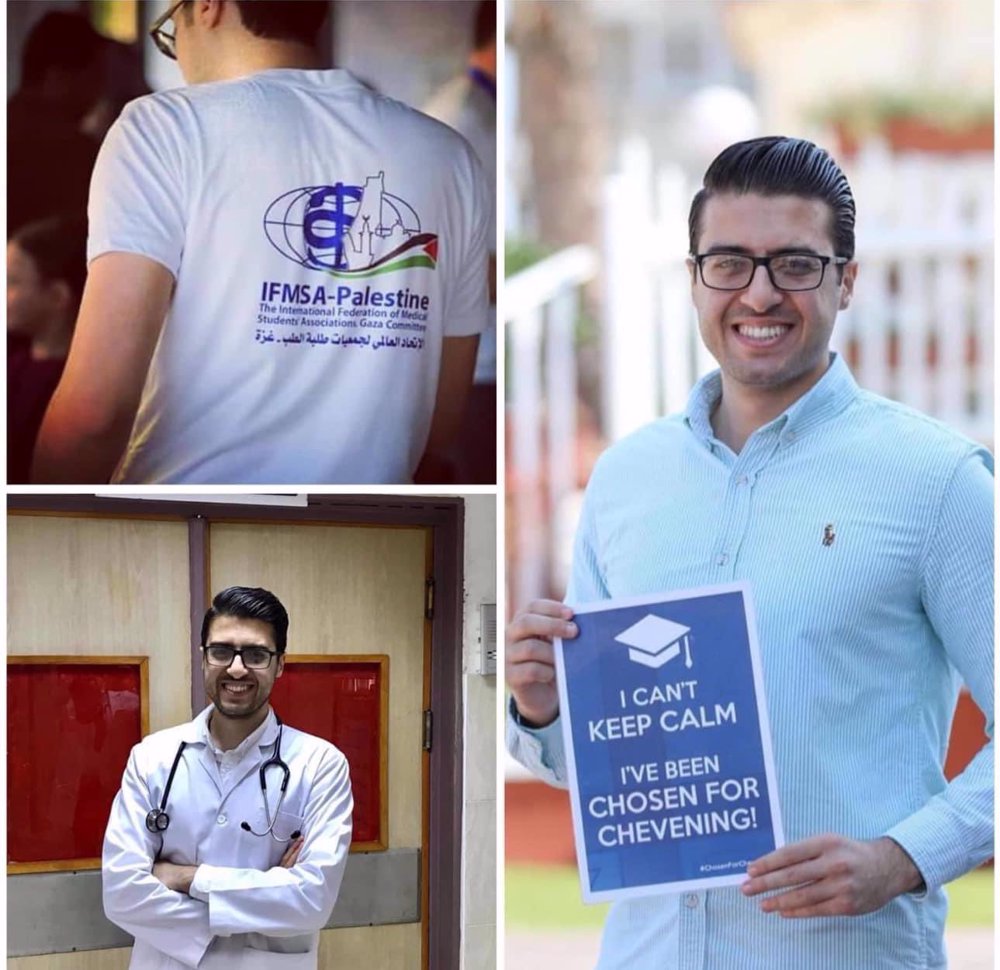 The promising doctor was regarded as a proud Palestinian by his friends.
During his stay in the UK, he would often be seen organizing events and giving talks about Palestine, especially the besieged Gaza Strip at different universities and institutes.
Rayyee's friends described him as a young man full of life with dreams and ambitions for the future.
The young Palestinian had married just a few months ago. He met his wife, a fellow Palestinian and also a Chevening fellow, at Kings College, where they studied together.
"Thanks for being home for all seasons," his wife Laura in a social media post after announcing her marriage to Dr. Rayyes almost five months ago.
"My best friend Maisara came to London two months ago for his honeymoon. He was lively and happy and joyful," tweeted Ahmed Alnaouq, a Palestinian journalist and Rayyes's friend.
Rayyes who was considered an outstanding doctor by his colleagues, was working with a humanitarian NGO "Medecins du Monde" in Gaza, serving his people.
Two days before he was killed by an Israeli airstrike, Rayyes had texted a friend expressing his disdain for the hypocrisy of the world and his desire to be with his people.
"I feel like my desire to stay in Gaza this time is stronger because I have grown to hate the world."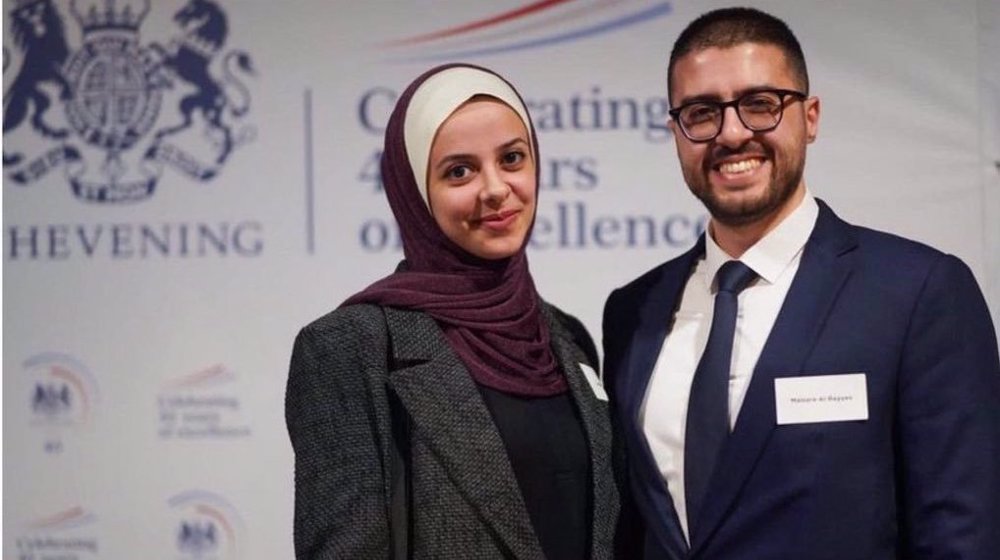 Offering condolences, the health ministry of Palestine described Rayyesas as an "outstanding" and "promising" young Palestinian doctor.
Rayyes's killing was widely condemned by netizens on X, formerly Twitter, who slammed the UK for breaching international laws and partnering with Israel in unleashing genocide in Gaza.
The death toll in the Gaza Strip since October 7, when the Israeli regime launched its aggression following the Palestinian resistance group Hamas's Al-Aqsa Storm Operation against the occupying entity, has surged to more than 11,000, mostly children.
The Israeli regime has been indiscriminately bombarding densely populated civilian areas in Gaza, targeting even jampacked hospitals, schools, universities, and places of worship.
On Monday, Shifa Hospital, the biggest hospital in the besieged territory, ran out of fuel and became unoperational, putting thousands of lives at risk.