Uzbek President Shavkat Mirziyoyev has underlined the significant role of the Uzbekistan-Turkmenistan-Iran corridor in the development of Central Asia and increasing the attractiveness of the region.
"The development of the Uzbekistan-Turkmenistan-Iran corridor and the active use of the potential of the Trans-Caspian route provides the possibility of increasing the attractiveness of Central Asia as the transit center of the 'East-West' and 'North-South' international corridors," Mirziyoyev said on Saturday.
He made the remarks in a tripartite meeting with the presidents of Turkmenistan and Tajikistan, Serdar Berdimuhamedow and Emomali Rahmon, in Ashgabat.
He underscored the expansion of ties between the regional countries, saying, "Joint transparent policy, unity and solidarity of the countries of the region leads to real results."
The Uzbek president also said the volume of trade exchanges and cooperative transactions, including in the fields of industries, agriculture, energy and logistics, has increased multiple times.
According to Mirziyoyev, "acceptable decisions" would be made as a result of a mutual understanding on bilateral and regional issues.
The Uzbek president called for greater cooperation in areas such as the use of advanced water-saving technologies and renovation of irrigation systems, digitalization of water management processes, and joint development of infrastructure for collecting and storing flood waters.
"A close and fruitful cooperation between the countries of Central Asia has been established in the energy sector, including in the field of export and transit of energy resources," he said.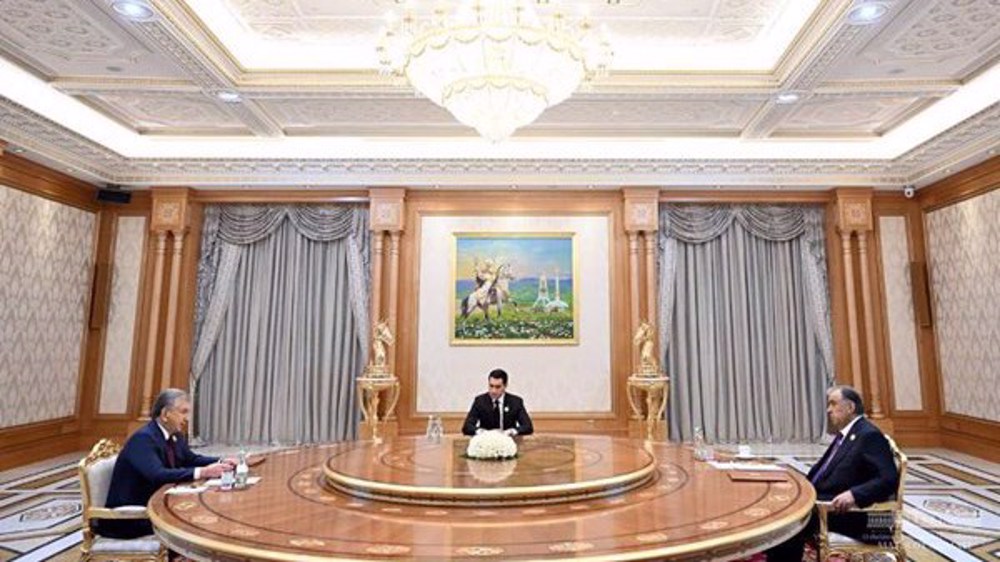 The Uzbek president also proposed the joint creation of favorable conditions for international transportation, acceleration of digitalization and increase in the efficiency of checkpoints.
He also underlined the importance of coordinating efforts and mutual support of the initiatives proposed by regional countries in the international arena under the framework of the United Nations.
Uzbekistan plans to continue to support projects aimed at ensuring peace, stability and prosperity in the Central Asian region, Mirziyoyev said.
In a meeting via video conference on Tuesday, the representatives of Iran, Uzbekistan, and Turkmenistan discussed the prospect of creating an international transit corridor.
The representatives discussed the issues of speeding up the signing of the agreement between the governments of Uzbekistan, Turkmenistan, and Iran regarding the corridor and the reduction of international road transport fares through the soil of Iran.
They examined the possibilities of using "Bandar Abbas" and "Chabahar" ports for the export and import of goods, as well as the development of the international transport corridor of Uzbekistan-Afghanistan-Iran.