Iranian cueist Amir Sarkhosh put up a marvelous performance at the 2023 Six-red Asian Snooker Championship and clinched the gold medal after defeating his rival from Hong Kong.
In the title clash on Sunday, Sarkhosh mesmerized spectators at the Enghelab Sport Complex in the Iranian capital Tehran and convincingly defeated Chau Hon Man of Hong Kong by 6 frames to 2.
Indian snooker players Pankaj Advani and Kamal Chawla shared the bronze medal.
The Asian Confederation of Billiard Sports (ACBS) Six-red Snooker Championship is a premier snooker tournament in Asia that sees the participation of prominent cueists.
It is played with six color balls and six reds.
President of the ACBS Mohamed al-Nuaimi along with President of the Bowling, Billiard and Boules Federation of the Islamic Republic of Iran (BBFIR), Hashem Eskandari attended the title clash.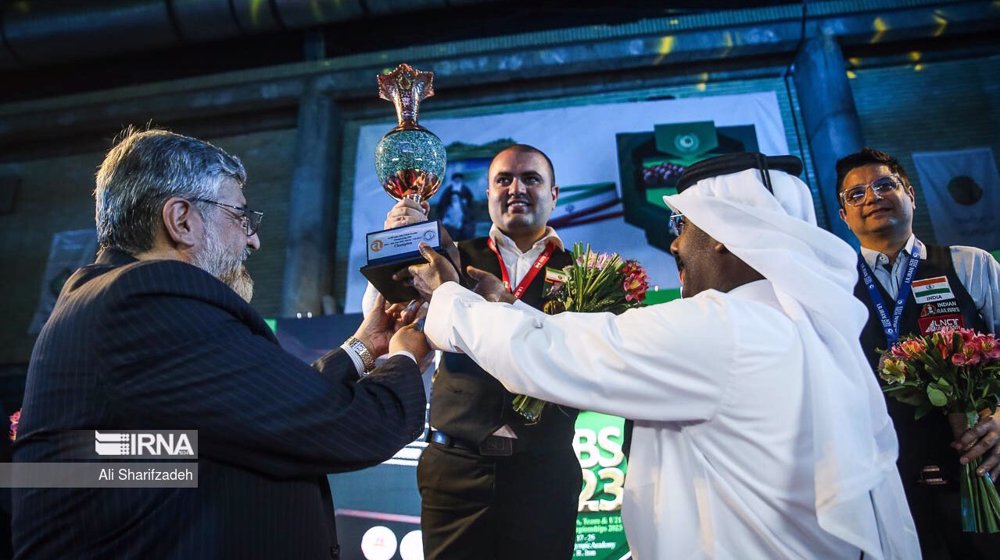 En route to the final showdown on Sunday, Sarkhosh had defeated Iraqi cueist Ali Hussein 2-5 in the quarterfinals, and overcome India's leading snooker player Advani 1-5 in the semi-finals.
Sarkhosh also became the champion at the 2022 Asian Snooker Championship held in Doha.
The 2023 ACB Six-red Snooker, Team, and Under-21 Snooker Championships were held between June 16 and 25 in Tehran, Iran.
---
Press TV's website can also be accessed at the following alternate addresses: