Dozens of Hay'at Tahrir al-Sham (HTS) Takfiri terrorists have been killed and many more wounded after Syrian and Russian warplanes carried out numerous retaliatory airstrikes on terrorist bases and arms depots in Syria's northwestern province of Idlib.
The attacks were in retaliation for militant drone attacks over the past week in the neighboring provinces of Hama and Latakia, a statement issued by the Syrian Ministry of Defense said on Sunday.
According to the statement, the terror attacks on Hama and Latakia have killed several civilians and caused substantial damage to private properties.
The joint Syrian and Russian aerial raids destroyed the headquarters, weapons caches as well as drone launch sites of HTS terrorists and their affiliated groups, particularly those of the so-called Turkistan Islamic Party in Syria, Salafist terrorist group, killing dozens of Takfiris and injuring many more, it added.
The statement also said that a number of high-profile terrorist commanders, among them Abdulkarim Abu Dawoud al-Turkistani, Saifullah Abu Abd al-Haq al-Turkistani, and Abdulrahman Sa'adoun, were eliminated as a result.
Russian and Syrian forces also launched a number of airstrikes on the outskirts of the city of Jisr al-Shughour, hitting the headquarters of various armed groups.
Simultaneously, another air raid targeted the al-Fatah al-Mubin (Great Conquest) operations room of Takfiri terrorist factions in the town of Ariha, south of Idlib.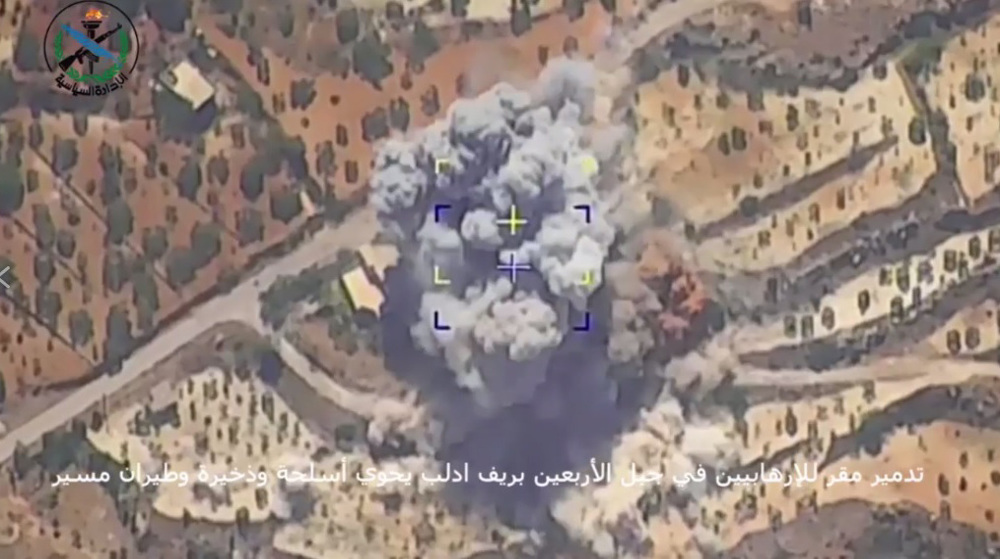 A separate Russian airstrike struck a terrorist base near the western entrance of the city of Idlib itself.
Following the heightened airstrikes, HTS terrorist group instructed all its members to evacuate their headquarters in order to avoid further attacks by Syrian and Russian air forces.
According to local sources, the checkpoints of HTS militants on the outskirts of Idlib city are now deserted as militants have withdrawn from the area due to fears of further raids.
Over 30 air raids have been documented in the vicinity of Idlib, specifically targeting the headquarters and weapons depots of HTS and its affiliated groups.
Furthermore, intensive raids by Syrian and Russian air forces have been reported on militant headquarters and sites in and around Jabal al-Arbaeen mountainous region, north of Jisr al-Shughour, as well as around Kabani Hills in the northern countryside of Latakia.
Russia has been providing Syrian forces with crucial military assistance in the ongoing battles across the conflict-plagued Arab country.
The Russian assistance, which began in September 2015 at the official request of the Syrian government, has proved effective as Syrians continue to recapture key areas from remnants of the Daesh terrorist group and other foreign-backed terrorist factions.