New York-based journalist and political commentator Don DeBar said that the developing alliance between Germany and Ukraine is beginning to resemble the World War II Axis alliance at a time that the world is dangerously close to "a global conflagration."
DeBar told the Press TV website on Monday that a global war will not end well for all the players involved -the United States, Russia, Ukraine, Germany, and others.
"Today's Axis would replace Italy - which is, it should be noted, a willing ally also in the war against Russia - with Ukraine. Both of the other members of the original alliance, Germany and Japan, are under US military occupation and political control," he stated.
"The historical model was an attempt to construct a global order to compete with the Euro-American global colonial structure; in other words, the old Roman Empire and Holy Roman Empire seeking to take control of the resources of the old Russian Empire in an alliance with Japan that was engaged in an attempt to conquer China," the analyst noted.
"This time, it is a relitigation of the Second World War, but with the US using the Axis, along with parts of the former USSR, as proxies, against the remainder of the Soviet Union," he added.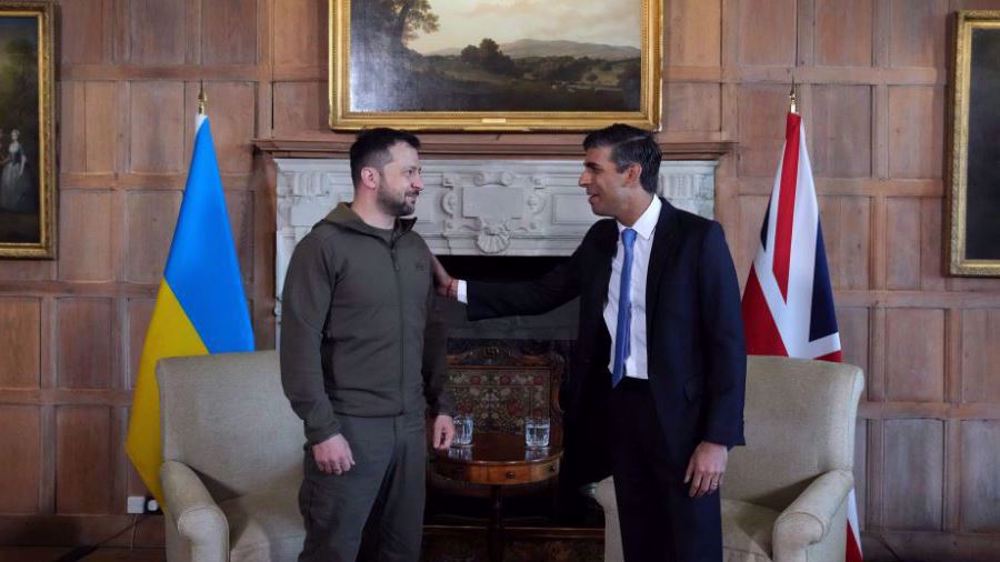 On Sunday, Ukrainian President Volodymyr Zelensky met with German leaders in Berlin and pressed them for faster deliveries of advanced weapons and fighter jets, in a visit that aims to nudge Germany towards potentially replacing the United States as Kiev's most prominent supplier of arms.
Zelensky, who was escorted to Berlin by German fighter jets for his first trip, noted that Germany was now Ukraine's second-largest backer after the United States.
"We are working to bring Germany to first place on that," he said at a news conference.
"In the most challenging time in the modern history of Ukraine, Germany proved to be our true friend and reliable ally, which stands decisively side-by-side with the Ukrainian people in the struggle to defend freedom and democratic values," he wrote in the guestbook at the German president's official residence.
"Together we will win and bring peace back to Europe," he added in the entry, before heading into talks with German President Frank-Walter Steinmeier.
DeBar said the "alliance of Germany with the Kiev government in a war against Russia is riddled not only with historical echoes, but a legal framework that is a product of historical fact."
"In Germany, until very recently, the law considered swastikas and SS sig runes as 'symbols of anti-constitutional organizations.' Displaying them publicly or selling goods displaying them was illegal. The Nazi salute and statements such as 'Heil Hitler' were also banned in public," he stated.
"These things are all evident in the areas that remain under Kiev's control. In addition, Nazi collaborators like Stepan Bandera have been given Ukrainian national hero status. Nighttime torchlight marches evocative of Nazi rituals take place regularly. This is a frightening reality that takes place in the geopolitical reality that, if Germany is to replace China as the world's factory - as many suggest - then it will, as Hitler wrote in his jailhouse tome, have to conquer Russia, the world's last major unclaimed colony," the journalist noted.
"Since Russia disputes Germany's claimed title to its lands, and since Russia has both the military wherewithal to blow Germany - and Europe and the US - to hell, as well as a policy that allows this in the event of an existential threat to the state (such as Germany and the US and the UK, et al now present), we are perilously close to a global conflagration that can only end very badly for all involved," DeBar warned.