Tens of thousands have rallied in three major cities across the occupied Palestinian territories against Israeli prime minister Benjamin Netanyahu's new extremist cabinet and its proposed judicial reforms plan.
Protesters flooded the streets in Tel Aviv on Saturday, brandishing signs with slogans decrying Netanyahu's new cabinet as the "government of shame" and urging, "bring down the dictator." 
Israeli media reported 80,000 people joined the rally, while the regime's security sources gave no official estimate after reporting 20,000 protesters earlier in the evening.
The monumental rally marked the biggest since Netanyahu's new cabinet came to office in late December.
The rally also included messages against the Israeli occupation of Palestinian territories, with one sign reading, "There's no democracy with the occupation."
A protester was seen wearing a prison uniform, a mask depicting Netanyahu, and handcuffs as means of urging the premier's incarceration.
The demonstrators censured planned reforms announced by the regime's new cabinet earlier this month. The so-called reforms include a "derogation clause" that allows Knesset (the regime's parliament) to override the decisions that are made by the Supreme Court.
Netanyahu was indicted for receiving bribe, fraud, and breach of trust during the twilight of his previous mandate as premier in 2019. His detractors consider the so-called judicial reforms to be a vehicle for him to circumvent the repercussions of his corruption scandal.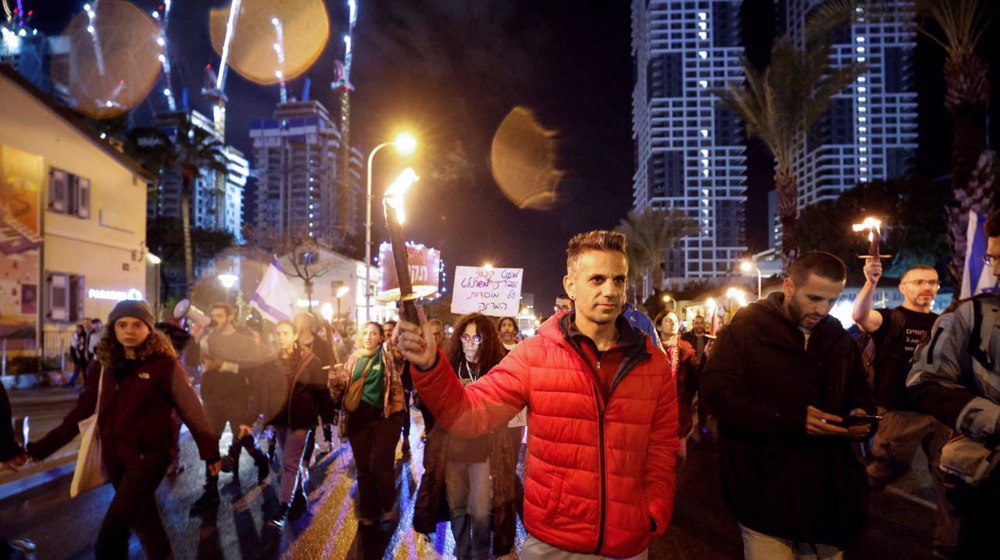 The anti-Netanyahu Black Flag movement has described the proposed reforms as a "dangerous coup d'état," asserting that the measures "will fail."
Other rallies were held in the occupied city of al-Quds, outside the prime minister's residence, and in the city of Haifa in the northern part of the occupied territories, local media reported.
Netanyahu announced his cabinet, featuring the Religious Zionism, Otzma Yehudit, and Noam factions, last month.
In order to secure the loyalty and partnership of the extremist political parties, he has pledged to further their desired agendas. The cabinet has, therefore, been described as the most far-right one yet in the occupying regime's history.
The 73-year-old has already released a policy statement on the part of his cabinet, calling expansion of the regime's illegal settlements across the occupied Palestinian territories a top priority.
An earlier protest against the Israeli regime's new cabinet took place in Tel Aviv last Saturday.
Thousands rallied likewise in Tel Aviv during that rally, denouncing the coalition and the menacing policy trend, which it is predicted to set off.
The participants were seen brandishing a large banner reading "crime minister" -- a reference Netanyahu's corruption charges.