In a dramatic escalation of the political situation in Brazil, thousands of supporters of the country's former far-right president Jair Bolsonaro have forced their way into the country's Congress and Supreme Court, while surrounding the presidential palace in the capital Brasilia.
The storming took place on Sunday, with the local media outlets estimating that some 3,000 of the former president's supporters had taken part in the raids.
Dramatic footage showed the attackers pushing through police barricades and making their way onto the roof of the parliament, as well as storming many nearby buildings such as the Supreme Court and the Planalto Palace.
During the incident, Lula was far from the capital, on an official trip to Sao Paulo state. 
The Supreme Court was ransacked by the occupiers, according to social media images that showed protesters shattering the windows of the building.
On Saturday, with rumors of a confrontation brewing, Justice Minister Flávio Dino authorized the deployment of the National Public Security Force.
On Sunday, he wrote on Twitter, "This absurd attempt to impose the will by force will not prevail."
Following the incident, Brazil's security forces clashed with Bolsonaro's supporters, using tear gas in an effort to control the situation and disperse the demonstrators.
It was later announced that all the attacked buildings had been cleared of assailants.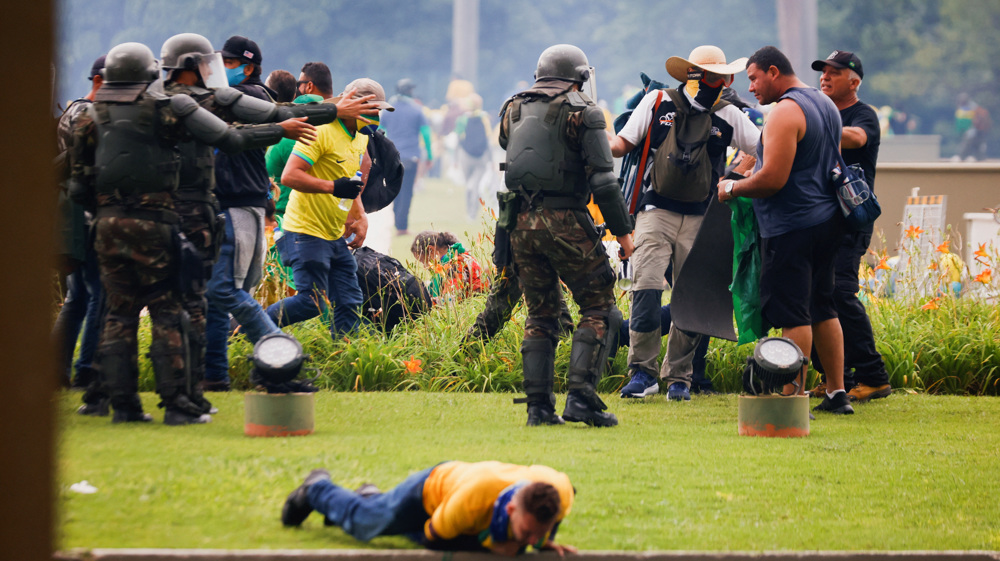 Lula: Brazil seat of power invaded by 'fascist fanatics'
Reacting to this development, President Lula da Silva condemned the invasion of Brazil's Congress, Supreme Court and presidential palace by supporters of Bolsonaro, describing them as "fascist fanatics."
Lula also signed a decree declaring a federal intervention in Brasilia and giving his government special powers to restore law and order in the capital.
These vandals, who we could call fanatical Nazis, fanatical Stalinists ... fanatical fascists, did what has never been done in the history of this country," said Lula, who was on an official trip to Sao Paulo state, adding, "All these people who did this will be found and they will be punished."
"This genocidist ... is encouraging this via social media from Miami," Lula said, referring to Bolsonaro.
"Everybody knows there are various speeches of the ex-president encouraging this," he added.
The Latin American and other world leaders moved quickly to condemn the attacks.
"All my solidarity with Lula and the people of Brazil," Colombian President Gustavo Petro tweeted, adding, "Fascism decides to conduct a coup."
Chilean President Gabriel Boric, for his part, said Lula's government has his full support "in the face of this cowardly and vile attack on democracy."
Meanwhile, Mexico's President Andrés Manuel López Obrador strongly condemned the "reprehensible and undemocratic coup attempt" by the Brazilian conservatives.
He added that Lula is not alone and has the support of "the progressive forces of his country, of Mexico, of the American continent and of the world."
Secretary-General of the Organization of American States Luis Almagro, also reacted to the development, saying, "We condemn the attack on the institutions in Brasilia, which constitutes a reprehensible action and a direct attack on democracy. These actions are inexcusable and fascist in nature."
Alberto Fernandez, the president of Argentina, also tweeted, "I want to express my rejection of what is happening in Brasilia. Mine and the Argentine people's unconditional support for @LulaOficial in the face of this attempted coup he is facing."
"We categorically reject the violence generated by Bolsonaro's neo-fascist groups which have assaulted Brazil's democratic institutions. Our support for @LulaOficial and the Brazilian people who will surely mobilize in defense of peace and their president," Venezuelan President Nicolas Maduro said.
Presidents of Peru, Ecuador, Bolivia, Cuba, Costa Rica, and Paraguay also issued messages in condemnation of the attack on "the Brazilian Congress, Palace and Supreme Court by anti-democratic groups."
EU condemns attack on Brazil Congress, Supreme Court
In a similar reaction, European Council President Charles Michel condemned Bolsonaro's supporters after they attacked Brazil's top legislative and executive bodies.
"My absolute condemnation of the assault on the democratic institutions of Brazil," he tweeted.
"Full support for President @LulaOficial Da Silva, democratically elected by millions of Brazilians through fair and free elections," he added.
European Union Foreign Policy Chief Josep Borrell, also said in a tweet, "Appalled by the acts of violence and illegal occupation of Brasilia's government quarter by violent extremists today."
He added, "Full support to Lula and his government, to Congress and to the Federal Supreme Court. Brazilian democracy will prevail over violence and extremism."
The Spanish prime minister, Italy's premier, and the president of the European Parliament issued similar condemnatory messages.
Observers have compared the raids to the January 6, 2021 invasion of the US Capitol building by supporters of then US President Donald Trump, a Bolsonaro ally, and have termed the situation as a serious episode of "political unrest."
The Bolsonaro-allied fanatics refuse to accept his narrow defeat during October's presidential elections against 77-year-old Lula da Silva, also a former president.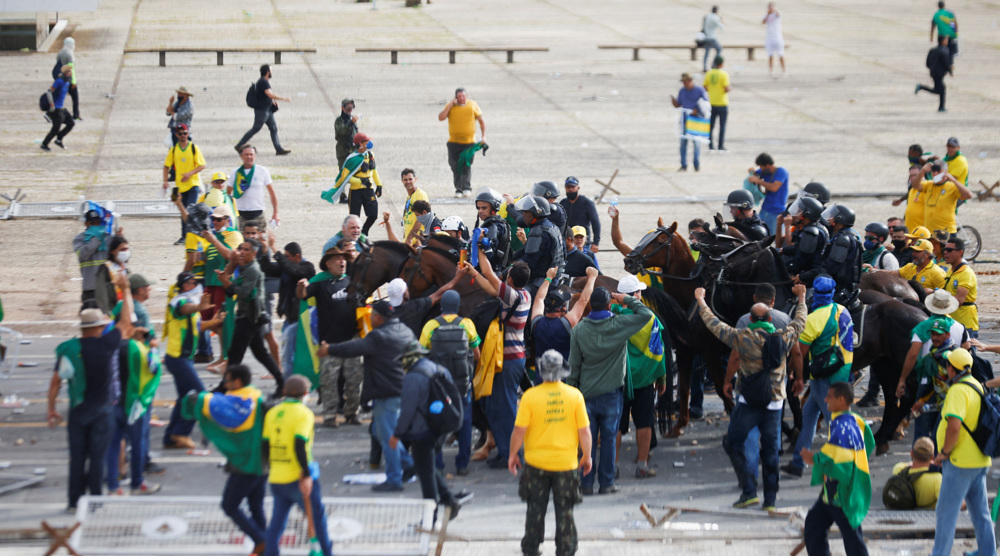 Lula was sworn in on January 1, unleashing a barrage of rebuke against Bolsonaro for, what he called, his predecessor's egregious mishandling of the country's affairs during his mandate.
Hours before the monumental swearing-in ceremony, which was attended by some 30,000 Brazilians, Lula blamed Bolsonaro for causing hunger to return to the country, despite his own presidential rule during which millions were lifted out of poverty.
He said he had received a ruined country, whose former government had depleted all resources and undermined human rights.
The leftist leader also accused Bolsonaro's "negationist" administration of committing "genocide" by failing to respond properly to the COVID-19 pandemic that killed more than 680,000 Brazilians.
"Democracy was the great victor in this election...," Lula said on the day.
Bolsonaro has, however, questioned, without evidence, the credibility of the country's electronic voting system.
He fled Brazil to Florida two days before the end of his mandate, reportedly to avoid going through the ceremonial handing over of the presidential sash to Lula.