Hundreds of Palestinians attended a funeral procession for 22-year-old Ammar Mefleh, 28 days after an Israeli soldier killed him with four shots at point blank.
Israeli authorities withheld the martyr's body for 27 days and finally handed it over to his family on Thursday.
Hundreds of people attended the funeral procession in Mefleh's hometown, a village southeast of Nablus, the occupied West Bank.
Participants chanted slogans against the occupation and constant aggression against defenseless Palestinians while also denouncing the regime for withholding the bodies of the martyrs.
Mefleh was killed on December 2, following an alleged stabbing attack against the regime's forces at a checkpoint in the northern West Bank town of Hawara.
Footage released on social media showed Ammar being shot four times at point-blank range as he was lying on the ground.
According to a video that went viral, a fight between the Israeli soldier and the young man was reported prior to the shooting.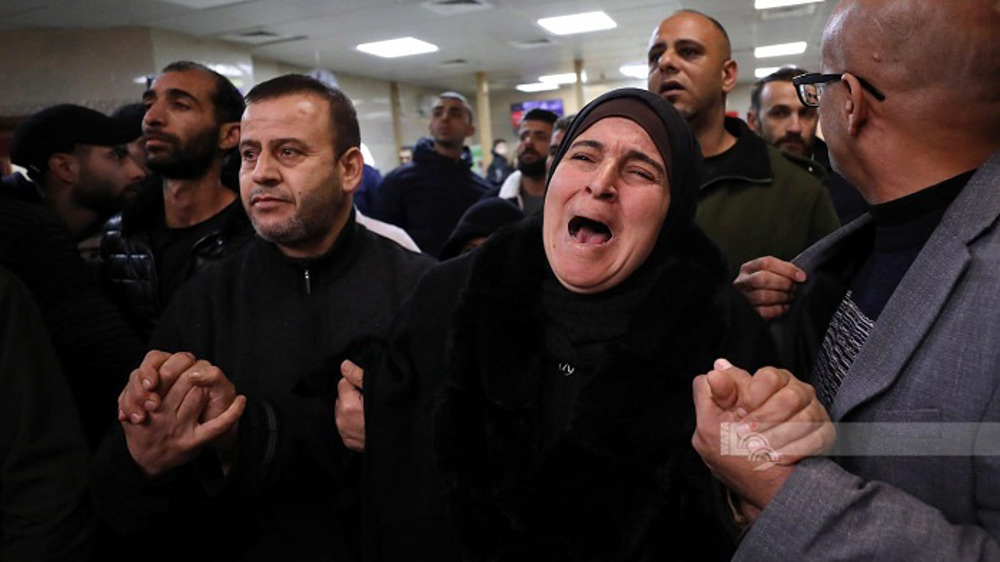 Meanwhile, eyewitnesses denounced the Israeli claims of a stabbing attack as completely false, pointing out that the soldier attempted to arrest the Palestinian young man and when the youth slapped the soldier in the face he assaulted him and shot him at point-blank range.
The Palestinian Red Crescent said Israeli forces blocked emergency responders from reaching the victim.
The Israeli crime was strongly condemned by Palestinians as international bodies such as the United Nations and the European Union called for probe into the horrific incident.  
Palestinian people have been holding protests throughout the West Bank and the Besieged Gaza Strip, demanding that Israel release the withheld bodies of Palestinian martyrs so that their families can bid them farewell and bury them in proper cemeteries.
In 2020, Israel approved a policy of keeping all the bodies of Palestinian prisoners who may have committed attacks against Israel, to use as leverage if Israeli soldiers were captured dead or alive. 
The practice has long been a source of pain for Palestinian families, who sometimes have to wait years before receiving the body of a loved one for burial. 
The policy contravenes international law, with the Geneva Convention stating that parties of an armed conflict must bury each other's dead honorably, "according to the rites of the religion to which they belonged