By Mohammad Homaeefar
Iranian prisoner Hossein Ronaghi, presently out on bail, has been in the news for over two months, with Western media outlets leaving no stone unturned in helping him gain publicity through news and views – mostly half-baked conspiracy theories – pertaining to his condition in Tehran's Evin prison.
A self-styled human rights activist, Ronaghi was arrested in the wake of the death of Mahsa Amini, a 22-year-old Iranian woman who collapsed at a police station where she was receiving educational training on Hijab and was later declared dead at a hospital in Tehran in mid-September.
The tragic death of Amini was hijacked by many individuals and groups, in and outside Iran, setting off a wave of violent riots and terrorist attacks across the country.
To discuss the issue, Ronaghi appeared on the UK-based and Saudi-funded Iran International network on September 22, six days after Amini's death. In the middle of the interview, he suddenly turned hysterical and said security forces "seem to be here" to arrest him.
At the end of the live broadcast, the TV host said Ronaghi had been "reportedly arrested".
But, a few hours later, Ronaghi published a video, saying he had managed to miraculously escape an attempt by security forces to arrest him. He said they used a "brass knuckle" to break his car window.
In the video message, he complained that the move to arrest him was illegal because the security forces did not carry an arrest warrant, a claim that was inconsistent with his Hollywood-like story of escape.
He also said that he would go to the Evin Courthouse with his lawyer after two days, threatening to immediately start a hunger strike if he was arrested.
Ronaghi, 37, has spent a total of six years in prison since 2009. He was found guilty of crimes including attempts to disrupt the country's security and "publishing lies with the intention of disturbing the public mind and propagandizing activities against the system of the Islamic Republic of Iran."
While in jail, he went on a hunger strike several times. He was finally released in 2016 due to his unfavorable physical condition, years before his 15-year prison term came to an end.
Months before his arrest in late September 2022, Ronaghi wrote an op-ed in The Wall Street Journal, in which he argued in favor of US sanctions against Iran, which primarily target ordinary people, including patients in need of life-saving medicine.
"We are willing to live under the economic pressure of sanctions" if it weakens the Islamic Republic, he wrote, while welcoming the designation of the Islamic Revolution Guards Corps (IRGC) as a "terrorist organization" by the US Treasury.
In another act smacking of sedition, he publicly appealed to Western powers to ban Iranian athletes from all sporting events, including the FIFA World Cup.
On September 24, as Ronaghi appeared at the entrance of the Evin Courthouse in north Tehran, he was immediately taken into custody. And following up on his threat, he started a hunger strike inside the high-security prison.
A day after his arrest, Iran International, which was later blacklisted by the Islamic Republic as a "terrorist" organization, reported that Ronaghi had told his parents that he was "beaten in prison" and "his leg was broken" by prison guards.
It did not take long before his name started appearing everywhere, from foreign-based Persian-language news channels to Western mainstream media and social media networks, where self-proclaimed human rights activists called for an end to his alleged mistreatment in prison and demanded his immediate release.
As if one broken leg was not enough to keep up the flow of misleading news stories about Ronaghi, his mother Zoleikha Mousavi claimed on October 1 that "both of Hossein's legs were broken" and he had not received any medical care.
"The Islamic Republic has tortured my son," Mousavi claimed in a tweet. "Whatever happens to my son Hossein, the entire establishment of the Islamic Republic and the Judiciary are responsible. They want to kill my son."
A day later, the Persian service of Voice of America (VOA) reported that Ronaghi's parents quoted him as saying in a phone call that judicial officers had broken both his legs. They also said that he was "hit in the head by security forces" following his arrest in a way that he "lost consciousness."
Although the Iranian judiciary-affiliated Mizan news agency later dismissed the claim as a blatant lie, his family and Western media outlets continued to repeat that lie ad nauseam while piling on the drama with false stories about his health condition, all of which were ultimately proven fake when he was released on bail.
Throughout Ronaghi's time in jail, foreign-based Persian language news networks, including Iran International, BBC Persian and Voice of America, published dozens of fake news stories. None of these outlets apologized or issued a corrigendum.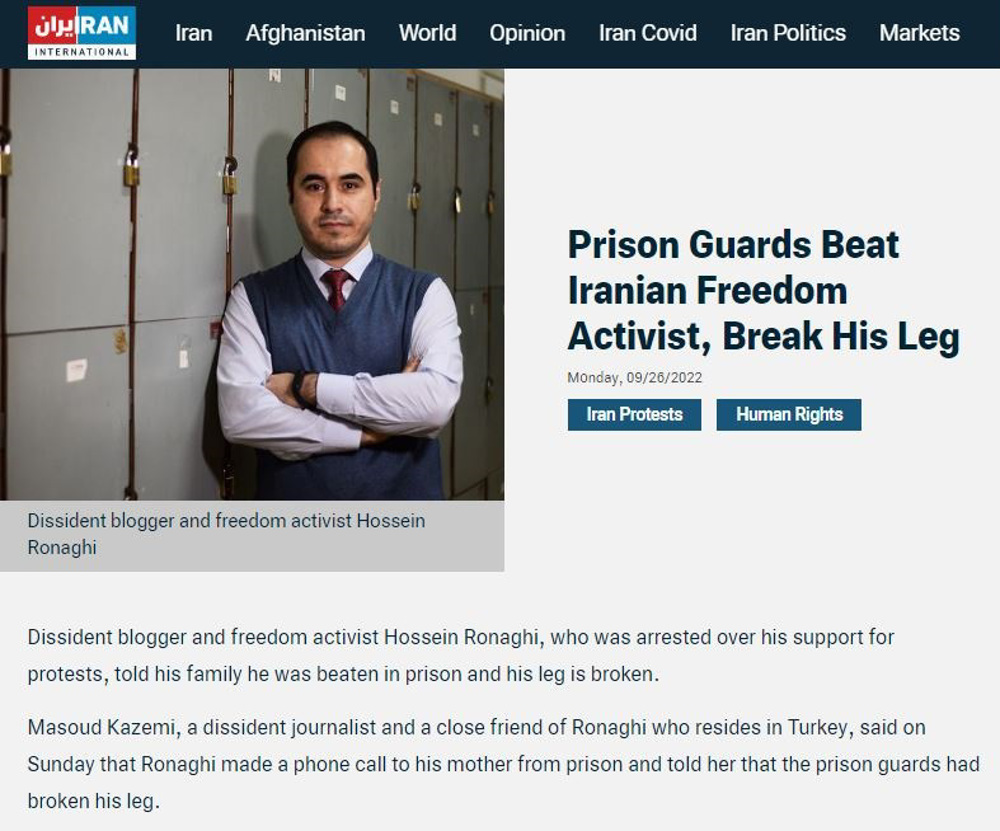 At the same time, the claims that "his life is in danger", that he "has not received any medical care", and that Iranian authorities "intend to kill him" were among the recurrent themes in his family's attempts to keep him in the spotlight.
In a tweet on October 7, Mousavi claimed that the Islamic Republic had been trying to kill her son, who was on hunger strike for almost two weeks. She said he had been put in solitary confinement and "no organization has taken any measure for his treatment."
On October 14, The Wall Street Journal reported that one prisoner had described him "being dragged to the infirmary with a visibly broken leg," while another saw him "vomiting blood."
His brother, Hassan Ronaghi, repeated that claim in a tweet, reiterating that he was not receiving any medicine or medical care despite his deteriorating health condition while still on hunger strike.
Days later, he said Hossein has "kidney, lung, digestion and hemoconcentration problems while in detention without medicine or treatment. The Islamic Republic indents to kill Hossein."
Unfortunately, not enough information about Ronaghi's condition was provided by the judiciary or prison authorities to counter those allegations, leading to a spiral of lies and distortions concerning his case.
Ronaghi's father, Ahmad Ronaghi, claimed on several occasions that his son had been "tortured" in prison to extract "forced confessions" from him. He also said repeatedly that Hossein was in a "critical condition" and authorities wanted to kill him after "kidnapping" him in front of his house, a claim that even contradicted Hossein's own narrative.
On November 13 and 14, several conflicting reports came out with regard to Ronaghi's health condition and his whereabouts. Iran International claimed he was transferred to Sina Hospital's intensive care unit (ICU) due to cardiac arrest, and the doctors performed cardiopulmonary resuscitation (CPR) to keep him alive.
In another report, it said Ronaghi was transferred to the hospital but security forces did not allow his medical treatment to be completed and ultimately took him back to the prison in a wheelchair.
Mousavi said in a voice message that they were called and asked to accompany an ambulance that was going to transfer him from prison to the hospital. She claimed they were following the ambulance but suddenly he was "abducted" and taken to an unknown location. "If they want to kidnap and kill my son, they should say so."
Many found it unconvincing that his parents were abandoned on the way in an attempt to kidnap Ronaghi when they were called and asked to accompany the ambulance in the first place.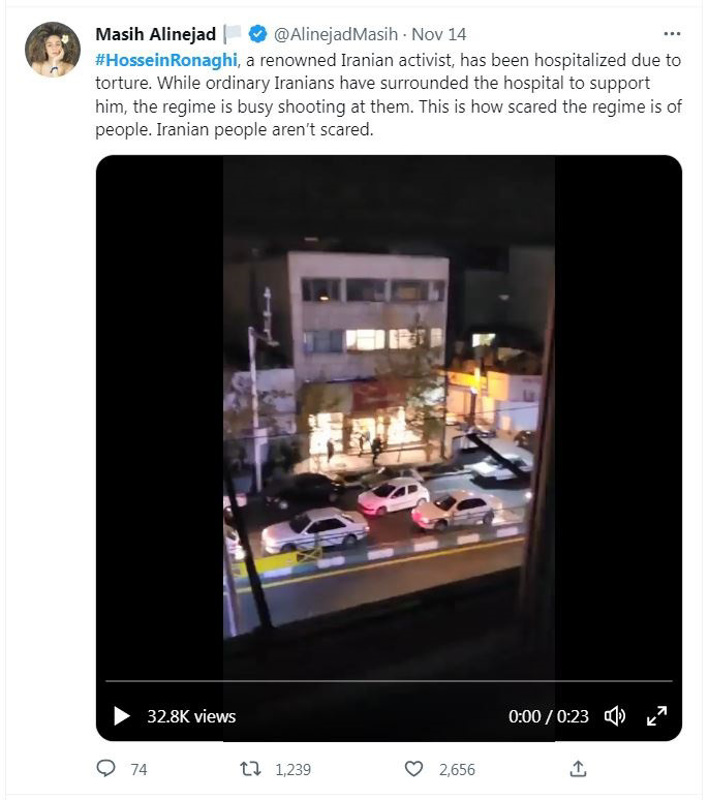 Later, on November 13 evening, Hassan confirmed that his brother had been transferred to Dey Hospital, asking followers to gather outside the hospital where Hossein was reportedly receiving treatment, so that "they cannot take him out to harm him." "They intend to kill Hossein," he warned.
By that time, Hossein Ronaghi's name was trending on Twitter and other social media networks, with celebrities – both Iranian and non-Iranian – demanding his immediate release and calling attention to his "mistreatment" in jail.
BBC Persian reported that the #HosseinRonaghi hashtag had become a top trend on Twitter with more than 1.8 million tweets.
Interestingly, not much media attention was devoted to glaring contradictions in the reports about his condition and whereabouts, or even to the claims that he was being "abducted."
Those unsubstantiated allegations were brought up both when he was being taken to the hospital and when he was being transferred back to prison.
In an attempt to expose all those falsehoods, the Mizan news agency reported on November 14 that no harm had been done to Ronaghi's legs or other organs, explaining that he had been transferred to the hospital a few days earlier to receive "supplementary medical care" and to prevent the occurrence of "any unfavorable clinical conditions."
The report said Ronaghi was in a "stable" and "good" condition, dismissing as false the rumors that he had a cardiac arrest. It said certain news outlets had been trying to fuel hysteria regarding his physical condition.
Mizan also published a photo of Ronaghi in the hospital with his mother sitting by his side, with no sign of broken legs or torture. His physique also generated interest on social media, as he had not lost as much weight as expected.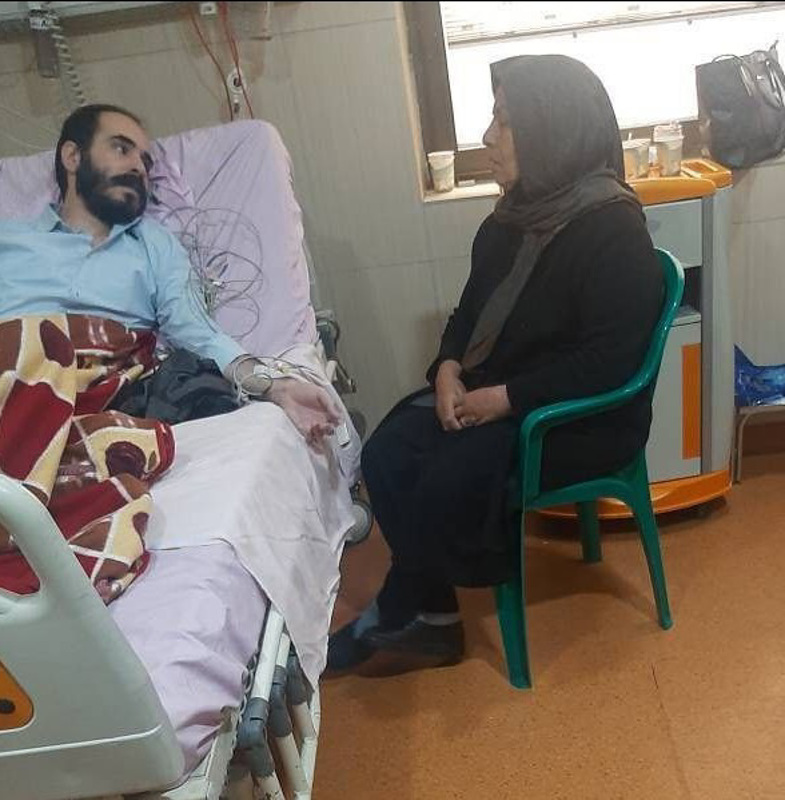 The report also noted that Ronaghi "had no restrictions on receiving visits from his family but he personally had not shown any desire to meet them," adding that "he refused to see his father when he came to meet him at Evin prison."
After a brief reunion with his family, Ronaghi was discharged from the hospital based on the doctors' diagnosis and was transferred back to prison.
By that time – and given that all those reports were exposed as sheer lies – one would have assumed that the lying would immediately stop and the so-called news networks churning out fake stories would treat his case with extra caution. But that did not happen.
Soon after he was moved back to prison, his family began to repeat the claims that his life was in danger, that the Iranian authorities wanted to kill him, and that he was being provided with no medical care.
Ronaghi's sister, Sakineh, confirmed that he was transferred to prison but warned that "his condition is so critical that the doctors said he will not survive past five or six days and that he should be admitted to the hospital at once."
On November 26, following more than two months of a rampant disinformation campaign, Hossein Ronaghi was released on bail from the Evin prison and was subsequently transferred to a hospital for treatment after 64 days of purported "hunger strike".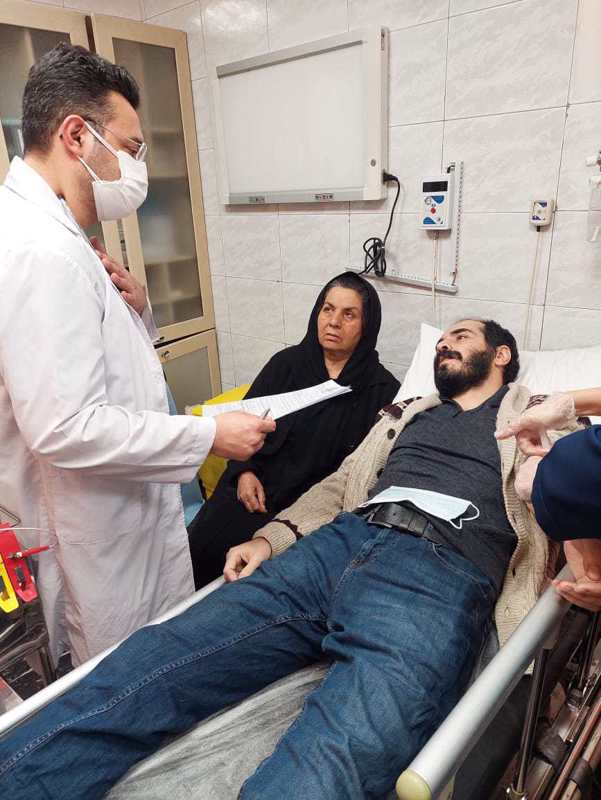 He was discharged two days later from the private hospital of his family's choosing, as he completed his medical tests and began to eat solid food, which reportedly led to the improvement and stabilization of his health condition.
While he was accorded a tearful farewell at the hospital and treated as a national hero everywhere, many people started asking questions about whether his legs were actually broken and whether he really was on a hunger strike.
Ali Nouri, who was in Evin prison during Ronaghi's term, said in a note after the latter's release that he showed no signs of broken legs or any other harm to his body during his detention.
He said he tried to have his note published while Ronaghi was still in prison but "no person or movement" had the courage to publish it because "the attacks of their cyber army had overwhelmed everyone."
"Now that he has been released and that heavy unipolar atmosphere is broken, I consider it my moral and political duty to make some points about this," he said.
Interestingly, people on social media compared Ronaghi's physique to other hunger strikers, particularly Palestinian prisoner Khalil Awawdeh, who spent months on hunger strike in protest against his detention by the Israeli regime without trial or charge.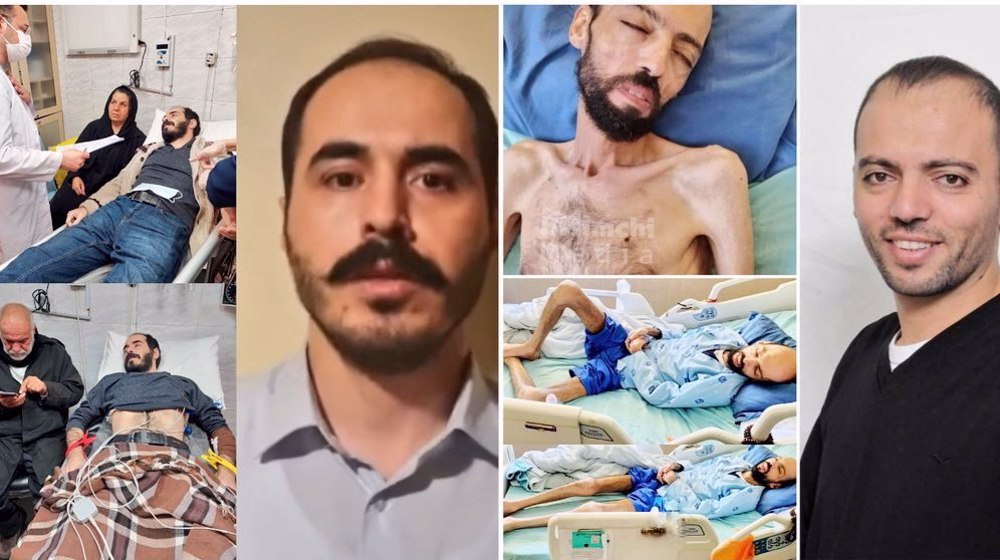 According to Nouri, eating honey and tahini was part of Ronaghi's "hunger strike", which also included receiving vitamins and other dietary supplements, both before and after he was taken to the hospital.
In response to the criticism, Ronaghi wrote in an Instagram post on December 8 that only his left leg was "seriously harmed" when he was being arrested.
He claimed that he was not aware of the news of his right leg being broken because he had no contact with his family for 39 days, contradicting his parents who had quoted him as saying that both his legs had been broken while in custody.
He insisted that he was indeed on a hunger strike, but stopped short of clarifying whether he had taken any solid food during his 64-day strike.
 
Mohammad Homaeefar is a Tehran-based journalist who has covered Iranian politics and Middle East affairs since 2014.
(The views expressed in this article are the author's own and do not necessarily reflect those of Press TV.)