A powerful blast has rocked a shopping mall in Armenia's capital Yerevan, killing two people and injuring 60 others.
The explosion took place at a fireworks warehouse in the retail Surmalu market located about two kilometers south of the city's center on Sunday, causing a huge fire.
Video posted on social media showed thick grey smoke rising above a building, with firefighters struggling to contain the blaze as fireworks continued detonating.
Reuters' photographs, taken soon after the explosions, showed extensive damage to a concrete building and people clearing rubble that partially covered cars parked nearby.
Rescue workers and volunteers in civilian clothes searched for victims who might be trapped under slabs of concrete and twisted metal.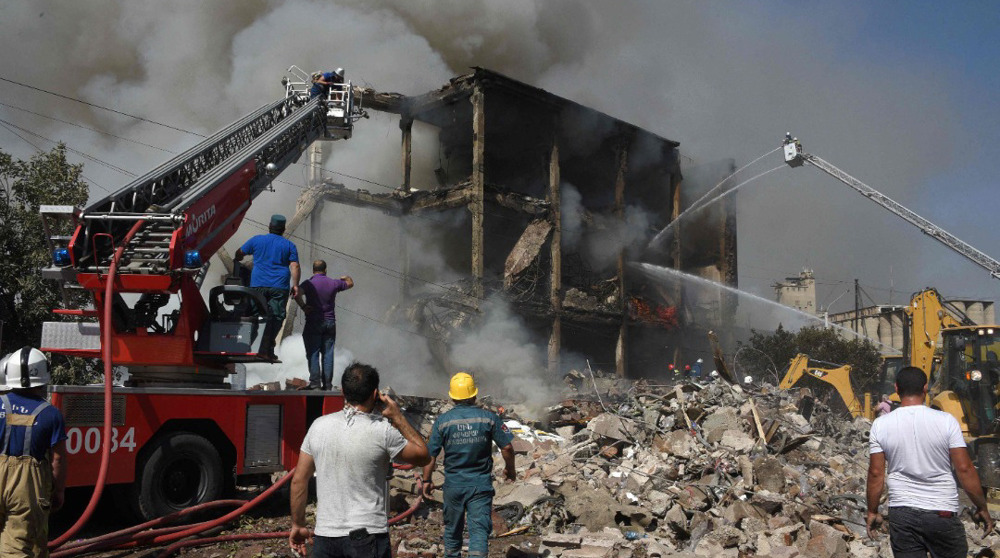 Armenia's Health Ministry said in a post on Telegram that the number of people who sustained injuries had reached 60, of whom 22 had already been discharged. It added that two people have also died.
Earlier, a spokesman for the emergency services ministry had told AFP that 26 people had been taken to the hospital, including 11 children.
The ministry also said there were 10 firefighting trucks on the spot and another 10 were on their way.
It was not immediately clear what caused the fireworks to detonate.
---
Press TV's website can also be accessed at the following alternate addresses: