The Israeli regime has carried out several airstrikes against two locations across the Gaza Strip, killing at least nine Palestinians and wounding scores of others.
The first bout of the strikes targeted the vicinity of a mosque at the Jabalia refugee camp in the northern part of the Gaza Strip on Saturday, killing six Palestinian, including four children, and injuring an undisclosed number of others.
Footage captured from the immediate aftermath of the offensive showed people recovering bodies of the victims from the rubble created as a result of the strike.
The rest of fatalities came during the second round of Israeli attacks, which hit a residential building in the city of Rafah in southern Gaza, the Palestinian Wafa news agency reported.
Describing the second round, the official Palestinian Wafa news agency's correspondent said, "Israeli fighter jets attacked a group of civilians with at least two missiles, injuring many of them."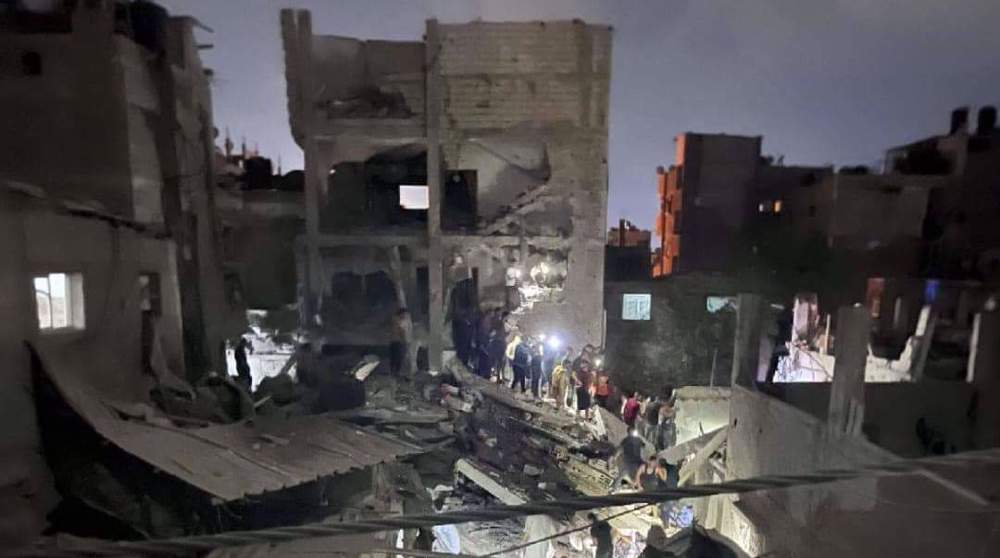 Paramedics told Wafa that most of the injuries had been described as critical, noting that some of them were children.
According to the Palestinian Health Ministry, the recent casualties increase the total number of Palestinian killed during the new Israeli aggression on the Gaza Strip to 24, including six children.
The Israeli army claimed that another senior commander of Islamic Jihad has been "neutralized" during the regime's latest attacks on the Gaza Strip.
The movement had already confirmed that one of its top commanders, Taysir al-Jabari, had lost his life in an Israeli air raid on an apartment in the Palestine Tower in the center of Gaza City on Friday.
Tensions have skyrocketed across the coastal sliver and the occupied territories since Friday, when the Israeli regime carried out a massacre against the Gaza Strip, killing as many as 24 people, including a senior commander of the Palestinian Islamic Jihad resistance movement and six children.
The Palestinian Health Ministry says over 200 Palestinians have been injured in the latest Israeli strikes.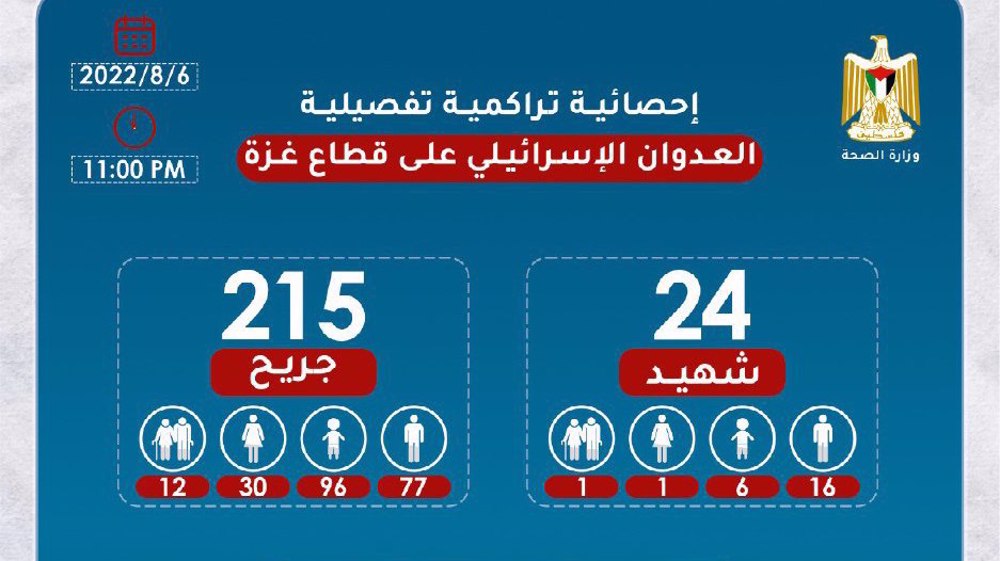 The Islamic Jihad retaliated soon afterwards by firing hundreds of rockets towards the occupied territories. It called the reprisal only an "initial response" to the Israeli bloodbath.
Last May, Gaza's resistance groups fired around 4,000 rockets during Operation Sword of al-Quds after the Israeli regime initiated its last war against the coastal enclave.
Sirens warning of incoming rockets fired from the besieged Gaza Strip sounded in the Israeli-occupied cities of Tel Aviv and Ashkelon late Saturday, as the Palestinian Islamic Jihad movement launched a volley of rockets toward Israel following the latter's onslaught against Gaza.